Nicklas Backstrom: Best Washington Capitals Player so Far This Season
November 30, 2011
Bruce Bennett/Getty Images
Much has been said about how Alex Ovechkin's struggles this season have mirrored those of the Washington Capitals, as the Capitals as a team have been just as disappointing as the play of their captain thus far.  
Washington started the year with seven-game winning streak, only to lose 11 out of their next 16, which ultimately cost Coach Bruce Boudreau his job.  
While Ovechkin and fellow Russian sniper Alexander Semin have been wildly disappointing, with a combined 13 goals through the first 23 games, the team's other offensive star has quietly become the Caps' best forward.  
Nicklas Backstrom has consistently put up points, and sits sixth in league scoring with 25 points.  
No player on the Capitals was in more dire need of a bounce back season than Backstrom, who saw his point totals drop 36 points from 2009-10 and 2010-11.  
So far, Backstrom has points in 11 of the team's 12 wins, including five multi-point performances, establishing himself as the engine that most consistently drives the Capitals offense.  
In fact, if the NHL's All-Star Game were being held this weekend, Backstrom would undoubtedly be the team's only selection, as no other Capitals player ranks in the top 50 in league scoring.
Though both he and Ovechkin sport awful plus-minus ratings, Backstrom's contributions in the offensive zone have been extremely valuable for a team that has struggled to score most nights.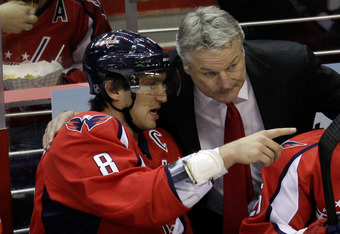 Rob Carr/Getty Images
A playmaker by nature, it's not surprising the Swedish pivot is fourth in the league in assists, but in addition to serving as the team's premier set-up man, Backstrom has been putting the puck in the net himself far more frequently than last season. 
Backstrom's eight goals have him on pace for 28 by season's end, which is a big improvement from his disappointing 18 in 2010-11.  
At this point, one can only wonder how bad the Capitals' record would be if not for Backstrom's elite level production given the declining performances of Ovechkin and Semin offensively.  
Going forward, newly appointed head coach Dale Hunter will have to find a way to ignite a fire underneath Ovechkin, and cajole him into playing like the two-time MVP he is.  
In the team's first game of the Hunter regime, Backstrom and Ovechkin combined for the Capitals' only goal in a 2-1 loss to the Blues.  Ovechkin managed only one shot on goal, which came in the game's opening period.  
One has to hope that Ovechkin understands how large of a role his declining performance on the ice played in general manager George McPhee's decision to replace Bruce Boudreau, and that he responds to the drastic personnel change by playing with a sense of urgency.  
Luckily for Hunter and the Capitals, Backstrom is in top form. If Ovechkin can rediscover his confidence and scoring touch, the results will come.  
In order for the Capitals to live up to the lofty expectations, Ovechkin needs to reestablish himself as the team's best player. So far this season, Nicklas Backstrom has earned that distinction.