Bruce Boudreau and Paul Maurice Fired: 5 NHL Coaches Who Could Be Next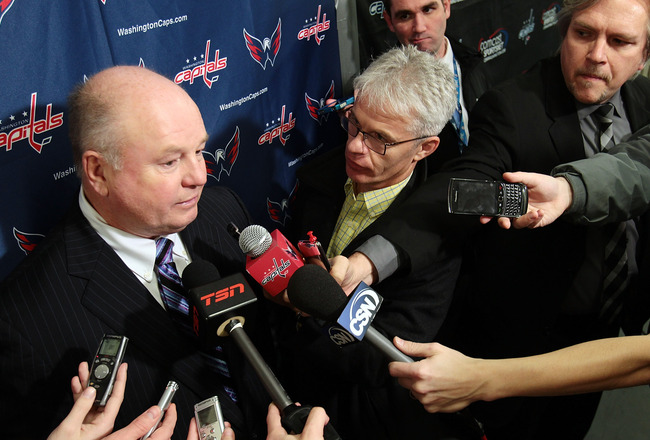 Marianne Helm/Getty Images
The Washington Capitals fired head coach Bruce Boudreau on Monday morning and replaced him with Capitals fan-favorite and legend Dale Hunter.
Just a couple hours later, the Carolina Hurricanes pulled the plug on their coach, Paul Maurice. Maurice had previously coached Carolina from 1997-2004 and was in his second stint as bench boss. The Canes brought in Kirk Muller, who was in his first season as coach of the Milwaukee Admirals of the American Hockey League.
The two coaching switches on Monday has NHL fans and analysts wondering who could be next. There are some teams across the league that are underperforming despite having highly talented players, while others don't seem to be good at much of anything. Well, except for losing games.
Here are five NHL coaches who could be joining Boudreau and Maurice on the unemployment line before 2011 is over.
Randy Carlyle, Anaheim Ducks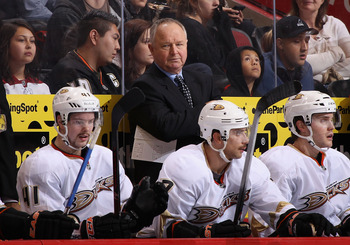 Christian Petersen/Getty Images
Randy Carlyle, who guided the Ducks to their first Stanley Cup in 2007, is currently the hottest name on the NHL coaching hot seat.
The Ducks are currently in the middle of a seven-game losing streak after losing to the Toronto Maple Leafs by a score of 5-2 on Sunday. They have only won one game in November, a 4-3 victory over the Vancouver Canucks back on November 11. One of their worst losses of the month came back on November 5, when they were shut out by a score of 5-0 against the Detroit Red Wings.
It's an even worse record than in October, when Anaheim went 5-5-1 to start the season.
The Ducks are currently 29th in goals scored per game, with 2.13. With an offense that features 2011 Hart Trophy and Rocket Richard winner Corey Perry, veteran scorer Teemu Selanne and other superstars such as Ryan Getzlaf and Bobby Ryan, this is unacceptable.
The defense isn't much better, as they are ranked 25th with 3.17 goals against per game. Lubomir Visnovsky and Cam Fowler, two of the team's key defensemen last season, have struggled to perform this season.
Although the Ducks have the eighth-ranked penalty kill (85.6 percent), their power play doesn't do much, as it is ranked 16th with a 16.3 percent success rate.
It's also worth noting that Carlyle has not been able to achieve the same level of playoff success that gave Anaheim a Stanley Cup. Since 2007, the team has not made it past the second round of the postseason, and last year, they were eliminated by the fifth-seeded Nashville Predators, who made it past the first round for the first time in their franchise history.
There is no reason for a team with as much talent as Anaheim to be this bad, and a loss to the Montreal Canadiens on Wednesday could mean the end for Carlyle.
However, I wouldn't be surprised if it's sooner, considering that when you click on Carlyle's name on the Ducks website, you get a 404 error.
Hmmm...
Brent Sutter, Calgary Flames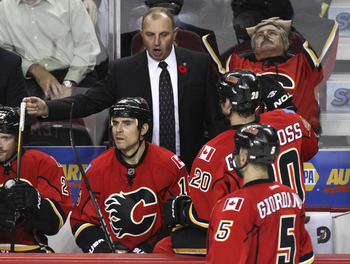 Mike Ridewood/Getty Images
It looks like the guy behind the team bench in this picture has had enough of Calgary head coach Brent Sutter, and I can't say I blame him.
Sutter was hired prior to the 2009-10 season, and the Flames have not made the playoffs in those last two years. Calgary is looking for playoff success now, as they have not been past the first round since 2004, when they went to the Stanley Cup Finals.
But back to this year.
Currently, the team has a 5-8 record for November after going 4-4-1 in October. They've also had a pair of three-game losing streaks this month. That gives them an overall record of 9-12-1 for 19 points and 13th in the Western Conference.
The Flames finished 10th in the West last year, so this cannot be considered an improvement.
Calgary is 27th in the NHL with 2.27 goals scored per game and 17th with 2.73 goals surrendered a game. They are the 25th ranked team on both special teams units, with a 13 percent success rate on the power play and a 79.5 percent penalty killing rate.
Alex Tanguay is the team's leading scorer and has 16 points in 22 games, but he has been inconsistent over the course of his NHL career. He is also 32 years old and likely won't be a part of the Flames' future plans.
Meanwhile, team captain Jarome Iginla is underperforming, as he has just 11 points and a minus-eight rating to start the year.
In goal, Mikka Kiprusoff is 9-9 with a .916 save percentage and a 2.46 GAA. He is solid year in and year out, but he is 35 years old and soon will no longer be able to handle playing more than 70 games a season.
But it's not like there's a lot of faith in the Flames backup. Henrik Karlsson has yet to win a game this year and has a .907 save percentage and a 2.95 GAA.
Sutter didn't come to Calgary with a ton of playoff success, either. During his time with the New Jersey Devils, he was behind the bench when the Devils embarrassed themselves in Game 7 of the 2009 Eastern Conference Quarterfinals, surrendering two goals to the Hurricanes in the final minute to be eliminated in what should've been a surefire series win.
The Flames are nothing special right now, and neither is Sutter. It's time to cut the cord.
Joe Sacco, Colorado Avalanche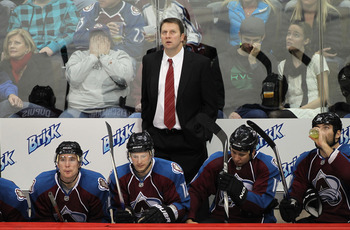 Doug Pensinger/Getty Images
The guy to the left of Sacco in the picture above is a great representation of how the season has gone for the Avs.
The Avs have a 3-9-1 record in November, and on Monday, they suffered their third loss in four games to the Dallas Stars by a score of 3-1. They have been shut out twice in November, and they suffered two losses to Calgary less than a week apart. They lost 2-1 on November 6 and then 4-3 on November 12.
That's quite a dropoff from Colorado's 7-4-1 performance in October, and during that stretch, they went on a five-game winning streak from October 10 to October 17.
However, their November struggles have dropped them to 10-13-1 for 21 points and 12th place in the Western Conference.
The Avs offense, which boasts young stars such as Matt Duchene and Paul Stastny, along with veteran Milan Hejduk, is 19th in the NHL with 2.52 goals per game.
The defense is playing at a subpar level as well; they are 21st in the league with 3.04 goals given up per game. Furthermore, only two players—Ryan Wilson and Stefan Elliott—have positive plus/minus ratings, with Wilson coming in at plus-three and Elliott posting a plus-one. That's tough to swallow when you see that Elliott has played one NHL game.
Semyon Varlamov has been a disappointment since being traded to Colorado from Washington this summer. He currently has a 6-9-2 record with a .896 save percentage and a 3.13 GAA.
While J.S. Giguere has done better in his eight starts, going 4-3 with a .924 save percentage and a 1.85 GAA (third in the NHL), he doesn't form a stable goaltending tandem with Varlamov. Both goalies are injury prone, so it's a guessing game as to when either of them will be on the injured list next.
To add insult to injury, Sacco missed the playoffs with Colorado last year, as the Avs went 30-44-8 for 68 points and 14th in the conference.
I see Sacco as the least likely coach on this list to be out before the end of 2011. Colorado does have a strong power play (second in the league at 24.7 percent) and had a good October.
However, if Colorado can't turn things around in the new year, I can see him cleaning out his office.
Scott Arniel, Columbus Blue Jackets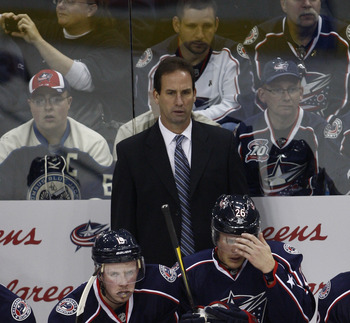 John Grieshop/Getty Images
If anyone would like to tell me how Scott Arniel still has a job while other coaches who still did badly but not as terrible as him were given the axe, you can let me know in the comments.
Because honestly, I'm just as stumped as Grant Clitsome and the fans behind the bench.
Where do we even start with Arniel?
Columbus was supposed to finally turn things around after acquiring Jeff Carter and James Wisniewski over the summer. But, Wisniewski missed the first part of the season while serving an eight-game suspension, and Carter dealt with some injury problems, forcing him to miss 10 games.
As a result, Columbus only has a 6-14-3 record for 15 points and are dead last in the Western Conference. They have just four wins in November for a 4-5-2 record, and one of their most embarrassing defeats came on November 5, a 9-2 slaughtering against the Philadelphia Flyers. They are worse off than last year, when they finished 13th in the West with a record of 34-35-13 for 81 points.
In addition, they are terrible at...everything. They score 2.35 goals per game, good for 26th place in the NHL, and their 3.13 goals against per game put them at 24th.
On special teams, they are 24th with a 13.5 percent power play and 29th with a 75 percent penalty-kill rate.
Vinny Prospal, a 36-year-old forward in his first season in Columbus, is the team's leading scorer with 19 points in 23 games. Rick Nash is second with 17 points, but after Nash, the production drops off significantly. The team's third-leading scorer is defenseman Fedor Tyutin, who has 11 points on the year.
R.J. Umberger, who finished second in scoring last year with 57 points, has seven points so far this year. Antoine Vermette, who was third with 47 points in 2010-11, has just nine points through the first two months.
Steve Mason has regressed since his Calder Trophy season in 2008-09. He has a record of 3-12-1 with a .875 save percentage and a 3.63 GAA. I've seen ECHL goalies with better numbers than that.
The numbers speak for themselves here. Arniel will not be the man to give Columbus any form of success.
Jack Capuano, New York Islanders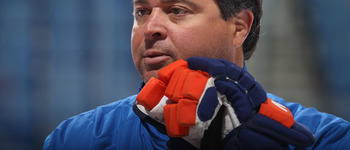 Bruce Bennett/Getty Images
Capuano is the shortest-tenured head coach on this list. He was named interim head coach last November when the Islanders fired Scott Gordon, and he received the permanent job at the end of the 2010-11 season.
It seemed like odd timing, considering the Isles finished the year with a record of 30-39-13 for 73 points and 14th in the East. Capuano's record was 26-29-10 after making the leap from assistant coach to head coach.
Is that really good enough to give the guy the reins?
Capuano isn't showing much with a talented Islanders team this season. They currently sit in last place in the Eastern Conference with a record of 6-11-4 for 16 points. This is a squad that boasts Calder Trophy finalist Michael Grabner, 2009 first-overall pick John Tavares and young stud Kyle Okposo in their forward corps, and strong second-year defenders Travis Hamonic and Andrew MacDonald.
Sure, the team is still young, but it's hard to continue using the inexperienced label when players like Tavares and Matt Moulson are in their third NHL seasons.
The goaltending picture isn't much better. Evgeni Nabokov, who finally reported to the Islanders this season, is 1-5 with a .910 save percentage and 2.83 GAA. Rick DiPietro, who has gone about a month without an injury, is 2-2-3 with a .885 save percentage and a 3.44 GAA.
The bright spot in goal is Al Montoya, who is 3-3-1 with a .929 save percentage and a 2.20 GAA. However, his ability to be a true starting goaltender is still in some doubt, as he has yet to handle the position on the NHL level.
Like the Jackets, the Islanders are terrible in just about every key statistical category. They are last in the league with 1.95 goals scored per game and 27th with 3.19 goals given up per game. They are also 22nd on both special teams units, with a 14.5 percent success rate on the power play and an 80 percent penalty killing rate.
While Capuano may be kept for now since this is his first full season in charge, it wouldn't be shocking at all if he were fired before 2011 ended.
Keep Reading