One Player from Every NHL Team Who Should Become a Coach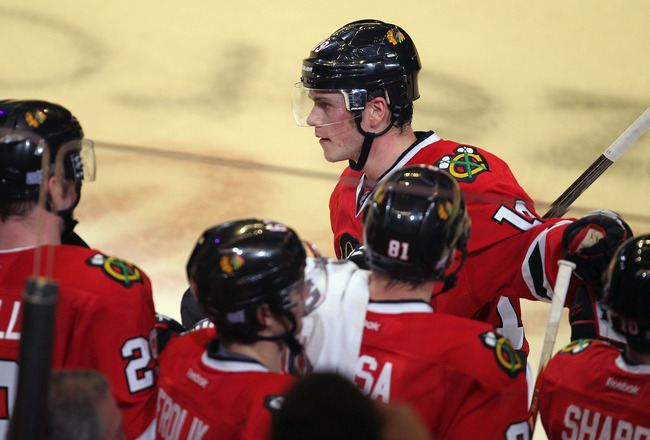 Jonathan Daniel/Getty Images
With news that a couple more former players have accepted head coaching jobs in the NHL, the question is easy to ask: which current players would make a good head coach some day?
There are a lot of players in the game that display strong leadership, and you'll see a lot of players with letters on the chest of their sweaters on this list. You'll also see some players that have a firm understanding of their roles withing the structure of a team concept, though, that could become a strong candidate for a coaching gig before long.
Here are the most likely players on each NHL team to be a coach at some point down the road.
Anaheim Ducks: Teemu Selanne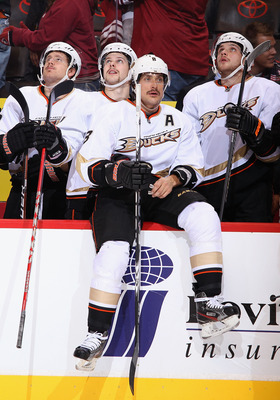 Christian Petersen/Getty Images
He's been around forever and seen it all. It's also hard to find a veteran that's more respected around the league than Selanne, who's always been a class act. The bigger question is if he wants to coach in the NHL or overseas... or if the front office is calling his name.
Boston Bruins: Tim Thomas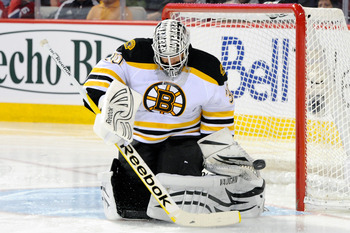 Richard Wolowicz/Getty Images
He's worked his way to the top with an unconventional path, and has been to the mountain top. He's also been effective dealing with the media under all circumstances, from being a Vezina winner to a year off, and back to the top of the game with the Cup run last year.
Buffalo Sabres: Paul Gaustad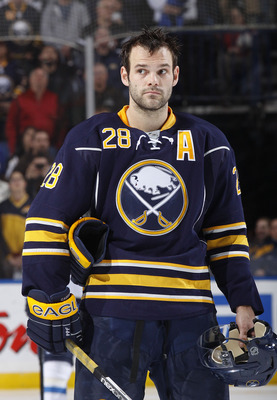 Dave Sandford/Getty Images
Gaustad is an intriguing guy because he plays more of a checking role on the Sabres. He's a big hitter who isn't afraid to block shots, and is a leader on the back end. He would be an effective assistant with an emphasis on special teams to begin a coaching career.
Calgary Flames: Jarome Iginla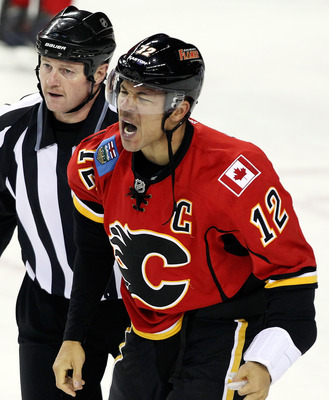 Mike Ridewood/Getty Images
He's a ferocious leader who has never backed away from a fight, and has earned the respect of his peers. More importantly, he's suffered through some miserable seasons without making waves in Calgary, a trait that would make a good impression on a lot of front offices.
Carolina Hurricanes: Eric Staal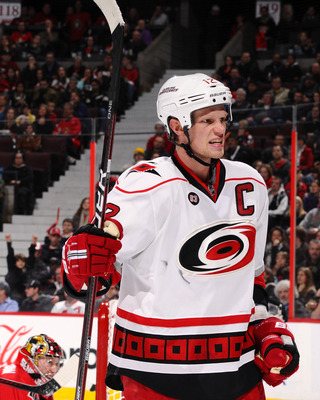 Phillip MacCallum/Getty Images
Despite his start this year, Staal has always been a model leader in Carolina. He stepped onto the league-wide stage as a host at last year's All-Star game, and has been successful throughout his career. However, what we've seen this year is more true leadership; he's owned his mistakes and handled personal criticism for his mistakes well.
Chicago Blackhawks: Jonathan Toews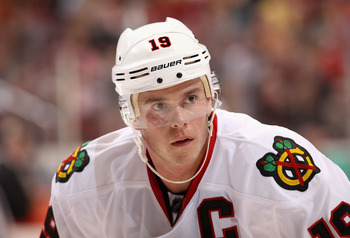 Christian Petersen/Getty Images
One of the youngest captains in NHL history, Toews has done it all. He's the youngest member of the Triple Gold Club and has a Conn Smythe on this resume already. He's years away from retirement, but the leadership he's already displayed in Chicago would likely put him into position to choose his career path after retiring.
Colorado Avalanche: Milan Hejduk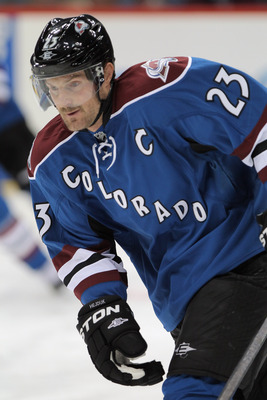 Doug Pensinger/Getty Images
He was tutored into becoming the Avs' captain by some of the great leaders of the last generation, including Joe Sakic. Like Selanne, he could be an intriguing candidate to not only coach in the NHL, but overseas as well.
Honorable Mention: Brent Sopel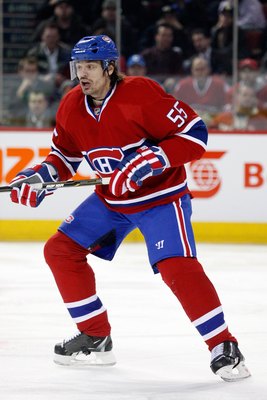 Richard Wolowicz/Getty Images
Sopel is playing in the KHL this year, but his story is pretty impressive. He's dealt with injuries, been effectively benched for an entire year, and battled his way back to become a decent role player and bottom-pair defenseman in the league before heading to Russia this year. He's a special teams ace who knows the game well.
Columbus Blue Jackets: Rick Nash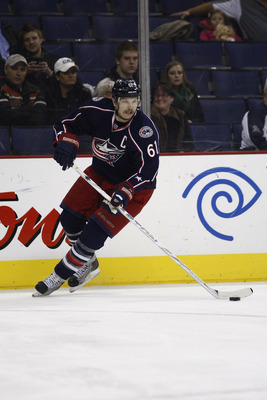 John Grieshop/Getty Images
Partially by default, because of the lack of top-tier talent in Columbus, but mostly because he's been a fantastic leader of the Jackets his entire career, Nash would be the guy to get a coaching gig. Like Iginla, he's had every reason to ask out of a bad situation but has kept his mouth shut and played hard.
Dallas Stars: Vernon Fiddler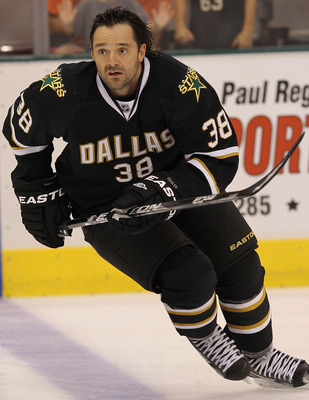 Ronald Martinez/Getty Images
Fiddler, similar to Gaustad in Buffalo, is a fringe player that understands every zone on the ice and plays well on both special teams. He might not be a prime time name, but his game is quietly effective.
Detroit Red Wings: Nicklas Lidstrom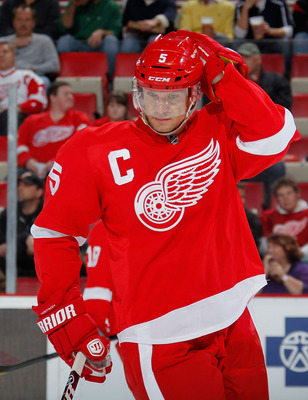 Gregory Shamus/Getty Images
Do we really need to explain why arguably the greatest defenseman of the last 20 years would make a good head coach?
Edmonton Oilers: Ryan Smyth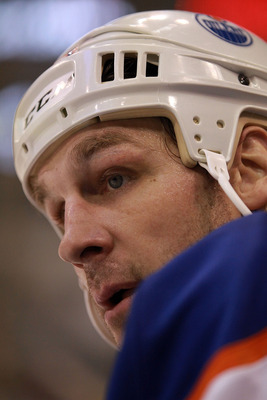 Ronald Martinez/Getty Images
If you talk to the young players in Edmonton (which I have), they all bring up the impact Smyth has made since he was brought back to Edmonton this year. His leadership has been fantastic on a young team, and he continues to play at a high level. Because of his trade history, he's been through almost any/every situation a player can as well.
Florida Panthers: Ed Jovanovski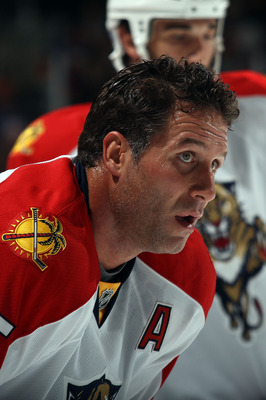 Bruce Bennett/Getty Images
Like Smyth, Jovo has been through almost every situation a player can in the NHL. His leadership has been critical to the turn around in Florida this year, and his understanding of every aspect of the game would make him a good coaching candidate.
Los Angeles Kings: Dustin Brown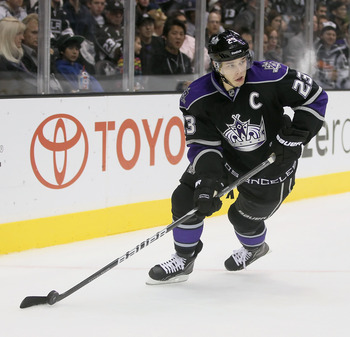 Jeff Gross/Getty Images
There aren't many ambassadors that represent their team, or the game of hockey, better than Brown. He's a fantastic advocate in the community, and a quality player in all three zones as well. His grasp of what it takes to be a professional on and off the ice would make him a good man to have behind the bench.
Honorable Mention: John Madden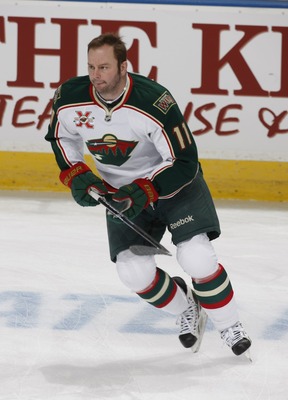 Dale MacMillan/Getty Images
Madden has enough jewelry to make a case for a coaching gig in the minors right now, but the leadership and understanding of special teams that he brought to Chicago and Minnesota in the final two years of his career indicated that he has the knowledge base to take the next step to holding a clipboard behind an NHL bench.
Minnesota Wild: Matt Cullen
Jeff Gross/Getty Images
Cullen isn't a household name, but watching him closely leaves any hockey fan impressed with his understanding of spacing, flow and timing within the game. He's one of the most underrated players in the league.
Montreal Canadiens: Brian Gionta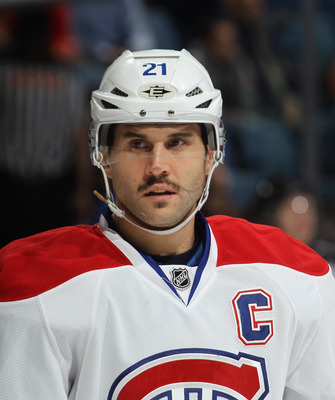 Bruce Bennett/Getty Images
Beyond looking like David Arquette, he's one of the more respected captains in the league. If you can handle the media pressure of being the captain in Montreal, you can handle the requirements of being a coach in almost any market in the league.
Nashville Predators: Ryan Suter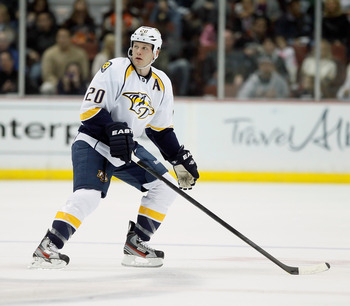 Jeff Gross/Getty Images
He doesn't get the same credit from the media that Shea Weber does, but Suter is a legitimate top-10 defenseman in the league today. What he goes thru in free agency next summer will only strengthen his understanding of the game off the ice.
New Jersey Devils: Zach Parise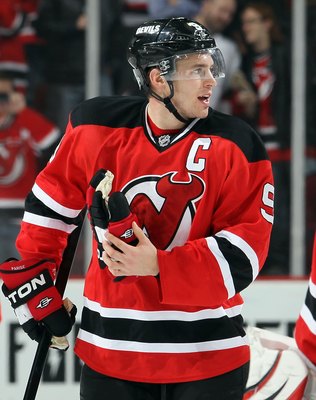 Jim McIsaac/Getty Images
He's a flashy scorer who puts up huge numbers, but what is impressive about Parise is the passionate approach he takes to the backcheck and special teams as well. His focus in every zone as a player would make him a good teacher and leader as a coach.
New York Islanders: Marty Reasoner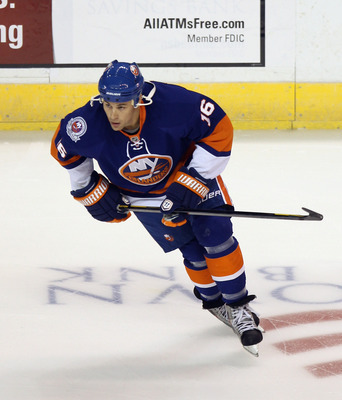 Bruce Bennett/Getty Images
Reasoner has been all over the hockey world as a role player who has quietly accepted whatever role a team has asked him to play. The willingness of a player to do what is asked usually translates well to someone asking players to do the same.
New York Rangers: Ryan Callahan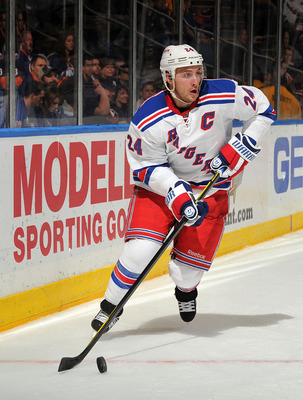 Christopher Pasatieri/Getty Images
Callahan is a young captain with the Rangers, but his international experience and grit would make him a fiery leader his current employer might be interested in having behind their bench some day.
Honorable Mention: Mike Modano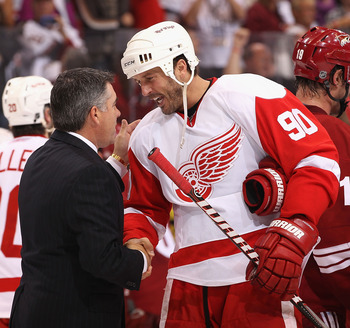 Christian Petersen/Getty Images
Another future Hall of Famer who has handled being the face of a franchise, Modano was the man on a team in turmoil when the North Stars became the Stars. He might have a face for television, but his personality and experience would be great as a coach somewhere.
Ottawa Senators: Daniel Alfredsson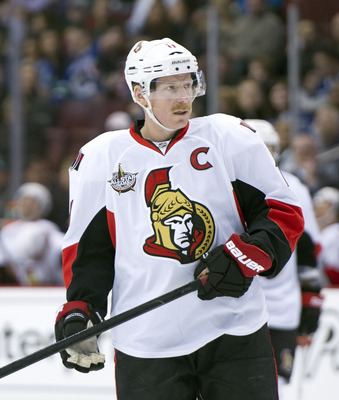 Rich Lam/Getty Images
Another guy that, like Nash and Iginla, has quietly been alright leading more than one "rebuild" as a captain. Players of every age respect him, and the transition to behind the bench isn't hard to imagine.
Philadelphia Flyers: Kimmo Timonen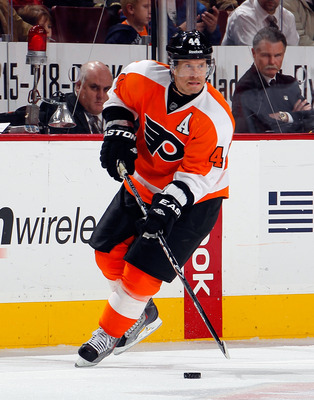 Paul Bereswill/Getty Images
Timonen has been good for a long time, but has never really received the accolades he probably deserves. To be a good coach, you have to be comfortably not getting credit for things going well, and he's done that for years.
Phoenix Coyotes: Ray Whitney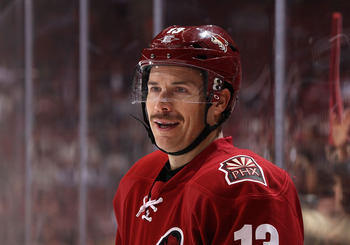 Christian Petersen/Getty Images
Maybe without the mustache, Whitney has been all over the game and seen it all. His leadership has been understated, but his effectiveness is clear in the numbers. Being able to succeed for a long time is what every kid wants to do when they get into the league, and Whitney would be able to tell them how to do it from personal experience.
Pittsburgh Penguins: Steve Sullivan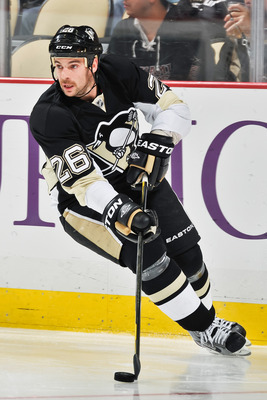 Jamie Sabau/Getty Images
The easy answer would have been Crosby, but Sullivan's career has been remarkable. From being written off on multiple occasions to making comeback after comeback, he's as inspirational as any player in the game. He certainly has the will to compete and win, which makes for a great coach.
San Jose Sharks: Patrick Marleau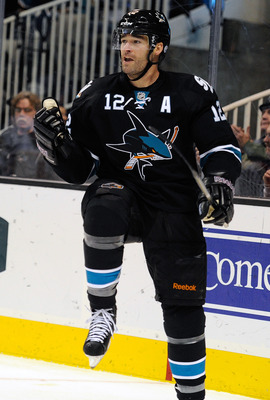 Thearon W. Henderson/Getty Images
He's dealt with the pressure of being a high draft pick, and been on winning teams for years. He's also been a key member of some good international teams, including the 2010 gold medal team. All of that experience would make for a good coaching candidate.
St. Louis Blues: David Backes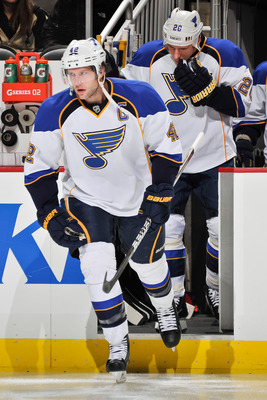 Jamie Sabau/Getty Images
Like Dustin Brown in LA, Backes is a hard-nosed captain that sticks his nose in every situation. He has the back of any teammate that gets hit, and that translates into respect from teammates. His understanding of leadership on the ice would translate into a good coach off it.
Tampa Bay Lightning: Martin St. Louis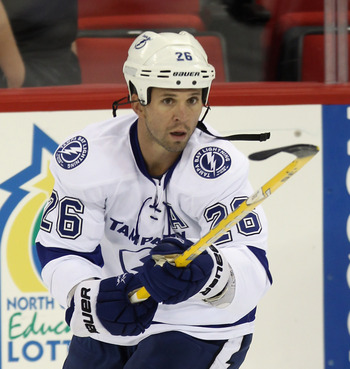 Bruce Bennett/Getty Images
There is very little he hasn't done in the game, and his list of individual hardware is enough to put him on a list of coaching candidates whenever he wants to make that career choice. He's dealt with aging stars, new superstars, and succeeded as a Robin to the Batman of either Stamkos or Lecavalier for years. A true professional, he'd make a fantastic coach.
Toronto Maple Leafs: Matthew Lombardi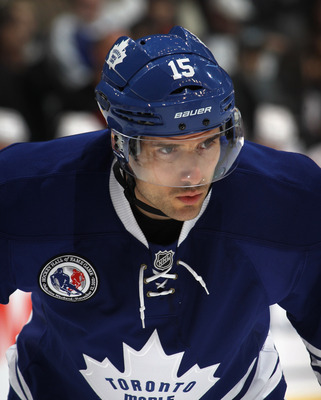 Bruce Bennett/Getty Images
Similar to a guy like Sopel or Madden, Lombardi has been moved around a few times and given up on by teams, only to make his new home happy to have him. He understands roles on the ice, and the politics off of it.
Vancouver Canucks: Manny Malhotra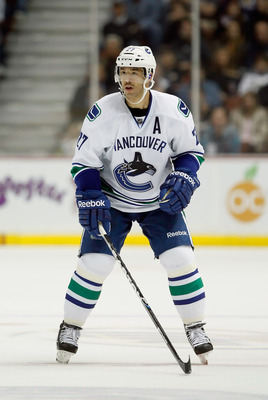 Jeff Gross/Getty Images
A respected player on Vancouver's roster that was clearly missed after injury ended his postseason. He's a fantastic role player who has a great grasp of special teams importance.
Washington Capitals: Jason Chimera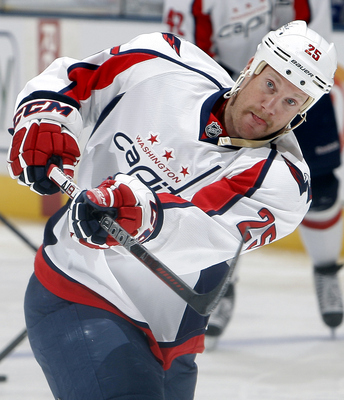 Abelimages/Getty Images
He was a captain before being dealt to Washington, where he's watching what a egomaniac can do to a coaching staff. His leadership has been consistent, and his exposure to the ability of a star to submarine a coach's job will make him a very aware coaching candidate someday.
Winnipeg Jets: Andrew Ladd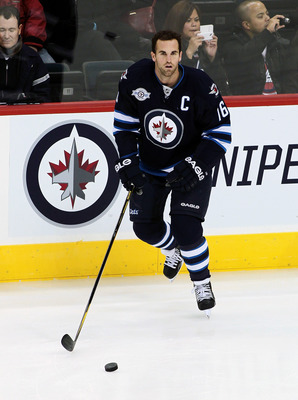 Marianne Helm/Getty Images
With such a young roster, it's hard to pick out someone who has displayed a lot of coaching qualities. But Ladd is a young captain who has won two Cups with two different teams in two very different roles, and has evolved into the player that Carolina saw when they used the fourth overall pick in the draft on him.
His movement through the league, and continues maturation and development, as well as his championship experience make him a fantastic captain and, someday, coach.
Keep Reading