Novak Djokovic: Why He's Still Likely to Proceed to the Semis Despite Losing
December 11, 2014
Clive Brunskill/Getty Images
It is not often that a loss can be good or at least not devastating for you. But in the round robin format, you can end up in some very strange scenarios.
Janko Tipsarevic deservedly beat Novak Djokovic 3-6, 6-3, 6-3 today in a match that featured many ups and down from both players.
Djokovic was clearly the better player in the first, with 14 winners to three, and in the early part of the second as he pushed Tipsarevic in each of his service games.
Nevertheless, as Tipsarevic managed to get out of those tight deuce games, the momentum shifted in his favor. The second set wasn't pretty with Novak hitting 10 winners to 19 unforced errors and Tipsarevic seven to 14. 
The crucial break came at 2-3, where Novak gifted Tipsarevic with a break by hitting a forehand long and putting a drop shot in the net.
Tipsarevic served it out with a high kicking second serve, and continued the momentum in the third, where he broke Novak right away and held for the remainder  of the match.
The strange thing is that Djokovic' chances of further advancement are still pretty good.
Why?
Well, out of seven possible scenarios for today's matches, Novak would only go through in three of them. If he beat Tipsarevic, he would only go through if Ferrer beats Berdych or if Berdych takes three sets to beat Ferrer.
If he lost to Tipsarevic, he still goes through if Ferrer beats Berdych.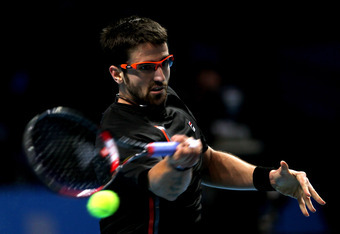 Clive Brunskill/Getty Images
The only result in the Ferrer-Berdych match that makes a difference to the Djokovic-Tipsarevic match, regardless of score, is if Berdych beats Ferrer in three sets.
Sure, that can happen.
But given how well Ferrer has been playing, his 5-2 record against Berdych (2-0 on hard and 1-0 indoors), Ferrer's chances of beating Berdych and thereby securing Novak a spot in the semis do not look bleak.
Add to it that Ferrer has all the motivation in the world to beat Berdych.
Why?
Well, because if Berdych wins, Berdych finishes first and gets to meet Jo-Wilfried Tsonga in the semis. If Ferrer wins, he finishes first and avoids Roger Federer against whom he is 0-11 against (he's 1-1 against Tsonga).
The match is open, but don't be surprised if David Ferrer gifts Djokovic with a semi-final show-down against Roger Federer. Stranger things have happened in this tournament.