Philadelphia Flyers: 5 Players to Be Thankful for This Season
A pair of new Flyers seem thankful for each other
Paul Bereswill/Getty Images
It is Thanksgiving Eve and what better way to prepare for tonight's game against the New York Islanders than going around the table and proclaiming what we, as Flyers fans, are thankful for.
There have been quite a few surprises over the first 20 games of the regular season.
Some of the new faces we expected to step up have flat-lined, while some unknown commodities have played a big role over the first quarter of the year.
Which Flyers am I most thankful to have representing hockey in my city? Well, that's the fun of lists. Read on to find out, and let me know what else fans are thankful for in the city on the night before man's greatest holiday.
Enjoy!
Ilya Bryzgalov
Jim McIsaac/Getty Images
The $51 million free-agent goalie has found his way out of the woods and on to this list.
Despite some early-season struggles, Bryzgalov has come on nicely, going 5-1-1 over his last seven starts, posting a 2.00 GAA and .933 save percentage.
But beyond his numbers Bryzgalov is a symbol of what I have always wanted and never received as a Flyers fan, a true No. 1 goalie.
I never saw Parent or Lindbergh play live. My memories of Hextall consist more of goals from center ice than the highlights of his first stint in the city.
Above all I'm thankful for Ilya Bryzgalov because it has always been said that goaltending is holding the Flyers back from winning a championship. Hopefully, that is no longer the case.
Jaromir Jagr
Twenty games in it still seems like a dream.
But Jaromir Jagr is still a Philadelphia Flyer.
And not only is the novelty of an all-time great Philly killer suiting up in orange and black something special in itself, but the 39-year old Czech Republic native is producing.
Despite missing the last two games, Jagr has posted 17 points in 18 contests, tied for second most on the team with linemate Scott Hartnell.
While Jagr's advanced age and lack of playing time the past three years may lead to a few more maintenance days off, his impact on the team is undeniable.
Jagr gets the puck on his stick and immediately calms the play, even when attempting something spectacular.
His veteran savvy has brought a new element to the Flyers, and his impact on Claude Giroux is clearly showing itself early on.
By pairing Jagr with Giroux, Jaromir has a chance to make plays with the most talented player on the ice while Claude soaks up every ounce of wisdom and swagger he can from the future Hall of Famer.
But what I'm most thankful for concerning Jagr is that he signed in Philly, not Pittsburgh. The Penguins were in first place without Crosby, who scored four points in his long-awaited return from a concussion, and continue to look like the best team in the East with Sid the Kid.
Had Jagr signed with the team he won back-to-back Stanley Cup titles with in 1991 and 1992, it could have been a rather one-sided rivalry this season as the Flyers dealt with their plethora of personnel changes.
Matt Read
Rookie forward Matt Read, for whom I professed my man crush about a week ago, ranks first among all rookies with nine goals, and his 14 points are currently third most amongst all first year players. His plus-seven rating ranks only behind teammate Sean Couturier (plus-eight) in that group, as well.
But it is Read's story and style for which I am most thankful.
Read has contributed on both the power play and penalty kill, having scored both man-up and man-down goals.
The energy Read brings makes him a great fit for Peter Laviolette's system, and his versatility is reminiscent of Sami Kapanen, but with a greater scoring touch.
Read signed as an undrafted free agent following his senior season at Bemidji State University and has been making an impact in the organization ever since, having totaled 27 points in 28 games with both the Adirondack Phantoms and Philadelphia Flyers, dating back to his signing last spring.
What I am most thankful for about Matt Read is the Flyers having an impact rookie. It has been too long since first-year players have had an expanded role with the big club, and it is fun to see a young guy who may not have projected well but is working hard to make his NHL dream a permanent reality.
Also, Read's age, 25, is a bit advanced for a rookie, which makes me feel like I just may still have a chance.
Peter Laviolette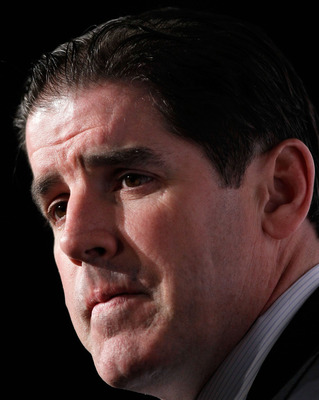 Kevin C. Cox/Getty Images
Coach Lavy has overseen one of the most tumultuous eras in Flyers history and lived to tell about it.
After taking over a sinking ship in December 2009, squeaking into the playoffs, overcoming a historical deficit and losing the Cup on one of the most heart-breaking overtime finishes ever, Laviolette's Flyers came out like gangbusters in 2010-11, only to have their championship dreams dashed by a hot goalie and an apparent lack of leadership.
Despite the wild offseason, Laviolette is back with the players of his choosing, and no fans can claim disappointment.
Everyone expected the Flyers to struggle through the beginning of the season, as all of the changes were sure to lead to some imbalances of chemistry.
However, Laviolette has steered the Flyguys through the first 20 games with 25 points, good enough for second in the Atlantic behind Pittsburgh with a game in hand. Despite losing Mike Richards, Jeff Carter, Kris Versteeg, Ville Leino, Nik Zherdev and Dan Carcillo's combined 224 points over the summer, the Flyers lead the NHL with 73 goals scored.
Laviolette has proven in his short tenure to be one of the best coaches in the league.
Some writers have referred to Laviolette as a hockey genius, but what I'm most thankful for is Laviolette's honesty. It seems the players and officials always know where they stand with Lavy because he is not afraid to tell them.
And from Laviolette's honesty comes respect, because all hockey players respect winning, which is this coach's only motivation.
Laviolette so clearly loathes losing fans that appreciate his efforts, even when the same cannot be said for the players on the ice.
Claude Giroux
Despite the fact that most readers with above-average hearing will have to watch this highlight video on mute, do not let the awful music choice take away from the amazingness that is Claude Giroux.
While Giroux has been every synonym of dazzling so far, it seems he is getting better.
His 26 points through the first quarter of the year put him on a 104-point pace, and his newfound scoring to compliment his unbelievable play-making abilities make him one of the most dangerous players in the league.
Giroux's 11 goals, 15 assists and 26 points all rank within the top five in the NHL.
But what every Flyers fan should be most thankful for is Giroux's age.
Giroux turns 24 in January, meaning the best is still to come from this young superstar.
It is clear, under the tutelage of Jaromir Jagr and out from under the shadows of Richards and Carter, Giroux is the next great player in the league, the next "IT" guy.
And Giroux is already showing signs of maturity, taking on and excelling in a leadership role while a few veterans are on the mend.
Everything about No. 28 is exciting, from his puck-handling and passing to his sniping and commitment to defense. But what is most exciting is Giroux's potential. It is hard to imagine how good Claude will become over the next few years, but I have a feeling his progression, as hockey fans, is something we will all be thankful to have seen.
Bonus: The Winter Classic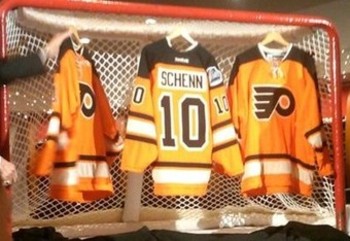 Who in this city is not thankful the Coolest Event in Sports will be held in Philadelphia on Jan. 2 against the Rangers?
Philadelphia is the greatest hockey city in the United States, and now a celebration of this game has come to us.
Having seen the Flyers at Fenway Park for 2010's version of the game from high atop the Green Monster, I personally could not be more excited.
The atmosphere of hockey in a ballpark with twice the capacity of The Big Joint is sure to be rocking as the entire city deals with the previous day's hangover the best way we know how: freezing cold temperatures, colder beer and grown men beating each other up over a game.
Seeing as the Eagles play their final regular season game on January 1, the Classic will be a healthy way for many of the city's fans to jump aboard the Flyers bandwagon; we can do everything we do for Eagles playoffs, except maybe watch a victory once we're in the stadium.
But what I'm most thankful for is the spotlight on Philadelphia as a hockey city. The alumni game will feature some of the organization's all-time greats, the Winter Classic itself will put one of the oldest and fiercest Eastern Conference rivalries under the national microscope, and leading up to everything will be HBO's 24/7 documentary coverage.
Basically, the Winter Classic and the entire New Year's experience in Philadelphia this year will be paradise for any hockey fan willing to brave the cold, which should not be an issue, as we all know the game was meant for the outdoors.
Oh, and I love the jerseys. I plan on sporting the only Matt Read sweater in Citizens Bank Park. Except for the one he is actually wearing, of course.
So, what are you all thankful for? We'll start at this end of the table. Who's next?
Keep Reading

Philadelphia Flyers: Like this team?