NHL Trade Rumors: What Would It Take to Bring Cory Schneider to Columbus?
November 17, 2011
Jeff Gross/Getty Images
Since the beginning of the season, the Columbus Blue Jackets' main weakness lies in net with Steve Mason. Entering the year with hopes or returning to the form that won him the Calder Trophy, Mason has been anything but impressive, posting a 3-12-1 record with a 3.63 goals against average and .875 save percentage.
Not all of the blame can be put on Mason's shoulders as the Jackets' defense has at times seemed nonexistent. However, it is clear that Columbus cannot win with Mason in net.
Rumors emerged last week about the Jackets looking to change their fortunes in net through a trade, possibly for Winnipeg's Chris Mason or San Jose's Antero Niittymaki.
Other names that have been mentioned include Boston Bruins backup Tuukka Rask and Vancouver's Cory Schneider.
The Canucks find themselves in a jam as Schneider, one of the top backups in the league, is set to become a free agent at the end of the season, and the team has yet to decide on whether they will keep him or Roberto Luongo as their No. 1.
Luongo has a large long-term contract that would be hard to trade, making Schneider a more likely candidate.
It has been reported that the Blue Jackets have become very interested in the situation across the border and are hoping to find a way to possibly bring Schneider to Columbus.
The question remains, however, as to what the Jackets could offer the Canucks in return for the 25-year-old?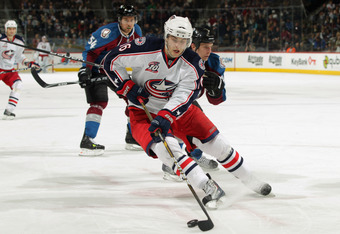 Doug Pensinger/Getty Images
One name that continues to pop up as possible trade bait is youngster Derick Brassard. The Jackets' sixth overall pick in the 2006 NHL Entry Draft has been a healthy scratch for the past three games.
Columbus has a surplus at the center position after trading for Mark Letestu earlier in the month and with Jeff Carter returning from injury. With Antoine Vermette and Derek MacKenzie filling the other two center spots, Brassard, as well as Samuel Pahlsson become expendable.
Over his four seasons with the Jackets, Brassard's numbers have improved every season as he has shown his potential at the NHL level.
If Brassard was part of the deal, it would most likely not be enough for Schneider, as he himself has shown a lot of promise at the No. 1 position and is in for a substantial pay raise at the end of the season.
To pair with Brassard, the Jackets will most likely have to include another top prospect and/or possibly a high draft pick.
Before last offseason, Jackets general manager Scott Howson had never been one to trade away draft picks. That was until he traded his first round pick and Jakub Voracek to the Philadelphia Flyers for Jeff Carter.
Howson was looking to find the missing pieces in the Jackets quest for relevance in the NHL, and yet, some pieces have yet to be found. Would Howson be willing to deal picks yet again to finally solve the team's issues in net?
If they want a player as talented as Cory Schneider, he may have no other choice.