San Jose Sharks: Winchester, Desjardins and Murray Make Up Only Solidified Line
November 16, 2011
Gregory Shamus/Getty Images
The San Jose Sharks have rejiggered their forward lines many times this year.
At first they had Joe Thornton playing alongside Joe Pavelski and Patrick Marleau, but head coach Todd McLellan wanted to move Marleau to center, so he was placed on the second line.
"Instead of having Patty on the wing," McLellan said after a Nov. 3 contest against the Penguins, "let's have him roam the whole ice surface. My sense was that he had his legs and was alert."
This meant moving Logan Couture from the middle to the wing and placing him on the first line.
"Cooch and Jumbo and Pav have had some chemistry," said McLellan. "We saw that last year in the playoffs."
It also meant separating Couture from Ryane Clowe, a player he connected with last year, and Martin Havlat, a player Couture developed chemistry with on the team's lengthy East Coast road trip in October.
"He's been a good addition," said Couture on Nov. 2, after the team returned to San Jose from the road trip.
"It's been fun, and I look forward to getting better with him."
While McLellan likes the team's performance of late, save for the 3-0 loss to Phoenix on No.12, he does not seem hesitant to change line combinations if the team appears stale, and he liked the Havlat-Couture-Clowe line early in the season.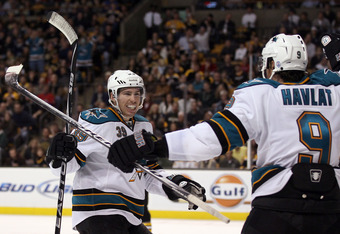 Elsa/Getty Images
"Marty [is] very bright, holds on to a lot of pucks, creates plays," he said. "It's a pretty good complement for Cooch's tenacity and Clowey's size and puck-handling skills."
Many players have had stints on the third line, but following the Penguins game, McLellan appears to be pairing Michal Handzus with Torrey Mitchell, a player who brings speed, and Jamie McGinn, a bruiser.
This change came after Handzus and McGinn connected for an important goal in the Pittsburgh game.
"To see Zeus and Ginner connect on one was rewarding," said McLellan after the game.
Curiously, the only line that has remained virtually untouched is the fourth line.
The play of Andrew Murray, Andrew Desjardins and Brad Winchester has kept NHL-ready players Benn Ferriero and Tommy Wingels in Worcester.
Ferriero scored a game-winning goal against Detroit in last year's playoffs and another winner in his hometown of Boston this season.
He has a goal in four games this season.
Wingels made the team out of camp this year, and McLellan expressed that he liked his play early on.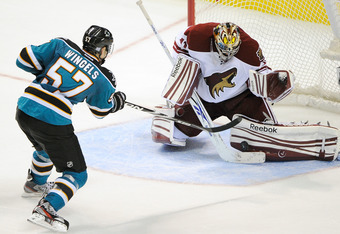 Thearon W. Henderson/Getty Images
He has an assist in three games this season.
Murray, Desjardins and Winchester developed their chemistry in training camp, and it has carried over into the regular season.
"The coaching staff gave us an opportunity to play together all camp and gave us a chance to make the team," says Murray. "We're getting to be a little more familiar with each other and where we are out on the ice."
"In training camp we were put as a line, so that definitely helped," echoed Desjardins. "It's good to play with the same guys because then you begin to get more of a mold to your game."
All three players feel that their talents complement each other.
"It's a good combination," says Murray. "You've got Desy, who's got speed and smarts down the middle, and Brad, who's got a really good shot and protects pucks real well down low."
"We all sort of play the same style," says Desjardins. "We're tenacious on the puck, we cycle well and we try to hold on to pucks and just create energy.
"We're all energy kind of players."
When asked about how his skills complement "Andrew's," Winchester laughed.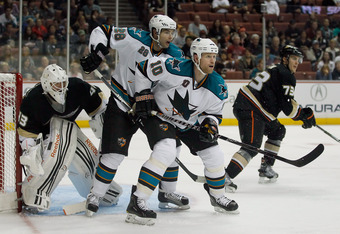 Jeff Gross/Getty Images
"Which Andrew are you talking about?
"Andrew Murray brings a lot of speed, and he's able to create some separation between different layers of the other team's neutral zone and getting in on the forecheck.
"Desy is just a strong player, a good two-way player up the middle and is able to create scrums and get in the forecheck as well."
If they keep this play up, Winchester's biggest concern won't be being sent down.
It'll be remembering to address his linemates by their last name.
Tom Schreier is a Featured Columnist at Bleacher Report. All quotes were obtained first-hand.
Follow him on Twitter @tschreier3.