John Tortorella and the 20 Most Abrasive Coaches in NHL History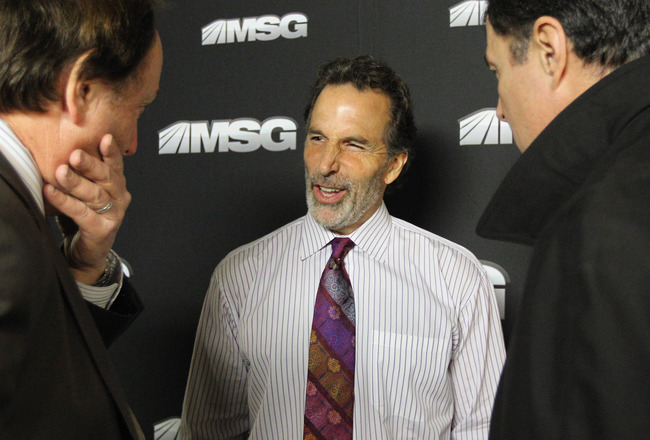 Bruce Bennett/Getty Images
Coaches can't please everyone. Whether it's youth hockey, junior hockey or the pros, certain coaches rub people the wrong way.
Of course, with post-game interviews and the amount of publicity professional coaches receive, their abrasive personalities are put on center stage.
Let's take a look at the 20 most abrasive personalities ever to stand behind an NHL bench.
Alain Vigneault
He whines, he gets angry and he is overrated as an NHL coach. Alain Vigneault, everybody.
Mike Milbury
Mike Milbury is always shooting from the lip. He earned his reputation as a bonehead by jumping up into the stands as a player, furthered it with his terrible coaching career and has capped it off with a suspect stint as a broadcaster.
Terry O'Reilly
Terry O'Reilly developed his abrasive personality as a player and let it follow him during his less-than-stellar coaching career.
Peter Laviolette
Peter Laviolette has had a tough time getting along with certain players (Richards and Carter) and isn't afraid to get angry at the officials.
Bruce Boudreau
Bruce Boudreau is now famous after the 24/7 series. His language is rarely clean and his temper is always flaring.
Michel Bergeron
It's tough to find a good video of Michel Bergeron since he is a French-speaking coach, but believe me, he is a bit of a wild card behind the bench.
Marc Crawford
Marc Crawford has quite the temper, and his potential involvement in the Steve Moore and Todd Bertuzzi fiasco is enough to land him on this list.
Randy Carlyle
Randy Carlyle seems like a grumpy guy. He is not very approachable and takes his anger out on everyone around him.
Guy Boucher
If people don't hate him enough for the boring 1-3-1 system he plays, Guy Boucher loses fans with his anger towards the refs.
Jacques Lemaire
Jacques Lemaire is another guy who seems like an intimidating interview. He is not very approachable and is rarely in the mood for reporters.
Ed Snider
Ed Snider is not a coach, but I felt it necessary to include him on this list because of how many times he has whined to the media.
Bryan Trottier
Much like Terry O'Reilly, Bryan Trottier parlayed his abrasive personality as a player into an unsuccessful coaching career.
Ken Hitchcock
Everyone seems to hate Ken Hitchcock. He is a hell of a hockey coach but often gets moody in his post-game pressers.
Ron Wilson
Ron Wilson is in the hockey's media capital, so the pressure is always there. It seems to weigh on the Leafs' coach a bit. He must be a tough guy to interview.
Bryan Murray
In addition to nearly getting into a fight with Lindy Ruff, Bryan Murray has lashed out at numerous reporters and refs. The above video is NSFW.
Don Cherry
I personally love Don Cherry, but his personality can certainly rub people the wrong way.
Lindy Ruff
Lindy Ruff is notorious for getting angry at everyone. His players, the refs and the media all know not to get on Lindy's bad side.
Mike Keenan
Mike Keenan is one of the grumpiest men to step behind the bench in the NHL. Players, fans and media didn't like this guy. I'm not sure if anyone liked this guy, to be honest.
John Tortorella
When there is a top ten list about a coach's angry moments, it's safe to say that guy has a bit of an abrasive personality.
Scotty Bowman
Scotty Bowman was a different kind of abrasive. He could rarely be moved in his ways, and that often made him tough for players to deal with.
However, his ways worked. Bowman is widely regarded as the best coach in NHL history. His personality is a big reason why.
Keep Reading