Anaheim Ducks: 5 Things They Need to Focus on to Make the Playoffs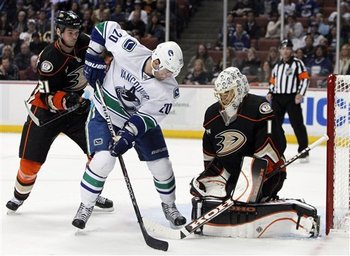 I'm a Canucks fan. That's definitely not news to anyone sitting in the Honda Center Section 313 last Friday night. Yeah, it got real obnoxious.
While I have a rough time giving any other team credit even when credit was due, I've always had a connection to the Ducks. I went to college in Orange County, attended countless Ducks games, and my college team even got to play hockey on the Honda Center ice. I think that it's only fair I step back and give the Ducks their early season dues.
For fans, the new season always brings about that feeling of being put in a new class in elementary school. You don't know a lot of people, there are some names you recognize but the unfamiliar faces are immediately written off, and you're still not any better at talking to girls. I feel ya, Getzlaf; I'd be self-conscious too.
Sitting firmly in last place in the Pacific Division with 6-8-3 record, it is admittedly hard to find a silver lining in the Ducks' early struggles. After seeing this team in action, though, there are definitely brighter times on the horizon.
Corey Perry
Any hockey fan who isn't a fan of the Ducks most likely hates Corey Perry. I am no exception. I can't, however, say the guy isn't an amazing hockey player.
As the defending league MVP, any team Perry is on has a chance at making the playoffs. Just 17 games in, he's already on pace for another highlight season. He leads the team with 6 goals and, as his M.O. would suggest, 35 penalty minutes. He plays hard, goes to the dirty areas of the ice and always puts up points.
Ryan Getzlaf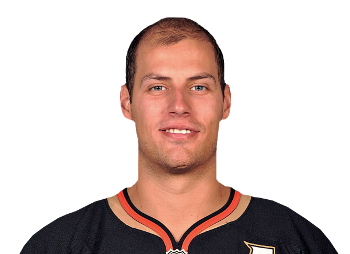 Ryan Getzlaf is a lot of things. Going bald is definitely one of them. In order for the team to succeed, first and foremost, he needs to pick up a Mach-3 and bic that bad-boy so he looks more "NHL Team Captain" and less "Third Grade Social Studies Teacher".
If the Ducks are going to make the playoffs this year, they're going to need a lot more out of Getzlaf than just his skill.
He has to score goals, take up space, and most of all, lead the team in the locker room as much as he does on the ice. Starting the season off with 4 goals and 9 points is all well and good, but when he's wearing that "C" on his chest, it's his responsibility to motivate an under .500 team to play to their potential.
Goaltending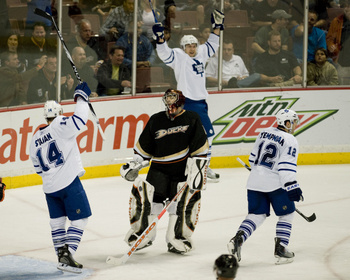 Since Carlyle took over as head coach in the 2005 season, the Ducks have been known as a team able to ice a good net-minder on any given night. If J.S. Giguere needed a rest, Ilya Bryzgalov would step in for him. Later, if Bryzgalov needed a rest, the superb Jonas Hiller would readily answer the call. The blueprint for success couldn't be further than what the Ducks are looking at so far this season.
I remember seeing Jonas Hiller's very first start on NHL ice during a pre-season game against the Canucks in Anaheim. He was fantastic. I looked down at him cursing Brian Burke and the Ducks organization for getting yet another stellar option in net.
Those days seem to be behind us. After missing significant time due to vertigo, Hiller hasn't yet looked like the player he once was. In an attempt to keep their season alive last year, the Ducks dealt with the Lightning in order to get the rights to Dan Ellis. He was more duct tape on the hull than savior. He couldn't get them past the Nashville Predators, a team known for shooting the puck maybe 3 times a game.
In the 15 games Hiller has started, he's 5-7-3 with a .899 save percentage and 3.10 GAA. While certainly good enough to start over Ellis, he's going to have to really step his game up to keep his team's hopes of playing for the cup high.
Supporting Cast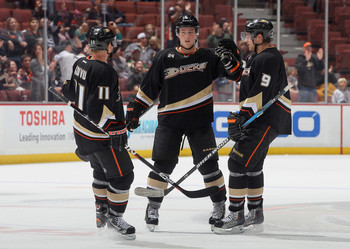 The Ducks are by no means as deep as they used to be. I don't think anybody is denying that. Now, though, it's more important than ever that the bottom three lines step up, obviously starting with the second.
Bobby Ryan, much to my chagrin, might be one of the best young players in the league. The only thing faster than his feet are his hands, and he knows it. If his blockbuster dangle against the Preds during the first round last year wasn't enough proof, I'm sure he's got more up his sleeve this year. Ryan is the spark the rest of the team needs to really get going on the right path.
Saku Koivu is a shadow of the Montreal great he once was. The Ducks weren't hoping for anything spectacular when they picked him up a few years ago, but he's definitely a key to their lineup. More important than ever with Jason Blake out, Koivu's 15-20 goals a season become a vital cog in the playoff-bound machine.
Teemu Selanne is an ageless wonder. The sure-fire Hall of Famer still shows up every game ready to play. What will always blow my mind about #8 is how much fun he's having after all these years. Coming from a very cynical mind, I seriously cannot think of a single bad thing to say about Teemu. He is the heart of this team, and will do whatever he can to get them to the playoffs.
Randy Carlyle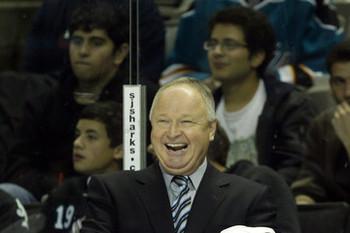 Randy Carlyle is the key. He's led the Ducks to the playoffs 5 of the last 6 years he's been behind the bench. It's hard to imagine this season is going to be any different.
It won't, however, be easy. He's not dealing with the unstoppable force led by Scott Niedermayer a few years back. Two of his top players in Perry and Getzlaf are grinders that are as synonymous with tickling the twine as they are riding the penalty pine. I'm also pretty sure Teemu Selanne might be on dialysis in between periods.
Randy has to focus on his supporting cast if he hopes to keep his stellar regular season record alive. He's going to ask more of Bobby Ryan than ever before. He's always had the benefit of two stellar goalies to chose from, whether it was J.S. Giguere, Ilya Bryzgalov, or Jonas Hiller of old, and now has to flip a coin every night. Young talent like Cam Fowler will also be asked to perform at a higher level than ever before.
Keep Reading

Anaheim Ducks: Like this team?