Roger Federer: Is He Now the Favorite for the World Tour Finals?
November 14, 2011
Harold Cunningham/Getty Images
With two wins in as many tournaments, besting five top-20 players and two World Tour Finals players in the process, Roger Federer seems to have elevated himself to the favourite next week in London. 
The bookies think so to. 
But is he? 
Much has been made of the rest of the Big Four being in uncertain states. But in reality, it is probably only Novak Djokovic who has question marks surrounding his physical condition. 
Rafael Nadal hasn't played since Shanghai more than a month ago, but didn't pull out of the Paris Masters because of injury. While we cannot know his form, we can surely expect he will be well prepared for the most important tournament missing on his resume. 
Andy Murray, the man of the fall, withdrew from Basel with a butt injury, but wasn't hampered this week in Paris. 
Djokovic, on the other hand, does have question marks surrounding not only his physical state, but also his form. He really hasn't been the Djokovic we've known in 2011 since the US Open. 
Outside the Big Four, Mardy Fish seems to be ailing while the rest look just fine. Both Jo-Wilfried Tsonga and Tomas Berdych have shown fine form in recent weeks and David Ferrer will certainly grind as best as he can. 
Harold Cunningham/Getty Images
Needless to say, Federer is a favourite against anyone outside the Big Four. But is he the favourite for the tournament? 
I answer with a hesitant yes. 
Partly because of Novak's uncertain state. If he was in the Novak-machine mode he was in for the first nine months of 2011, he would have earned the right to be the favourite for this tournament too. 
And partly because it is indoors, Federer's best surface at this state in his career and best surface against his nemesis, Nadal, who has never beaten him indoors. 
Given this, it's hard to favour Nadal over Federer given Federer's recent form and the surface. 
It is also hard to favour Murray over Federer given Federer's previous record at the tournament and Murray's problems with winning when it matters the most. 
That said, Murray is tied with Nadal, if not even a notch above, as second favourite just behind Federer. It is not a slam and that may very well work in his favour as the pressure will be less. Also barring the tight loss to Berdych in Paris, Murray's form has been second to none. 
As for the rest, I see Tsonga as a dark horse for the final and the title, and Berdych as a very dark horse.
I would be very surprised to see either Ferrer or Fish make an impact, but stranger things have happened and with a bit of luck in the draw, a Ferrer could make it to the semis.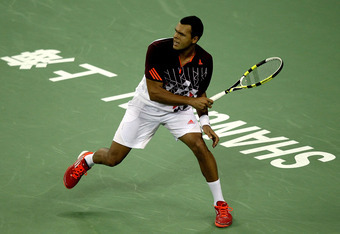 Matthew Stockman/Getty Images
What is wonderful about the tournament is that everybody have so much to fight for. 
Tsonga, Fish, Ferrer, Berdych and Murray would all win the biggest tournament of their careers, where they to win the final in two weeks time. 
For Murray, it could very well be the confidence boost he needs and give him the belief that he can beat his fellow top-four players at any tournament, slams included. 
Djokovic would want to win it to top of his perfect season on a high note and further his case for the best male tennis season ever. 
For Nadal, the World Tour Finals trophy represent the one important piece of silverware that he hasn't won yet. Almost every other great player has won it and Nadal has proclaimed how much he wants to win it too. 
And Federer?
A win would not only prove that he's still very much in the mix and relevant after the first season since 2002, where he failed to win a slam. 
A win would give him a sixth title and put him one above his two fellow record holders at the moment, Pete Sampras and Ivan Lendl. That should be all the motivation he needs. 
The action starts on Sunday.