Andy Murray: How Much Should We Make of His Excellent Form?
November 10, 2011
Matthew Stockman/Getty Images
Andy Murray is currently on a 17-match winning streak and has won 27 of his last 28 matches. Not quite like Djokovic at the start of the season, but nevertheless a very impressive streak in its own right.
Last week, he withdrew from Basel with an injury sustained during sleep. The injury doesn't seem to bother him much anymore as evidenced today when he dismantled Andy Roddick 6-2, 6-2 in 61 minutes.
The question that always surrounds the slam-less Brit is whether he can win when it really matters.
It's impressive to sweep the Asian swing, but it's more impressive to do so at a time of year when the field is fully rested and motivated and there's a slam on the horizon. We've seen great form from Murray in the past though perhaps none as good as this time around.
Based on the past, it wouldn't be unlikely to see Murray win this week's Masters in Paris only to crash out at the semifinal stage in two weeks time at the World Tour Finals when it really matters. 
Is this time any different? 
I've argued that with a few tweaks, Murray has the potential to turn his fortune around in a similar fashion to what Djokovic has done this year (not replicate his year, but take his game to the next level).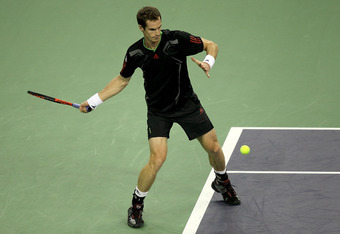 Matthew Stockman/Getty Images
Andy Murray's return game is already world class and there can be no doubt that the talent is there. However, there are weaknesses too.
In particular, Murray's weaknesses are the following: his first serve percentage, his number of points won on second serve, his mentality, his sub-par forehand compared to the rest of the Big Four and his lack of aggression, especially when playing Djokovic, Federer or Nadal. 
His failure to win on his second serve is perhaps his most glaring weakness. While the list is topped by Nadal, Federer and Djokovic, eight members of the Top 10 are to be found in the top 21 on the list. Gael Monfils, ranked No. 10, is second worst among the Top 10 on the list and he's ranked 30th. 
Murray is a dismal 51st winning a mere 49 percent of his second serve points compared to 57 percent for the top dogs, Nadal and Federer. Is there any intrinsic reason why he should be that bad in this specific category?
By all means no. Last year, he ranked 20th, better than Djokovic at 27th. In 2009, the two of them were tied at 13th and 14th (Nadal and Federer are always in the tops in this category). 
At 6-foot-3, Murray is the tallest member of the big four and his second serve, or first serve percentage for that matter, shouldn't be a weakness, but a strength. 
Murray is better than both Djokovic and Nadal in terms of percentage of points won on his first serve this year and every single year for the past five years.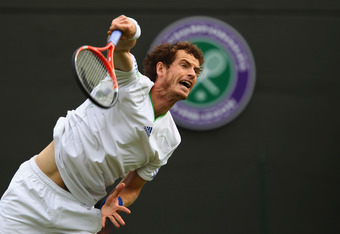 Clive Brunskill/Getty Images
Why is he so weak on his second serve this year? I honestly don't know, but I see no reason why he can't improve it. 
In fact, I already see improvements with regards to all the weaknesses mentioned. 
We haven't seen him enough against Nadal, Federer and Djokovic during his current streak to come to any definite conclusions, but we have seen that he can be aggressive against the field and against Nadal in particular, play his forehand bigger and beef up his second serve and win a better percentage. 
Murray is also showing signs of maturing mentality and being less negative on court. Obviously, we need to see how that works out in adversity, but it's clear that it is something he is aware of and is working on. 
Can Murray win Paris? Most certainly yes, winning hard court Masters have never been a problem for him. 
Can he win the World Tour Finals in London? 
That really is the big question in the coming weeks. All the players there are motivated to win it.
It's the only title of importance that Nadal hasn't won, so he obviously wants it. Federer has never hidden how much value he places on beating the best of the best at the final tournament of the year and Djokovic would want it to make his already historic season into what many would term as the best ever.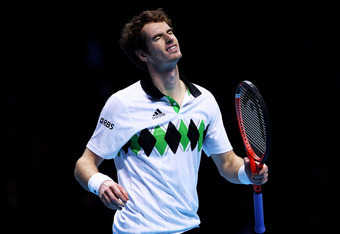 Julian Finney/Getty Images
In his current form, you have to like Murray's chances.
Moreover, it's not a slam, which takes some of the pressure off and it's a best-of-three sets format, where Murray has enjoyed the most success. 
If he can win a tournament of that magnitude with all the top guys in it, I believe it can act as the confidence boost that propels Murray from being a slam contender to a slam winner. 
If he wins it, we will know a whole lot more about his excellent form. 
For now though, that form is just another instance of a great streak from Murray in non-slam tournaments. Nevertheless, I for one believe it is a sign of more to come though he has areas to work on as noted above.