Ranking the Top 10 Most Intriguing NHL Games This Weekend
November 11, 2011
Christian Petersen/Getty Images
How's it going hockey fans? We have quite a few intriguing games that are happening over the weekend. What I've done is looked at the all the matchups that will be going on from Friday's games through Sunday's game, broke them down from the most interesting and intriguing to the least. And for those of you true fans who actually care, I'm going to give you my top 10 games that will be played over the next three days. I will be going in reverse order from number 10 to number one. The first two are the same two teams—if you are a Caps fan or a Devils fan, you will know which matchups I am referring to. So let's get started and let's break this thing down.
No. 10 and No. 9 Most Intriguing Matchups:
Washington Capitals (9-4-0) vs. New Jersey Devils (7-5-1) (Friday and Saturday)
The number 10 and nine games of the weekend is the home-and-home series between the Devils and Capitals. The main reason for this is mostly because of the Capitals. They have been so good and have started off the season on a high note. Personally, I think the Capitals have the best team in the entire league, but my opinion of this changes pretty much every week. But for right now, the Capitals look like the strongest team to me. You look at the Capitals and you can see that they are once again becoming an offensive juggernaut. They have only played in 13 games to this point and they have already scored 50 goals. Only two other teams have scored more total goals then the Caps. They are filled with talent, are very good at home and could end up having the best home record when the regular season ends.
For the Devils, the case is not the same. Like it's been in recent years, this team is very poor offensively. They have only scored 33 goals through their first 13 games. If the Devils were a little better at scoring, this home-and-home series would end up being a little higher on my list of top 10 games for the weekend, rather than just sitting at number nine and 10. Defensively, the two teams are pretty much the same. Both teams are not great defensively, but both are still decent. The Devils have given up 36 goals this season while the Capitals have given up 38. These numbers rank 11th and 12th in the league respectively. Right now, I wouldn't be surprised if the Capitals end up winning both of these games. To me, the Capitals are quite a few steps ahead of the Devils. If the Capitals start moving the puck around smoothly and play like the offensive minded team that they are, the Caps could end up taking both games of this series.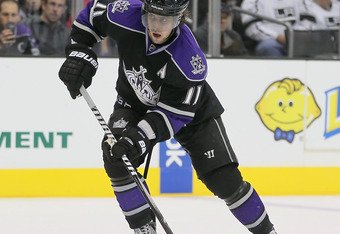 Jeff Gross/Getty Images
No. 8 Most Intriguing Game of the Weekend:
Minnesota Wild (8-4-3) vs. Los Angeles Kings (7-6-3) (Saturday)
I'm intrigued by this game because I love watching matchups between teams that I think are both Top 15 NHL teams. The Minnesota Wild had looked very impressive to me so far this season. Obviously I'm talking more about their defensive play then anything else. They've only given up 29 total goals through their first 15 games and Josh Harding had been very good in his five games that he has played—4-0-1, 1.18 GAA. It's been almost the same for Jonathan Quick. He had a hot start to the season but has since slipped up a bit. Quick, in my opinion, still remains as one of the top goaltenders to be the Vezina Trophy winner at the end of the season. Quick has a 6-4-3 record with a 1.96 GAA that ranks among the top 10 among goalies. I haven't heard who will get the start for the Wild, but if it is Harding, I expect this game to be a tough, low scoring affair.
No. 7 Most Intriguing Game of the Weekend:
Phoenix Coyotes (7-4-3) vs. San Jose Sharks (9-4-1) (Saturday)
I always love a good Pacific Division rivalry game and we have one right here on Saturday night. Both teams are top 15 teams in the NHL so far, and both teams have a great chance of making it to the playoffs once again. Neither team has been amazing offensively this season—Sharks 3.14 GPG, Coyotes 2.85 GPG— but the Sharks have given up three fewer goals than the Coyotes and have a respectable 2.57 team GAA to this point. Thomas Greiss has played very well in his five chances this season—3-2-0, 1.99 GAA—while Mike Smith of the Coyotes hasn't been all that bad either in his 11 games—6-2-3, 2.41 GAA. I think one guy to watch for in the game is Sharks center Joe Pavelski. He's off to a nice start this season, scoring nine goals and eight assists for 17 points which ranks among the top 10 so far this season among all players. I think the Sharks could end up winning this one by a single goal.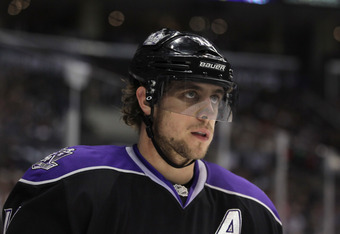 Jeff Gross/Getty Images
No. 6 Most Intriguing Game of the Weekend:
Dallas Stars (11-3-0) vs. Detroit Red Wings (7-5-1) (Saturday)
Any fan of the Red Wings or Stars knows that when these two teams get together, it's going to be a good tilt. These two Western Conference foes just don't like each other and it's been that way for quite some time now. Dallas is off to a hot start—22 points in 14 games—and two main reasons for Dallas' success are the great individual starts of Jamie Benn and Loui Eriksson. These two have combined for a total of 34 points their first 14 games. On the goaltending side, Kari Lehtonen already has 11 wins to his credit and a 2.13 GAA. The Red Wings, on the other hand, have a goaltender that could also be in the Vezina Trophy conversation at season's end. Jimmy Howard has a 6-3-1 record with a 1.79 GAA that ranks among the top five.
Expect this one to be a good game. Offensively, the Stars have been significantly better than the Wings, scoring 45 goals so far, which ranks among the top 10, while the Red Wings have only knocked in 34 pucks. Only four other teams have scored fewer goals than the Red Wings.
No. 5 Most Intriguing Game of the Weekend:
Edmonton Oilers (9-4-2) vs. Detroit Red Wings (7-5-1) (Friday)
Before the Red Wings play the Dallas Stars on Saturday, they are going to handle their business tonight against the Edmonton Oilers. The Oilers have had a somewhat surprising start to the season, getting nine wins in their first 15 games. No other goaltender has been more impressive this season than the Oilers goalie Nikolai Khabibulin. He hasn't lost a game in regulation yet—7-0-2—and has a very good 0.98 GAA which tops the ranks among NHL goalies. The Oilers have only given up 29 goals through their first 15 games. No other team has given up fewer goals. For the Red Wings to win this game, they are just going to have to attack the net as much as they can. The Oilers are a team that hasn't shown much weakness defensively, so I think the more shots on goal the Red Wings can get, the more chance they are going to have to weaken the Oilers on defense, and the more they can win this game. That could be easier said than done though. The Red Wings haven't been too hot in their first handful of games when it comes to scoring so they will have to pick it up there if they want to win this one and win more games down the road.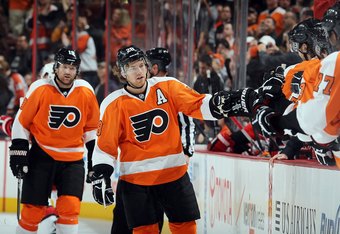 Jim McIsaac/Getty Images
No. 4 Most Intriguing Game of the Weekend:
Philadelphia Flyers (8-4-3) vs. Florida Panthers (8-4-3) (Sunday)
The two teams with identical records meet in Sunrise, Florida on Sunday. Both are looking to build on their nice record through their first 15 games. Despite the two teams having the exact same record, I think the Flyers have a significantly stronger team so far. They have started out the first month-plus of the season as an offense-first team. They've scored an NHL-high 57 goals to this point. A big part of this is the individual success of Claude Giroux so far this year—19 points, 10 assists, nine goals. And I have to give a lot of credit to veteran and future Hall of Famer Jaromir Jagr who already has 15 points so far this season and is on pace for an 80-point season. I'm not sure exactly who the Panthers' goaltender is going to be, but I'm hoping that Jacob Markstrom gets the start here. He's played in five games this season and has a 2.05 GAA, which ranks among the top 10 in that category. Not to make Jose Theodore look bad or anything, just saying I wanna see Markstrom in goal for this one because he has looked stronger to me in his five games than Theodore has in his 11 games he's played in.
No. 3 Most Intriguing Game of the Weekend:
Buffalo Sabres (9-5-0) vs. Boston Bruins (7-7-0) (Saturday)
The Sabres and Bruins are both off to nice starts this season. Many are starting to consider the Bruins as the best team in the NHL right now. They have won four in a row after only getting six points in their first 10 games. They have scored 24 total goals in their last four games as well. Throughout their first 14 games it's been a toss up to see who will go between the pipes for the B's: either Tuukka Rask or Tim Thomas. Thomas has played in 10 games this season and has a 5-4 record with a 2.00 GAA, while Rask has played in five games this season and has a 2-3 record with a 2.62 GAA. I would say the Bruins have a better chance of getting a win over their division rival if Tim Thomas gets the start, but that's just my opinion. The goaltending sitation is a bit similar for the Sabres as well. You have a former Vezina Trophy winner in Ryan Miller—5-5-0, 2.74 GAA—and you also have Jhonas Enroth who has played extremely well as the "back-up goalie." He's played in five games, hasn't lost yet—4-0–and has a very small 1.41 GAA. So it will be interesting to see who coach Ruff will put on the ice in tomorrow night's contest. On the offensive side of the puck, the Sabres are led by their two stars Jason Pominville and Thomas Vanek—36 combined points—while the Bruins have seen great success from their young up-and-coming star Tyler Seguin—17 points, nine goals. It's always good to see division rivals clash, the fact that's it's a Northeast Division rivalry game makes it a little bit more interesting.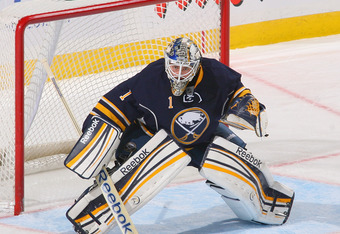 Rick Stewart/Getty Images
No. 2 Most Intriguing Game of the Weekend:
Dallas Stars (11-3-0) vs. Pittsburgh Penguins (9-3-3) (Friday)
Tonight's game between the Stars and Pens is going to be a great one. Many would say that these are the best two teams in hockey going at it tonight. As mentioned before, the Stars are led by their two young stars who aren't even close to reaching the prime of their careers: Jamie Benn and Loui Eriksson. And on the Penguins' side, you have their highest scorer and former Dallas Star James Neal as well as Jordan Staal, Pascal Dupuis and one of the best offensive defensemen in the league in Kris Letang. Both teams have been consistent when it comes to scoring goals, and both just so happen to have scored the same amount of goals this season with 45 total scores. The only difference is that the Penguins have played in one more game than the Stars to this point.
Defensively, both teams have been impressive. The Stars have only given up 33 goals to this point which ranks fourth in the Western Conference, while the Penguins have only given up 34 which ranks them fourth in their own conference as well. Both goaltenders for the two teams have played well to this point. The Pens are looking to have Marc-Andre Fleury in net while the Stars look to put Kari Lehtonen between the pipes. Fleury owns an 8-2-1 record with a 1.95 GAA that ranks him sixth among all goaltenders, while Lehtonen has an impressive 11-1 record with a 2.13 GAA. His 11 win record is the highest total among all goaltenders to this point.
No. 1 Most Intriguing Game of the Weekend: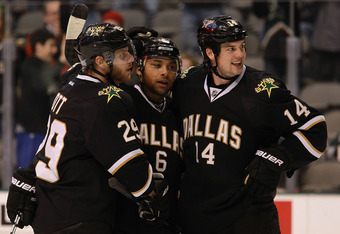 Ronald Martinez/Getty Images
Edmonton Oilers (9-4-2) vs. Chicago Blackhawks (9-4-3) (Sunday)
My most intriguing game of the weekend is the Oilers vs. the Blackhawks on Sunday, and here's the reason for it: this is the only matchup of the weekend between teams that I think are in the top five in the NHL. On the offensive side of the puck, the two guys I'm looking forward to seeing is the Oilers' Ryan Smyth and the Blackhawks' Patrick Kane. Both have recorded 16 points and are looking to be the team's scoring leaders throughout the season.
The Blackhawks have had much more success when it comes to scoring goals this season, and have tallied 52 goals so far, which is the highest total among all Western Conference teams. For the Edmonton Oilers, this season has been a little different as they have only knocked in 36 goals, only eight more than the lowest total in the NHL.
On the defensive side of the puck, it's a different story. Oilers goaltender Nikolai Khabibulin has led the way this season for the Oilers as they have only given up 29 goals so far. No other team has given up fewer goals than Edmonton this season. The Blackhawks are not as good defensively as they are on the offensive side of the puck. They have given up 48 goals this season which puts them in the bottom 10 in that category. As mentioned earlier in this article, Nikolai Khabibulin has been, arguably, the most impressive goaltender in the NHL. On the other hand, the Blackhawks Corey Crawford hasn't been nearly as exciting. He does have seven wins so far but he only has a 2.70 GAA, which ranks 25th among NHL goalies. I think the big matchup for this game will be the Blackhawks forwards against the Oilers defenseman and Nikolai Khabibulin. It's going to be a great game to watch if you are a die-hard hockey fan like myself. Patrick Kane, Marian Hossa, and Jonathan Toews vs. Corey Potter, Tom Gilbert, Nikolai Khabibulin and the rest of the Oilers hard-nosed defensive unit.
The Oilers/Blackhawks game should be a great one to watch, as well as the other nine games mentioned before this one. Enjoy your hockey everyone!