NHL Trade Rumors: Could the Pittsburgh Penguins Move Mark Letestu?
November 8, 2011
Dale MacMillan/Getty Images
According to hockey reporter Andy Strickland, the Pittsburgh Penguins could be looking to make a move once Sidney Crosby gets healthy. It appears the odd man out in Pittsburgh would be center Mark Letestu.
Strickland wrote the following on his site, True Hockey, on Friday:
The Pittsburgh Penguins are deep up the middle. Almost too deep, which is why GM Ray Shero will likely be forced to make a move sometime in the near future. Sources confirm the Penguins have had conversations with multiple clubs about moving center Mark Letestu.
Strickland is correct on one thing. Although the Penguins do have top line talent such as Crosby, Evgeni Malkin and Jordan Staal, they also have a surplus of bottom-pairing forwards. While this is a good thing, as forwards Arron Asham, Matt Cooke and Richard Park have contributed in Crosby's absence, it also means someone has to go.
Unfortunately for Letestu, it makes sense that he'd be the one to change clubs.
Letestu had a solid rookie season last year, jumping out to lead rookies in scoring in October. However, a scoring slump and a knee injury which required surgery affected his points totals. He finished the year with 27 points and a plus-four rating to go with four power-play goals and three game-winning goals. His performance was rewarded with a two-year contract extension.
This year, though, he has yet to find his scoring touch. He has just one assist through 11 games and a dismal minus-six rating. As a result, he has been a healthy scratch four times this season.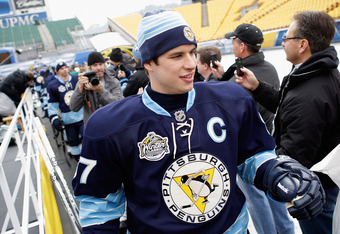 Jamie Squire/Getty Images
Letestu has faced competition for playing time from former Wilkes-Barre/Scranton Penguins teammate Joe Vitale.
Although Vitale has just three points in 15 games, he has proven valuable in other areas. He is fifth on Pittsburgh with a 54.7 percent faceoff win percentage (Letestu ranks fourth with 55.3 percent of faceoffs won), but also brings a physical edge to his team, contributing 12 blocked shots (sixth on the Pens).
Vitale is making $525,000 in the second year of a two-year contract extension he signed in 2010, while Letestu is making $650,000 this year and will make $600,000 this year.
This should leave no doubt that Shero would prefer to move Letestu's salary.
NHL.com reported on Monday that Crosby could return for this Friday's game against the Dallas Stars, although both the Penguins captain and coach Dan Bylsma denied the rumors. Jordan Staal, who is dealing with a leg injury and did not practice today, could also come back to the lineup on Friday, although there is no recent update on his status.
When Crosby and Staal return, it's possible that Letestu will be one of the players sent down to Wilkes-Barre/Scranton to make room for the star forwards.
This would give Letestu a chance to improve his game. He had back-to-back 50-point seasons with WBS, posting 55 points in his last AHL campaign in 2009-10. Now that he has NHL experience, he would make a good leader of a red-hot AHL Penguins team and regain his scoring touch. Should the Penguins decide not to move him, they can give him another chance at the NHL level if he makes enough of an improvement.
However, if Shero does decide to trade Letestu, the team that gets him would be very lucky.
Although Letestu has issues with consistency, he can win faceoffs and help a team quickly get control of the puck. He has a strong work ethic, as is proved from working his way up from being undrafted out of Western Michigan University to a spot on an NHL roster. He also makes minimal mistakes in his game, which means he won't be a liability to take bad penalties at crucial moments.
The second team involved in a possible move would be getting a player at a low salary who can be more than a rental, as Letestu is under contract through 2012-13. Perhaps he could get a fresh start with a new club where there is not as much competition for playing time, or one that could use some young talent with an offensive punch.
This article can also be found on Bottom Line Hockey.