Toronto's #teamunit: The Maple Leafs and Blue Jays Come Together on Twitter
November 9, 2011
Twitter fascinates me.
It serves little purpose except as a social media avenue for a single sentence, and from these single sentences a new world was born.
Thanks to twitter, a new language of sorts was created, filled with "followers," "retweeting" and "hashtags". Where did this all come from?
But twitter has rapidly become an important media tool in the world of sport.
#teamunit... Wait, what? Do you know what #teamunit is?
It's a hashtag. #.
A simple part of twitter language that makes reference to something (be it a team, phrase, etcetera).
#teamunit is a relatively new hashtag, and it represents something close to my heart. TeamUnit is an innovation to the world of sports in the city of Toronto.
The members of the Toronto Blue Jays have joined forces with the Toronto Maple Leafs in what they are calling TeamUnit.
These two words represent togetherness, and now represent the future of Toronto sports and the outlined goal of bringing championships to Toronto.  
Looking into the nucleus of the tag is J.P. Arencibia, Brett Lawrie and Tyler Bozak, with the additions of Colby Armstrong, Ricky Romero and Jose Bautista.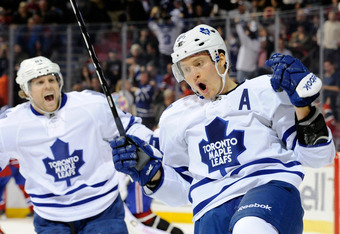 Richard Wolowicz/Getty Images
They created this. They love Toronto and want to change the city's sports atmosphere. They call the two teams the TeamUnit and have become quite good of friends.
The value in the creation is this: These players are holding sentimental value to the city of Toronto, and are starting a chain of interaction never before seen in sports.
I don't know where to begin to tackle this. Two of my greatest passions, my heroes, are all becoming buddies and then announcing it to the world. I am salivating just thinking about it. 
TeamUnit is now a common hashtag that the two teams use in reference to each other and success in their respective sports. Whenever they talk about heading into a game to win, they end the tweet with #teamunit.
Everyone is friends. You have shout outs for Phil Kessel by the Blue Jay elite, and surely it would be rhetorical if the Jays were still playing ball.
It's fascinating from a fan's point of view. I encourage you all to check it out and participate. TeamUnit belongs to the city of Toronto. 
You wonder why this hasn't happened before now? Or that maybe it was happening, and we just didn't know it?
To our knowledge, the higher brass of Toronto sports had never been intertwined—or at least, out in the open. Social media has created this new platform, in which athletes are now open to sharing their relationships and thoughts.
We can now watch Arencibia joke around with Bozak as it's actually happening. These new revolutions in sports fascinate me.
I love #teamunit. What it stands for. Who stands for it.
Now lets go win me some championships!