NHL Trade Rumors: Jarome Iginla and Other Stars That'll Be on the Move
November 7, 2011
Gregory Shamus/Getty Images
The 2011-12 NHL season has all the makings of a wild one, and adding to the frenzy will be a rush of star players to free agency and the trade rumors left in their wake.
Most of the talk never comes to fruition, but the moves get wilder every year and teams are starting to gamble with their futures because of an urgency put on winning.
The following NHL stars could be facing a move during the season, and the seismic shift in the rankings will be like nothing we have ever seen if they do switch teams.
The Calgary Flames have been teasing the idea of trading their captain Jarome Iginla for years, but something about this season tells me that this is it.
Year after year, the organization fails to surround Iginla with enough talent to win games, and I'm honestly surprised he hasn't requested a trade this far into his career.
There will be a market of teams that feel they are one big goal-scoring piece away from making an impact on the Stanley Cup chase, but there is still time before that comes.
Martin Brodeur
The New Jersey Devils see the end of the road for Hall of Fame-bound goalie Martin Brodeur, but if he doesn't see it and wont retire, it's time to ship him out.
Teams like the Florida Panthers would love to have a teacher for their goalie prospect Jacob Markstrom that can also draw fans in with his legendary status.
While this trade is far-fetched, there is no question that GM Lou Lamoriello will do what's best for the team, no matter how drastic and unconventional it is.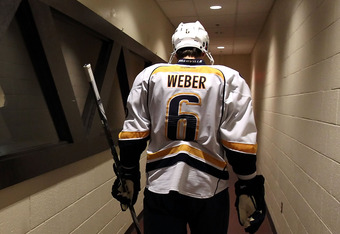 Christian Petersen/Getty Images
Shea Weber
The Nashville Predators have showed their prized goalie Pekka Rinne the money he deserves, and now it's time for them to show the money to their star defenseman Shea Weber.
The Predators have been playing chicken with these contract negotiations for over a year, and the $7.5 million he is making this year may not be sitting well with a team that will face arbitration again this season with the restricted free agent.
Nashville should make a trade involving Weber now if they don't feel they can work something out long-term because his value will never be higher than what it is right now.
Check back for more on the National Hockey League as it comes, and check out Bleacher Report's NHL Page to get your fill of all things hockey.