Vancouver Canucks: How the Loss of Alex Burrows Will Affect the Lineup
November 6, 2011
Jonathan Daniel/Getty Images
Alex Burrows will not play for the Vancouver Canucks in their tilt today versus the Chicago Blackhawks. Burrows left early in the second period of the Canuck's last game against the St Louis Blues, after being taken awkwardly into the boards by Chris Stewart. 
Burrows is listed as day-to-day with back spasms, and today Coach Alain Vigneault confirmed that he won't dress for the Chicago game. Taking the game off is probably a good thing, since the Canucks have three days off after the Chicago game until they next play in California. 
As much as the Canucks/Hawks rivalry is the best one in the NHL right now, and as much as the Canucks need to bust out of their slump, it isn't worth risking further injury to Burrows in a November game. 
Burrows plays 17:44 a night, works with the Sedin twins at even strength, plays the point on the power play and is paired with Ryan Kesler on the top penalty killing unit. So far this season he has recorded five goals and three assists, including a pair of game winners. And speaking of game winners, Burrows has a penchant for scoring big goals. 
In other words, the Canucks aren't going to be able to replace him easily in the lineup. 
Vigneault has a few different options to replace Burrows on the top line. 
Ryan Kesler (2 goals, 4 assists)
This would stack the top line, which might be what the Canucks need right now to bust out of their slump. Kesler has good chemistry with the twins, and playing with them at even strength would help his stats as well.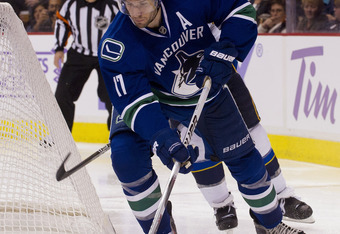 Rich Lam/Getty Images
David Booth (0 goals, 3 assists)
Booth has looked good in his few shifts with the twins since the trade to Vancouver, and if Vigneault want to get Booth going, playing with the last two Art Ross winners isn't going to hurt. 
Jannik Hansen (1 goal, 3 assists)
Vigneault likes to play Hansen with the twins when shaking up the lines, including in Game 7 of the Stanley Cup Finals and for the remainder of the St. Louis game after Burrows was hurt. I like Hansen, but he doesn't work well with the twins in my opinion. The term "hands of stone" was seemingly coined for the Dane, although he has spurts of brilliance. He is better suited to using his speed in a checking role or to force turnovers.
Cody Hodgson (3 goals, 2 assists)
Hodgson has looked good so far in his rookie season. Five points, including three goals, in his first 14 games isn't bad, especially when you consider he has been bouncing from center to the wing, and from the second line to the third line. Hodgson has a reputation as a cerebral player, so Vigneault might as well try him with the twins, and see if they have any chemistry.
Chris Higgins (6 goals, 2 assists)
Perhaps the best forward night-in and night-out for the Canucks so far, and their leading goal scorer. He could play with the twins, but that might be putting too many eggs into one basket if Kesler + Hodgson + Booth can't produce effectively as a second line.
If I was to play armchair coach, I'd go with Kesler on the top line and stack it. 
It is a cliché that your best players have to be your best players, but it is oft repeated because it is true. 
Throw them out there 22-23 minutes a night and lets see what the major award winners (Selke, Hart, Art Ross) who also are a large part of the leadership core, can do to bring the Canucks out of their funk.
That means Hodgson centers the second line with Higgins and Booth. Higgins and Hodgson had some chemistry early in the season when Kesler was injured, and the new look top line should be able to draw most of the defensive attention away from them. 
I'd also change up the bottom six forwards. The Canucks are slumping, going through an up-and-down season where they are alternating wins and losses up until the back-to-back losses in Minnesota and St Louis. 
Manny Malhotra isn't playing well, at least not by his standards. Faceoffs are up to par, or close anyways, but his defensive play is subpar for a guy of his skills.  Understandable, given the multiple eye surgeries in the summer, and now adjusting to playing with a visor to boot, but I'd swap him with Maxim Lapierre. 
Lapierre is playing great, and Vigneault has admitted that he has earned more icetime and a bigger role than just the fourth line center, but that the Canucks are content letting Malhotra play his way back into form. 
However, given the current slump the team is in, they can't afford to let players play themselves back into form, at least not in a key position. 
I'd recommend putting Lapierre with Hansen, with whom he had good chemistry in the playoffs with last year, to anchor the third line. For their second winger, I'd suggest Dale Weiss, as he seems to have the wheels to keep up.
Let Malhotra play with Aaron Volpatti and Andrew Ebbett on the fourth line, and not have to worry about being the top shutdown guy, and just focus on fundamentals and getting his game back up to speed. 
It appears from the practices this morning that Vigneault is going to go with Hansen on the top line with the twins for the Chicago game. But we'll have to see if this line is kept together for the whole game, and going forward if Burrows is out of multiple games if Vigneault doesn't experiment with other line combinations.