Movember in the NHL: 25 Best Mustaches in Hockey History
Jeff Gross/Getty Images

Movember is in full swing throughout the NHL as players across the league are growing mustaches in order to raise money for cancer.
Some players have grown legendary mustaches throughout the history of the league, both for Movember and just for the hell of it.
Here, we will examine the 25 best mustaches in hockey history. Enjoy.
Begin Slideshow

»
Larry Robinson had a very successful NHL career, but his ability to grow a mustache may have been his most impressive trait.
The Stanley Cup really complements the stache well in this photo. Trottier kept a career-long commitment to his mustache.
Hey, at least Sidney Crosby put in an effort. It's not his fault he can't grow facial hair.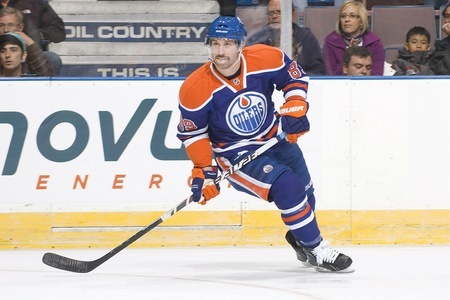 It's great when a quiet guy like Sam Gagner gets involved in the Movember festivities.
Sometimes, Movember can become pretty creepy. Niclas Wallin is better off with a full beard in my opinion.
Dirk Graham was an excellent captain and had an outstanding mustache. I definitely think there was a correlation between the two.
Wendel Clark is one of the most beloved Toronto Maple Leafs of all time. And, man, could he rock a mustache.
Chris Mason is a pro at growing facial hair. He put together a great playoff beard and a hell of a Movember stache.
Carey Price's mustache is awesome in its own creepy way.
Ryan Malone looks like he was pulled straight out of the '70s or '80s with that epic mustache.
Harold Snepsts has a great mustache to counteract the ugly-looking jersey he is sporting.
This is Daniel Briere's version of a playoff beard.
What would one of the greatest enforcers in the history of the game be without a mean mustache?
Tim Thomas plays his best when his facial hair is raging.
Otto Greule Jr/Getty Images

Pat Burns' iconic mustache is a huge reason why Movember has picked up steam in the NHL. Burns' memory will always be honored when a player grows upper-lip facial hair.
Bruce Bennett/Getty Images

Mike Brown is one of the few brave souls left in the NHL that still keeps a mustache for the majority of the calendar year.
Dave Babych sported one of the bushiest mustaches I've ever seen during his playing days.
Jarome Iginla's mustache scares me a bit.
Paul MacLean has the Ottawa Senators off to a roaring start to the 2011 NHL season in his first year as a head coach in the league. One has to wonder how this is his first shot at the NHL given that great mustache.
Ian White is a classy guy with a really classy mustache.
Daniel Carcillo easily has the dirtiest mustache in the history of the NHL.
There's a reason Cal Clutterbuck is a fan favorite in Minnesota. Just look at that stache.
Dennis Maruk racked up 878 points during his NHL career and was sporting this great mustache for nearly each and every one of them.
Bruce Bennett/Getty Images

George Parros lives for Movember. He is the only active player that regularly sports a mustache and does so with great success.
Nobody will ever be able to get on Lanny McDonald's level. His mustache was a work of art and added to his rough and tough persona on the ice.