Toronto Maple Leafs vs New Jersey Devils Post-Game Recap
November 3, 2011
Bruce Bennett/Getty Images
The Toronto Maple Leafs once again avoid consecutive losses by defeating the New Jersey Devils by a score of 5-3 on Wednesday, November 2, 2011.
On a night where future Hall of Famer Martin Brodeur returned between the pipes for the Devils in relief of the weary Johan Hedberg, the real story ended up becoming the hot hand of Maple Leafs' power forward, Joffrey Lupul.
Lupul's second period heroics not only earned him his first hat-trick as a Maple Leaf (first in almost four years) but also netted him some well-deserved recognition as a legitimate offensive force in the NHL. Lupul improved his stats to a blistering eight goals in 12 games, proving again that Phil Kessel isn't the only Maple Leaf capable of finding the back of the net.
The Leafs improve to 8-3-1 on the season and now sit second overall in the Eastern Conference, one point back of the Pittsburgh Penguins, with a game in hand.
Also contributing to Toronto's success on the night was call-up Joey Crabb, who batted a puck in mid-air past a sprawling Brodeur to give the Leafs a 1-0 lead in the first period. Crabb's fast start with the Toronto Marlies earned him a spot on the Leafs third line, taking the place of promising rookie Matt Frattin who has since been returned to the AHL to continue his development.
Noteworthy: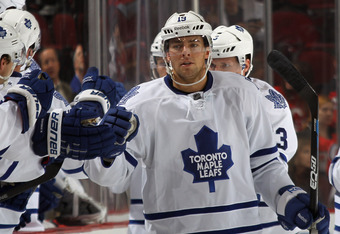 Bruce Bennett/Getty Images
Kessel was absolutely robbed of his 11th goal in 12 games on the season by the stick of goaltender Brodeur. Kessel was poised to tap in a bullet cross-crease pass when the 39-year-old Brodeur showcased some magic and made a brilliant stop, diving back with his paddle to keep the surging Kessel goalless. He could not, however, keep the NHL's leading scorer off the scoresheet entirely as he still finished the night with two assists, bringing his overall points total to 20.
The struggling Devils didn't get much help from either Zack Parise and Ilya Kovalchuk as both finished the night with a minus -2 rating, although Kovalchuk did assist on the Patrik Elias power play goal in the second period.
Jonas Gustavsson made his sixth consecutive start of the season for the Toronto Maple Leafs since the injury to James Reimer on October 22, stopping 19 of 22 shots on goal. He has gone 3-3-0 in that span.