NHL Power Rankings: Assessing Each Team's Starting Goaltender so Far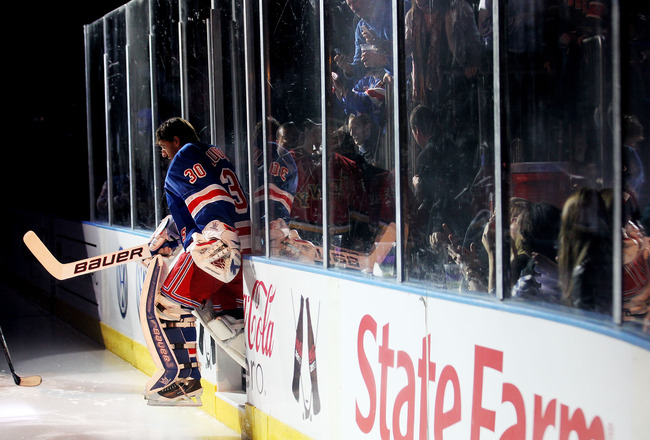 Nick Laham/Getty Images
It's still very early in the season, but we've seen some netminders slip while some have excelled.
Obviously some of the league's top goaltenders aren't playing their top games as of late, but I'm sure they will turn around.
Goalies are an extremely crucial part in a hockey team, and strong goaltenders are not easy to come by, which is why the guys that teams have need to play to their full potential.
As I said, it's still early in the season, and there is plenty of time for each of these goaltenders to turn their game around if it is necessary.
30. Steve Mason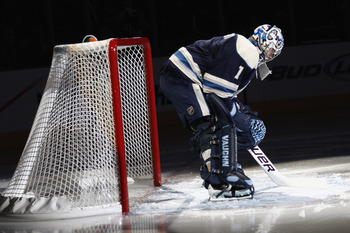 John Grieshop/Getty Images
Poor Steve Mason. Poor Blue Jackets. Poor Columbus. What else can I say?
The entire team has been playing under par since the first game, and Mason, you're unfortunately part of that failure.
Mason is currently 2-8-1 with a 3.11 goals against average and a .889 save percentage. Although Mason is not a star goaltender in the NHL, he still needs to pick up his game.
So please do Columbus a solid and make some more saves.
29. Ondrej Pavelec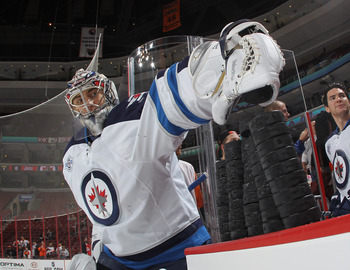 Bruce Bennett/Getty Images
The fresh Winnipeg Jets are extremely welcomed by their fans, but if only their goaltender wasn't as welcoming to pucks into the net.
Pavelec is having a weak start to the Jets' first season back as a franchise, playing eight games with a 2-4-1 record, a 3.75 GAA, and a .876 save percentage.
Some positive reinforcement might be helpful to the young goaltender as he continues his career in the NHL.
28. Craig Anderson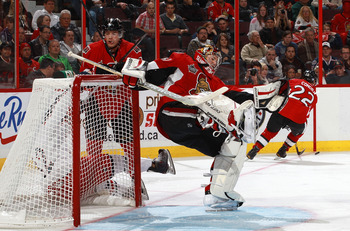 Jana Chytilova/Freestyle Photo/Getty Images
What happened?
Craig Anderson came off a fantastic season last year with a .939 save percentage, a 2.05 GAA and the confidence to have another great season I'm sure.
But again, what happened?
The poor guy is having a bad start to the season. Despite winning six games and having a phenomenal start against the Jets, he is another athlete who has slipped.
Having only a .883 save percentage and 3.66 GAA, Anderson needs to improve and he has plenty of time to do so.
27. Roberto Luongo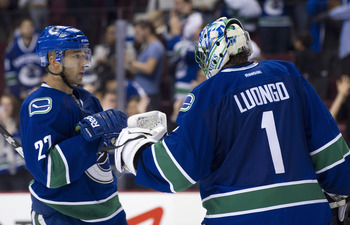 Rich Lam/Getty Images
Sorry fans, but Roberto Luongo hasn't started with his helmet on too tight.
I feel sorry for the much talented Luongo because he is much better than what he has shown thus far into the season.
Now, for whatever reason he is struggling, he'll fix it. Whether he is still a little teary eyed about the Stanley Cup or if he has other issues, I'm sure he knows what to fix.
There is no doubt in my mind he won't turn around and get back on the right track.
26. Ilya Bryzgalov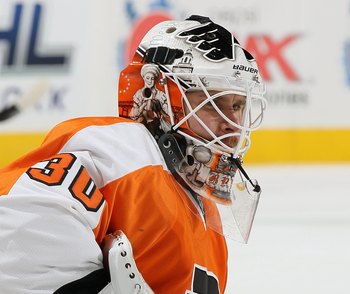 Jim McIsaac/Getty Images
Oh Ilya how you've hurt me so...not only in my fantasy league but in my heart.
And no, you're not "terrible," as you so depressingly stated in your interview, you just need to fix your game.
The Flyers' $51 million man had a phenomenal start to his first season in a Flyers uniform. But since then, the ledge seems to have broken.
Ilya Bryzgalov's game has slipped in the few starts, and even though he's having a good game, he still slipped in his last start.
Bryzgalov is top goalie in the NHL and he needs to prove that to the Flyers' fans, and he will.
He is a much better goalie than what his stats show, but he slipped and other goalies have not.
25. Dwayne Roloson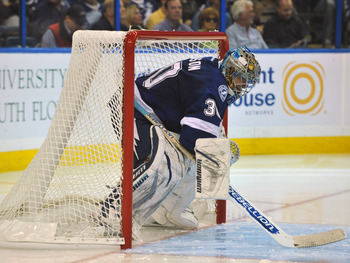 Al Messerschmidt/Getty Images
Dwayne Roloson, 42 years of age and still kicking it in net. He finished last season with pretty decent numbers and needs to keep it up for this extremely talented Tampa Bay Lightning team.
He is a veteran goaltender and knows what he is doing, but he's has a very shaky start.
Playing behind the Lightning, he has some big expectations from a team who is championship-hungry and eager to get back in the playoffs.
So Roloson, ask Zeus for some lightning of your own and pick up your game.
24. Carey Price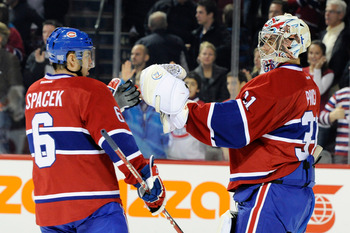 Richard Wolowicz/Getty Images
Carey Price is another talented goalie having a rough start to this season.
Price is only 24 and has already proven what he can do in net by his play last season. The guy played fantastic, and I'm sure he hopes to repeat it this season and even improve, if possible.
But rough starts can often discourage goalies, but it can also make them realize what they need to work on and improve, and I'm sure Price will not be discouraged and pick up his game.
23. Jonas Hiller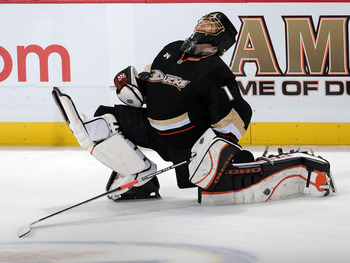 Harry How/Getty Images
The Anaheim Ducks' Jonas Hiller is not having a miserable start to the year, but is definitely not on his top game as of yet. He's proved himself a top goaltender in the league.
He needs to pick up his game to bring himself and his team up to where they're capable of being.
I'm not worried about Hiller slipping in his game, but he can definitely improve as to what he has done so far. With a 4-4-1 record, a 2.55 GAA and a .904 save percentage, he shouldn't be discouraged, but he can still play a little stronger.
22. James Reimer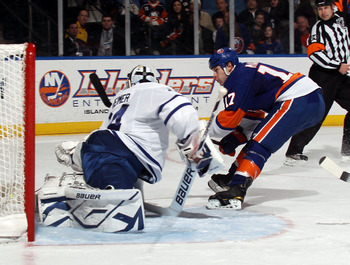 Bruce Bennett/Getty Images
Toronto's James Reimer is having a pretty decent start to his second season with the Maple Leafs, and I'm sure he wants to continue his success.
Reimer finished last season with a 2.60 GAA and a .921 save percentage, which are numbers I'm sure he would like to repeat if not surpass.
He is a young, talented goaltender wanting to prove himself int he NHL, and he will do just that in due time.
21. Jose Theodore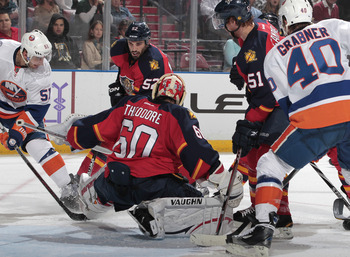 Joel Auerbach/Getty Images
Jose Theodore has proved to be very impressive early into the season with a struggling Panthers team.
He shut out the New York Islanders in their home opener, even against their young and extremely talented offense. So far, he is 4-2-0 with a .915 save percentage and a 2.53 GAA and he is going to bring the Panthers team to new heights.
The Panthers have struggled over the years and have not had much respect in the NHL, even with Tomas Vokoun in net. But possibly, Theodore and the new additions to the team could turn it around for the better.
20. Niklas Backstrom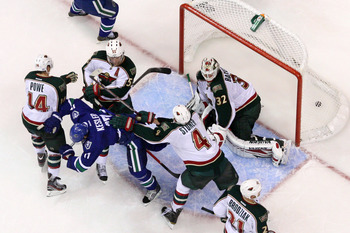 Derek Leung/Getty Images
Niklas Backstrom is having a very similar start as Theodore and Reimer, recording a 2.30 GAA and .912 save percentage.
Backstrom is a key component on the Minnesota Wild and is an extremely capable netminder. Backstrom will be a huge reason in the Wild's success this season and if he can continue with what he's been doing or even improve, things will go great for the Minnesota team.
19. Antti Niemi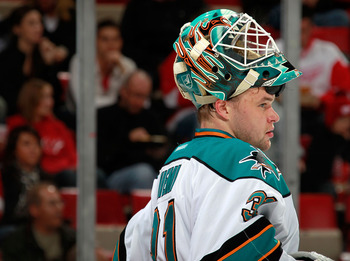 Gregory Shamus/Getty Images
Antti Niemi is another big-name goalie in the NHL.
The current Sharks goaltender is proving his worth to the organization, finishing last season with a rough playoffs run.
I'm sure Niemi is looking to bounce back and start again fresh, which he is already beginning to show early in the season.
Starting this season with a record of 4-1-0, a .917 save percentage and a 2.18 GAA, Niemi has some pretty solid numbers and room to improve.
18. Corey Crawford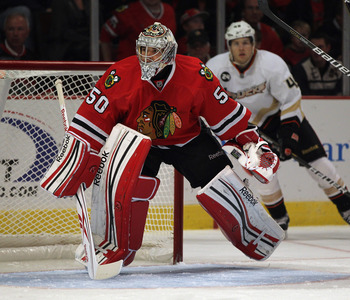 Jonathan Daniel/Getty Images
The young Corey Crawford has a good start to this season, going 4-2-2 with a 2.19 GAA and a .921 save percentage. He is looking for another great season after being named on the NHL All-Rookie team.
Crawford is looking to repeat his last season, where we can remember he had eight consecutive wins, the longest streak for a rookie goaltender.
Crawford is again ready to prove himself as a vital role on the Chicago Blackhawks, and is getting a great start doing so.
17. Mike Smith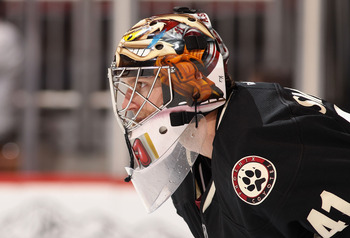 Christian Petersen/Getty Images
Mike Smith just signed a two-year contract with the Coyotes after they lost Ilya Bryzgalov to the Flyers.
Now, Smith is no Bryzgalov, but that doesn't mean he can't put up solid numbers in net.
So far this season, he has impressed me enough to prove himself as a solid goalie, going 4-2-2 with respectable stats even with a lacking Coyotes team.
The Coyotes are a team looking to advance further into the playoffs and are hoping Smith will help them do so.
16. Johan Hedberg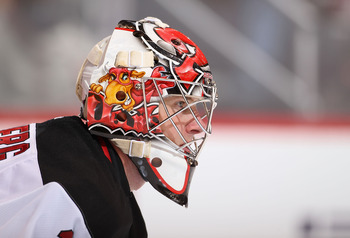 Christian Petersen/Getty Images
With the aging Martin Brodeur injured and probably retiring after this season, Johan Hedberg will most likely emerge at the Devils' starting goaltender.
Now, Hedberg is certainly not going to break any of Brodeur's records, but that doesn't mean he isn't a top goalie, and that is something he is on his way to be.
Hedberg is having a great start to this season, going 4-3-1 with a 2.28 GAA and a .924 save percentage, which are extremely respectable numbers with this Devils team.
If Hedberg can continue to play the way he has so far, the Devils are looking a bright future ahead of them.
15. Cam Ward
Jim McIsaac/Getty Images
Cam Ward and the Hurricanes want a return to the playoffs, and they want it now.
Ward is a fantastic goalie and in his playoff career, he's been even more fantastic.
He's an extremely capable goaltender who is ready to bring his team back to where they were, and he is already starting do so with an extremely strong start to this 2011-12 season.
14. Semyon Varlamov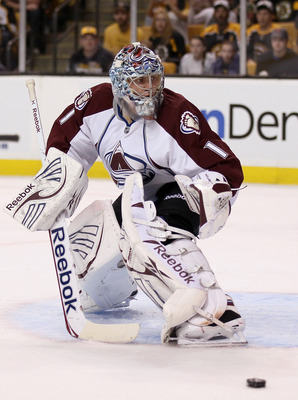 Elsa/Getty Images
Semyon Varlamov is the young and extremely talented netminder ready to carry the Avalanche to and through the playoffs.
After leaving Washington, where he has had a phenomenal career thus far, he landed in Colorado. The Avs are ready to step up their game to the next level and Varlamov is the guy that will help them do so.
Already starting off the season with a 5-3-0 record, a 2.44 GAA and a .924 save percentage, he is proving he is the right guy for the job.
13. Tim Thomas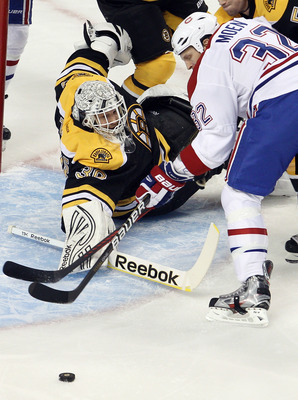 Elsa/Getty Images
Our good ol' pal Tim Thomas is again proving himself as a strong goaltender, even with a struggling Bruins team.
The 2011 Stanley Cup, Vezina and Conn Smythe winner is eager to return his team to the playoffs with hope of a back-to-back championship run.
Thomas is starting off the year with a 2.12 GAA and a .929 save percentage so far. Thomas is anxious to return to the playoffs, and he has not lost any skill so far.
12. Jimmy Howard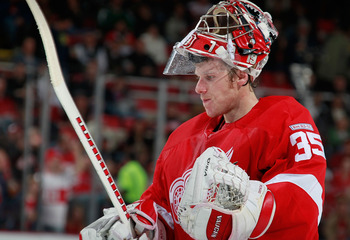 Gregory Shamus/Getty Images
The 2010 Calder Cup runner-up is again ready to show the NHL what he's got stored..
Jimmy Howard is a very talented goaltender playing for a very talented Red Wings team hungry for a Stanley Cup. Howard has what it takes to get them there and bring it home.
Starting off very positive with a 1.82 GAA and a .929 save percentage, going 4-2-0 so far into the season, he's eager to continue a strong and successful season.
11. Henrik Lundqvist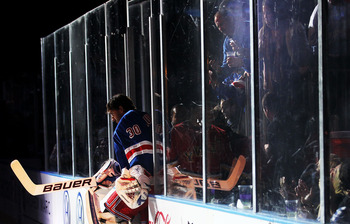 Nick Laham/Getty Images
Henrik Lundqvist is still one of the NHL's elite goaltenders, who is again playing behind a struggling Rangers team desperate for a strong playoff run.
Lundqvist has a current record of 2-3-3, a 2.35 GAA and a .929 save percentage.
Lundqvist is one of the top goalies in the NHL today, but the Rangers need to pick up their play for King Henrik.
10. Al Montoya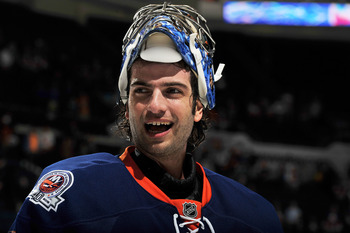 Christopher Pasatieri/Getty Images
Now, I know Al Montoya isn't technically the Islanders' starting goaltender, but I believe he is the current guy for the position with Evgeni Nabokov currently hurt.
Montoya is currently 2-2-0 with a 2.01 GAA and a .930 save percentage. Jack Capuano obviously gave him the home opener for a reason: he can play well.
If Montoya can get more starts with the Islanders, the young netminder can turn into a top goalie if he keeps it up. But as of now, he is playing extremely well and if showing his worth with the team.
Playing with a young, but talented team, there is a lot of pressure on the goaltending. If the offense can produce in front of him, Montoya can be a top goalie in the league.
9. Ryan Miller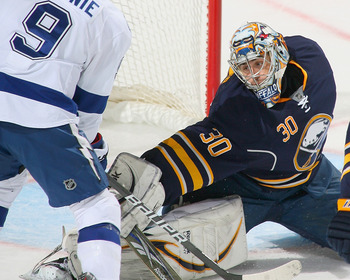 Rick Stewart/Getty Images
The 2010 Vezina winner, 2010 MVP of the Olympics' hockey tournament and the 2010 Olympics' best goaltender has always had a huge name stitched on the back of his jersey, but Ryan Miller always produces.
Another one of the elite goaltenders right now, Miller is again off to another amazing start to the season. The Sabres are championship-hungry and are ready to do what it takes to get there, and Miller is the key to doing so.
8. Miikka Kiprusoff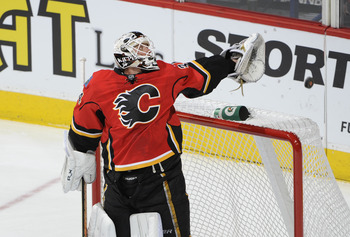 Dale MacMillan/Getty Images
Miikka Kiprusoff, the aging Calgary Flames' goaltender is heading into his final stretch as a professional hockey player, being 35 already.
Kiprusoff is ready to complete another strong season with the Flames and hopefully carry them into the playoffs.
Starting off the season extremely well with a 2.02 GAA and a .930 save percentage, he is already showing the desire to do just that and hopefully the Flames will be able to produce around him.
7. Marc-Andre Fleury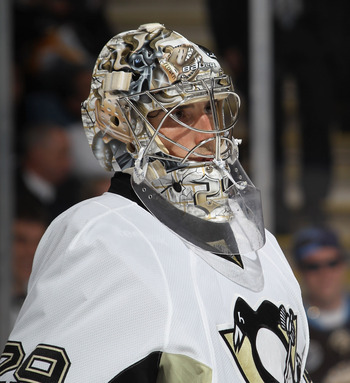 Bruce Bennett/Getty Images
The Pittsburgh Penguins' team MVP last year, Marc-Andre Fleury started the season strong.
The Penguins are looking for a successful year and have a very strong chance of doing just that, with a big weight off Fleury's shoulders.
He has shown himself as a top goaltender in the NHL and is eager to continue his run doing that. Starting off the season 7-2-0, Fleury is showing his hunger for wins, and he is getting them.
6. Tomas Vokoun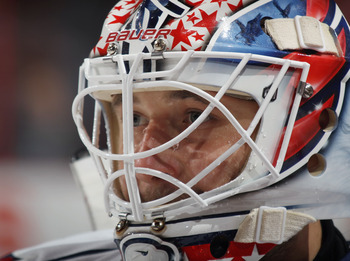 Bruce Bennett/Getty Images
The Washington Capitals' key to a Stanley Cup lies in the glove of Tomas Vokoun.
The one thing this Capitals team needed was a solid veteran goaltender to keep the scoring heavily weighted on Washington's side and not the opposition.
The Stanley Cup hopefuls are relying heavily on Vokoun's skill and ability to help the team get to where they deserve to be: home with the championship.
5. Pekka Rinne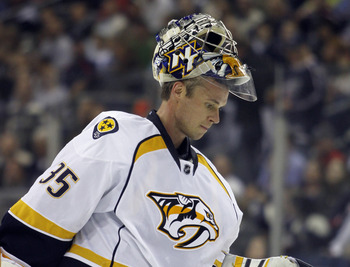 Justin K. Aller/Getty Images
An extremely skilled Nashville Predators team has some of the top players in the NHL today: Shea Weber, Ryan Suter and some guy named Pekka Rinne.
Rinne has proven himself countless times as the key component on this Predators team, as he carried the team to their first ever playoff series victory this past season.
Starting off this season extremely strong with a record of 5-4-1, a 2.24 GAA and a .930 save percentage, Rinne is a Vezina hopeful this year and is eager to return his team to the playoffs with even more success.
4. Brian Elliot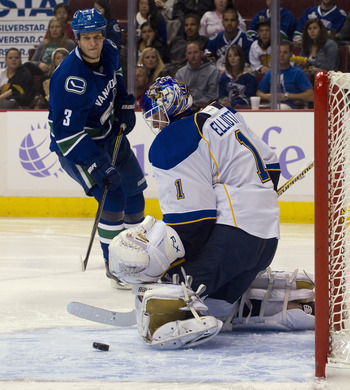 Rich Lam/Getty Images
The St. Louis who? Oh right, the Blues.
The Blues are looking to do something this season and Brian Elliot just might be the key to doing that. The team signed him to a one-year, $600,000 contract and he so far has been worth every penny.
With a 1.67 GAA and a .942 save percentage, Elliot is the light at the end of the tunnel for the St. Louis Blues, which are eager for another playoff opportunity sooner than later.
3. Kari Lehtonen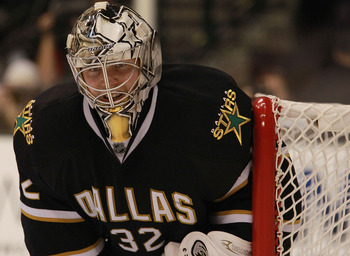 Ronald Martinez/Getty Images
Kari Lehtonen is the star of the Dallas Stars.
He's had a phenomenal start to the season with a record of 8-1-0, a .947 save percentage and a 1.75 GAA. Lehtonen is again showing the world what he can do in between the pipes.
The goaltender is currently puck-hungry and is ready to keep the pucks close to him but never behind him. With a subpar Stars team, Lehtonen is going to be a key piece to the puzzle for the future.
He is going to carry this team to places it wants to be and he is going to work at doing the best he can, as he has already shown this early in the season.
2. Jonathan Quick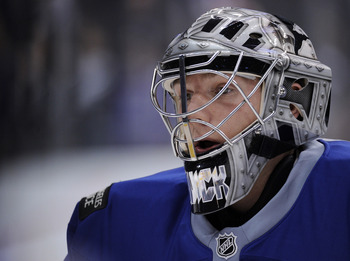 Harry How/Getty Images
Jonathan Quick...wow. What a "quick" start he has gotten to this season with an extremely talented and eager Los Angeles Kings team.
In the past three games Quick has started, all three have been shutouts. He's faced 83 shots and has the endurance to keep it up.
Quick is emerging as a top goaltender and he is going to keep it up because he has the right stuff.
Quick is young, extremely talented and is with the right team. The Kings are a good fit for Quick and he is showing that he likes to be where he is and play with who he is playing.
The Kings are on the road to a very successful 2011-12 season and Quick is going to be playing an extremely major role in doing that.
1. Nikolai Khabibulin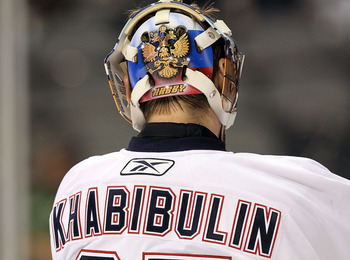 Ronald Martinez/Getty Images
Nikolai Khabibulin has been outstanding to say the least. Not only is his name awesome, but so is his goaltending.
Playing with the young and talented Edmonton Oilers team, the veteran is having an unbelievable start to this season.
He has a 5-0-2 record, a 1.12 GAA and a .960 save percentage, so what more could you ask for in a goaltender? If he can keep up his play, this Oilers team, with all of their young talent, will be going places that they've been waiting to go to.
His play has been phenomenal and it shouldn't be a doubt in anyone's mind that he has been the No. 1 goalie in the NHL.
Keep Reading