John Tortorella and the 22 Most Entertaining Coaches/Management in NHL History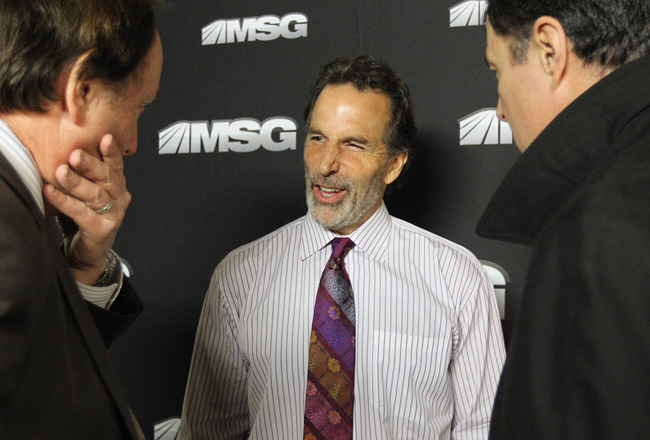 Bruce Bennett/Getty Images
Oftentimes coaches can fly under the radar. There is a special contingent of coaches, however, that manages to capture the attention of everyone in the building with their words or actions.
Coaches with some personality are rare, but they are out there.
So, here are the 22 most entertaining coaches in NHL history.
Randy Carlyle
Randy Carlyle was never afraid to give the officials a piece of his mind. The video above is proof of that.
Ed Snider
Ed Snider is always willing to defend his team. Sometimes it makes for some entertaining footage.
Roger Neilson
For this stunt alone, Roger Neilson earns a spot on this list. Neilson decided to waive the white flag in protest of the officiating.
Gerry Cheevers
Goaltenders make great coaches. They also make entertaining coaches.
Peter Laviolette
The HBO 24/7 series is about to make the world realize how entertaining Peter Laviolette is.
Herb Brooks
Herb Brooks was entertaining enough to be a dominant personality in a movie.
John Brophy
John Brophy is probably the reason that there is a pane of glass between the benches.
Ken Hitchcock
Ken Hitchcock has always seemed to enjoy coaching in the NHL.
Robbie Ftorek
Robbie Ftorek threw a bench on the ice. Who could dispute his place on this list?
Pat Burns
Pat Burns is a legend in hockey history. Everyone should pay their respects to Burns by watching this great tribute.
Brian Burke
Is there a general manager that has more press conferences than Brian Burke?
Ron Wilson
The Toronto Maple Leafs are currently blessed with two incredibly entertaining hockey personalities.
Jim Schoenfeld
Jim Schoenfeld didn't have the greatest coaching career, but he did provide us with this great gem.
Scotty Bowman
Scotty Bowman is the greatest hockey coach of all time. That alone makes him entertaining.
Lindy Ruff
Lindy Ruff was an angry player and an even angrier coach. For some reason, anger is entertaining.
Cam Neely
Cam Neely was an amazing player and has proved to be an excellent executive as well.
Barry Melrose
Everyone loves Barry Melrose. Check out that hair.
Wayne Gretzky
Wayne Gretzky's presence is enough to entertain any hockey fan. When he loses his cool, the entertainment value goes up even more.
John Tortorella
John Tortorella is developing into a hell of a hockey personality. What's not to enjoy about a coach that isn't afraid to shoot from the lip?
Mike Milbury
Mike Milbury once hit a man with his own shoe. How's that for good old-fashioned family fun?
Bruce Boudreau
Bruce Boudreau's personality was really brought to the forefront during the 24/7 series on HBO. He was a hell of a time.
Don Cherry
Don Cherry is the no-brainer choice for the top spot on this list. I could list dozens of videos to prove why Cherry is so entertaining. He is the man.
Keep Reading