5 NHL Rivalries with Meaning This Season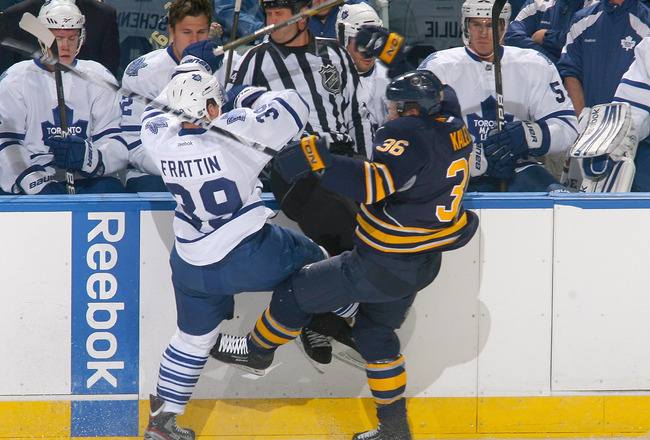 Rick Stewart/Getty Images
Sometimes a rivalry in sports is nothing more then a bit of tradition. Sometimes the teams aren't close in standings, or in skill.
But this year in the NHL it seems that a lot of rivalries have reared their head, and this time they have a lot of meaning and a lot of implications.
Some are ones we've been seeing for many years now, and others are ones that haven't been seen in maybe a decade.
It's always fun to watch rivalry matchups just because there is a lot of bad blood and history between the two, sometimes some former players are going against old squads.
But it seems like there will be more to vie for in these five rivalries this season.
Oilers-Flames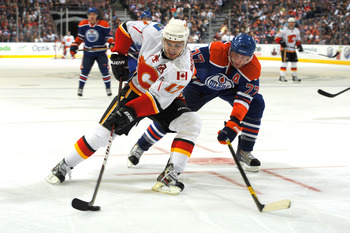 Dale MacMillan/Getty Images
The Battle of Alberta will rage on again this season, but this time with feeling. It won't be a battle between a mid-standings team, and a basement dweller.
Yes I predicted at the end of the season that Edmonton would bottom out the west again, but they have honestly looked pretty good in their opening games.
Calgary on the other hand has looked in shambles. However, I feel like the Flames will get it together at some point this year though.
And that's where this rivalry is going to be big. It's a top-heavy western conference, but the seven and eights spots are wide open. Edmonton looks to surprise a lot of people by making a push with this young team. And Calgary has an aging group of vets trying to make up for their narrow miss last season.
It's young versus old, north versus south, and the outcome could ultimately end up being a playoff clincher for one of these teams.
Blackhawks-Red Wings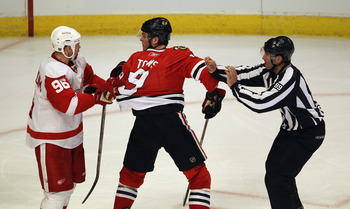 Jonathan Daniel/Getty Images
The Battle of Interstate 94 becomes a bit more heated this season with a rebuilt Chicago team.
The Red Wings age is now becoming a factor, as season by season they have showed a few more cracks in the foundation.
It looks as though the Blackhawks are poised to take over control of the Central division and hold on to it this year. But don't think that the group of veterans from Detroit are willing to give it up so easy.
The Blackhawks also have a bit nastier of a lineup this year, adding Daniel Carcillo and Jamal Mayers to compliment big man John Scott.
As usual, no love will be lost between the two teams. And with six battles billed for this season, the division crown might be laced in the outcome of those games somewhere between Illinois and Michigan.
Penguins-Flyers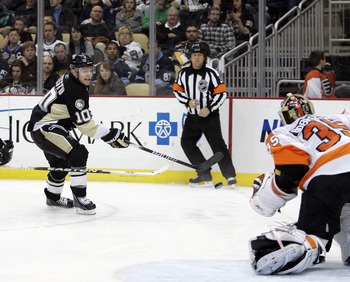 Justin K. Aller/Getty Images
Yup, this one is back. But it has a different feel to it this year. More then just hatred, which is normal.
In the past few seasons it's been about in-state and division dominance. Two elite teams duking it out, eliminating each other from the post season, and hellish buildings to play in.
Well this season most of that is back. Except Philly is no longer the sure fire power house they were of years past. They are a young team trying to prove they still have the talent, even if it is with a slew of new faces.
Some of those new faces? Former Penguins Jaromir Jagr, and Maxime Talbot. Little bit of fuel to that flame indeed.
Pittsburgh is trying to get back to their division winning ways and work out injuries to their stars.
And in their division is a young Flyers team that is playing with a chip on it's shoulder. A team that would love to squash down both theories that they aren't nearly as good as last season, and that the Pens will run away with the Atlantic.
Kings-Sharks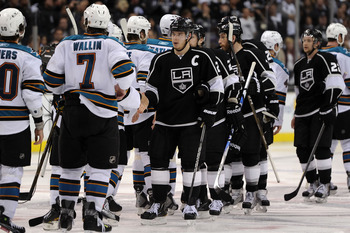 Harry How/Getty Images
The Norcal versus Socal battle will rise to new heights this season. And the battles should be explosive.
The Sharks continue to have a strong team, but their dominance of the Pacific division slowly seems to not be slipping away, but is being pulled away by the emerging Los Angeles Kings.
This rivalry has hit a new high, with both teams being incredibly talented and deep. And if you add in the recent exciting six-game opening round playoff series, there is more fuel to the flame.
San Jose is the old veteran, who has been there many times, and they have plenty of swagger and division titles to prove it. But the Kings are a worthy opponent, fresh to the scene, and they look to rip the title of Pacific king from their Northern cousin.
If it was just a Northern-Southern California thing it might not be as intriguing. But it's much more then that this year. It's a question of who will be the Alpha dog in the Pacific, and possibly the Western conference.
Maple Leafs-Sabres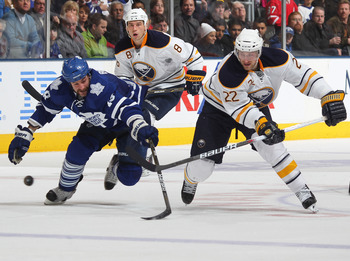 Claus Andersen/Getty Images
God save the Queen. The QEW rivalry is back.
Just 89 miles separate the Sabres and the Leafs via the Queen Elizabeth Way. But at the start of the season the teams would seem so much farther apart.
Buffalo made several high profile moves bringing in the likes of Christian Ehrhoff, Robyn Regehr, and Ville Lieno. Where Toronto slowly made mid-level acquisition that greatly improved the team. Guys like former Buffalo Sabre Tim Connolly and former Av John-Michael Liles.
The Sabres have been predestined for greatness this season by many analysts, but the Maple Leafs have started the season absolutely on fire and a little under the radar. And it looks like it may make for some interesting battles between the two teams.
No question the Sabres are a playoff team, and a possible division winner, but the energetic Maple Leafs have a playoff spot in sight and maybe more. Standing in the middle of their crosshairs is Buffalo.
David versus Goliath? Meet Sabres versus Maple Leafs this year in the frigid Northeast division.
Keep Reading