Philadelphia Flyers: 10 Biggest Surprises so Far This Season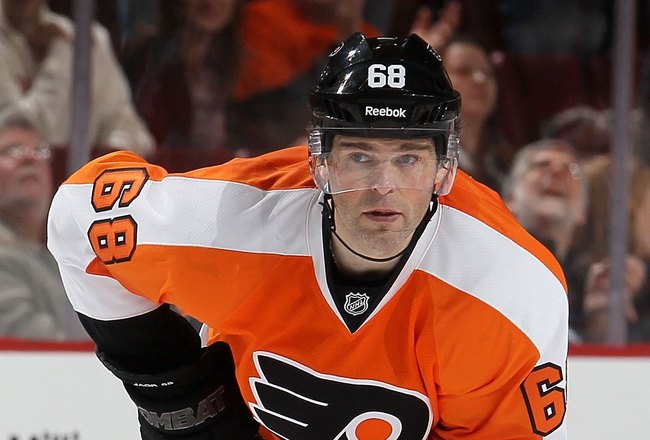 Jim McIsaac/Getty Images
After eight games, the Philadelphia Flyers are 5-2-1, an impressive start for a team that saw so much change during the offseason.
But even through eight games, the season has been tumultuous and frustrating for the Flyers, with the team already seeing the highest of highs and lowest of lows.
Here are 10 surprises, both good and bad, that may have caught the Philly faithful off-guard in 2011-12.
Good: Offense Has Not Been a Concern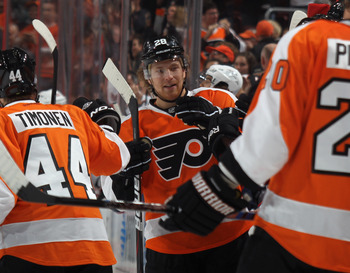 Bruce Bennett/Getty Images
Last summer, the Flyers traded their No. 1 goal-scorer and the captain of the team.
Concerns arose as to whether or not the team would be able to produce consistently enough on offense to carry themselves to the playoffs.
Those concerns have been put to rest in the early-going, as the Flyers average 3.4 goals per game over the course of eight regular-season games.
More impressively, the team has gotten contributions from the entire lineup.
The team has 27 goals thus far, and 14 different players have contributed, ranging from Claude Giroux's five to Harrison Zolnierczyk's lone, highlight-reel goal in his only career NHL game.
The steady contributions from the forwards have the Flyers confident that offense will not be a big concern in 2011-12, despite all the offseason movement.
Bad: Defense Has Not Been a Strength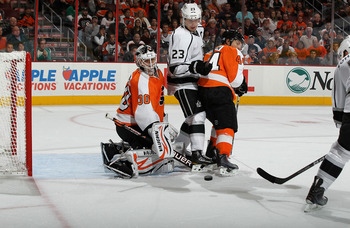 Jim McIsaac/Getty Images
The Flyers were supposed to win low-scoring games.
Instead, the offense is putting up big points—and the defense is giving them up.
The team is allowing 2.6 goals per game, hovering around their 2.7 from the past two seasons.
However, the similar statistics do not tell the whole story. The addition of Ilya Bryzgalov was supposed to bring down the team's goals against, but it has not made a significant impact.
In addition, a number of the goals given up in this young season have been highly preventable.
Defensive miscues, sloppy turnovers and a lack of effort have put added pressure on Bryzgalov and the defensemen on the ice, seeming to waste the potential of this strong group of defenders and talented goalie.
The team's defense may improve with time, but poor play by players who should be above carelessness has kept the team from a much more successful run in the early-goings of the season.
Good: Matt Read Is NHL-Ready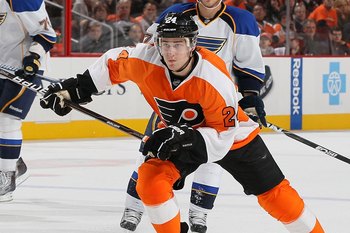 Jim McIsaac/Getty Images
Matt Read is an anomaly, a rookie straight out of college who happens to be 25 years old.
Many fans had no idea what to make of Read in the preseason, but everything has become clear since the games began to count.
Few players have given more effort on the ice than Read. Occasionally, this results in the antsy forward taking a spill on the forecheck (seriously, watch him—he falls at least twice a game), but his overall game has been highly impressive.
He is not afraid to shoot. He is not afraid to check. He is not afraid to get creative.
His coach trusts him on the penalty-kill, power play and second line.
He has six points in eight games and a bright NHL future ahead of him.
Whatever questions existed about Matt Read have been answered.
Bad: Scott Hartnell Is AHL-Ready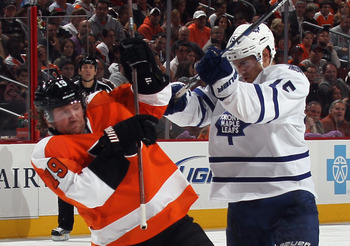 Bruce Bennett/Getty Images
Scott Hartnell hasn't been an easy player to love in quite some time.
At a cap hit of $4.2 million per year, his scoring stats do not reflect his salary.
He finds himself in the penalty box far more than he finds himself putting the puck in the net, and he has relied on the magic touches of linemates like Jeff Carter and Daniel Briere to keep him present on the scoring sheet.
This season, Hartnell has seen himself separated from Briere, relegated to the third line, then demoted to the fourth line.
His two-goal performance against Toronto was a nice reminder of what he is capable of, but he nonetheless finds scoring streaks to be a flash in the pan.
His lack of discipline and high salary, combined with waning ice time, make him a perfect candidate for the Adirondack Phantoms.
Hartnell shouldn't book his bus ticket to Glens Falls yet, but with rookies like Read, Zolnierczyk, Brayden Schenn and Sean Couturier dazzling the roster, Scottie may find himself the odd-man-out before long.
Good: Juniors? Sean Couturier Doesn't Need No Stinkin' Juniors!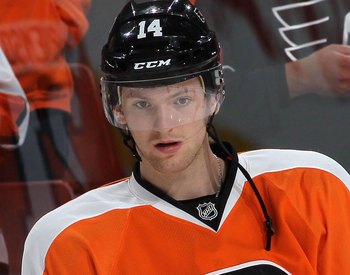 Jim McIsaac/Getty Images
Sean Couturier was the No. 8 overall pick, selected by the team that finished second in the Eastern Conference.
Normally, the success of the team combined with the relatively low draft pick would mean a No. 8 pick was a year or two away from the NHL.
No one told that to Sean Couturier.
The former Drummondville star had an impressive training camp and found himself on the opening night roster, and he has played every Flyers game since. He can play one more game before the team has to choose whether or not to shed him from the roster and avoid enacting the first year of his entry-level contract.
It would be shocking if Couturier saw a hockey game outside the NHL anytime soon.
The rookie has two goals in limited five-on-five ice time, has been a major factor on the penalty kill and is quickly cutting out the mistakes a normal rookie would make.
His development is a priority for the Flyers, but one thing is becoming very clear—he needs to be in the pros to reach his potential.
Bad: Jaromir Jagr Isn't the Jaromir Jagr of Old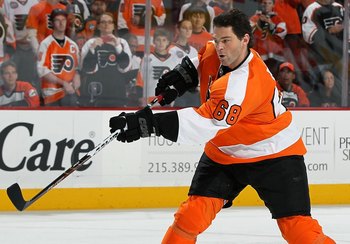 Jim McIsaac/Getty Images
Some Flyers fans will say they expected this—and maybe they did.
But most people in Philadelphia expected to see Jagr in his old form, making defenders look silly and out-muscling anyone that challenged him for the puck.
He's still big, he's still strong, he can still play. But he is no longer a superstar.
The league's most capable defenders have been able to keep Jagr contained, and while the Flyers love a winger who can attract some attention, his lack of results (only two goals, both of them coming due to defensive breakdowns by Toronto) indicate that his contributions to the Flyers will be less tangible.
Even though his season-long stats will underwhelm, Jagr will prove to be a good pickup for the Flyers.
He's just not going to satisfy the most overzealous fans in the Wells Fargo Center.
Good: Simmonds and Couturier Were Great Acquisitions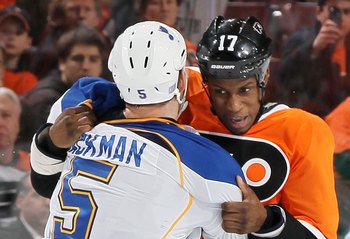 Jim McIsaac/Getty Images
When the Flyers traded away Jeff Carter and Mike Richards, they got two NHL players, one prospect and one draft pick in return.
Wayne Simmonds was one of those NHL players, and Sean Couturier turned out to be that draft pick.
Simmonds has been an instant hit in Philly. He has had his share of controversy, has thrown his fists and has put the puck in the net.
Simmonds has proven to be able to wreak havoc in the opposing goalie's crease and is quickly becoming a fan favorite.
Couturier, as mentioned earlier, is only eighteen years old and is already panning out nicely. He appears NHL ready and, in limited even-strength ice time, has contributed four points. Before the season's end, he will be centering a scoring line very successfully.
The success of these players has made it easier to forget Richards and Carter.
Bad: Schenn and Voracek Have Been Disappointing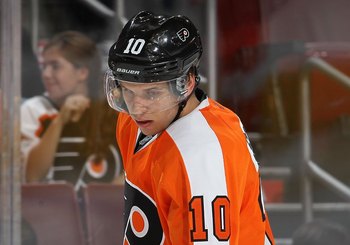 Jim McIsaac/Getty Images
For all the pleasures of acquiring Simmonds and Couturier, the two supposed crown jewels of the offseason trades have been a letdown thus far.
Voracek was expected to follow in the footsteps of Matt Carle and Andrej Meszaros, finding new life in the City of Brotherly Love and getting his highly-anticipated NHL career on track.
So far, he has contributed only four points, he has failed to open up the ice for linemates the rely on playmaking and he has seen himself lose his spot on the second line.
It's not just the number—his flashy moves but ineffective, selfish play make him look too much like Nikolay Zherdev.
Brayden Schenn has also been underwhelming. After posting eight points in four games in the AHL, he looked ready to make the leap to the pros. He even took the third-line center spot from fellow youngster Couturier, but the move has not paid off.
Schenn is last on the team as a minus-four and has yet to contribute a point.
He will still come around, but to this point he's appeared to be a very average third-line center on a team that needs production as soon as possible.
Good: The Flyers Have a Shutout!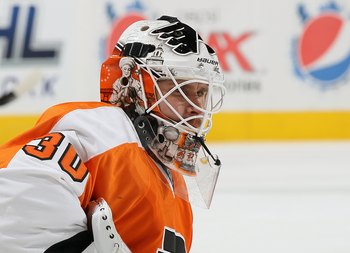 Jim McIsaac/Getty Images
During the Stanley Cup run in 2009-10, Michael Leighton recorded three shutouts in four games against the Montreal Canadiens in the Eastern Conference Finals, including a 3-0 win in Quebec on May 22nd of that year.
It would take nearly seventeen months for the team to record another shutout.
In 2010-11, despite finishing second in the East, the Flyers were the only team in hockey that failed to record a shutout.
As the season wore on, the lack of a goose egg became more and more noticeable, turning into a monkey on the team's back.
This year, the Flyers got their issues out of the way early. In the second game of the season, newly-acquired netminder Ilya Bryzgalov shut out the New Jersey Devils' offense to end the game with a zero on the board, snapping the confounding and frustrating streak.
The shutout was a relief for fans and a validation of the front office's decision to invest in Bryzgalov—but more than anything, it was an absolute surprise.
Bad: Peter Laviolette Doesn't Know What to Do with His Lines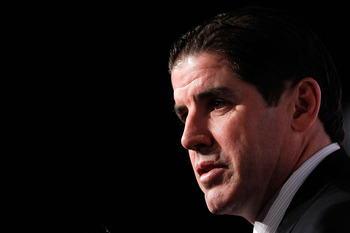 Kevin C. Cox/Getty Images
In Game 7 of the 2010 Eastern Conference Semifinals, the Flyers were down 3-0 to the Boston Bruins in the first period.
Peter Laviolette called his only timeout of the game. He called his players to the bench and told them to "get one" before the period ended.
They did, and they eventually won the game 4-3, proving Laviolette to be a genius in the hockey world.
Just over a year later, Laviolette's coaching instincts have become questionable.
He has been unable to find line combinations that utilize all the talent on the team. He bumped a productive rookie (Couturier) to the fourth line to make room for an unproductive rookie (Schenn).
He put a non-passer (Voracek) on a line with one of the team's best scorers (Briere), underusing Briere's ability to get open and create scoring chances.
In the past few games, he has cycled his lines to try to accommodate Jagr's lower playing time, Read's ice-time responsibilities, Giroux's flexibility as a forward and Meszaros's lack of a productive partner.
The tools seem to be there, but Laviolette has not made them work effectively. He may need more time, but this team has a greater potential than their current performance would indicate.
Keep Reading

Philadelphia Flyers: Like this team?