Ilya Bryzgalov's Recent Struggles for Philadelphia Flyers a Familiar Hiccup
October 24, 2011
Jim McIsaac/Getty Images
Oh, no!
Ilya Bryzgalov has lost three games in a row!!
He got outplayed by Brian Elliot!!!
The Flyers spent $50 million on a TERRIBLE goalie!!!!
They should trade him now!!!!!
…..Is everyone happy now? Can we get past this alarmist, reactionary behavior?
Everyone really needs to calm down. Ilya Bryzgalov will have his good games and his bad games over the course of the season.
Here are three stat lines for you, one from the Flyer's last four games, one from last year's playoffs, and one from a four-game stretch at home during last year's regular season:
A) Four games played, 4.02 goals against average, .866 save percentage
B) Four games played, 4.05 goals against average, .871 save percentage
C) Four games played, 4.36 goals against average, .879 save percentage
Can you pick which is which? Does it really matter?
As good as Ilya Bryzgalov has been over the last few years (remember Flyers fans, he lost the Vezina to Ryan Miller during his "Greatest American Hero" season), there have been times where he has struggled, maybe even a little more so than other goalies of his caliber.
The only real worrying aspect of Bryz's little slide here is that he has yet to play a truly great game at home this year. He had good games against both Los Angeles and Vancouver (Vancouver a little more than LA), but was outplayed by Jonathan Quick in the former game and allowed four goals in the latter.
The true worry doesn't actually lay with Bryzgalov's play on home ice, though. It has much more to do with his play in situations where he is expected to perform at a high level. On the road against Boston and New Jersey, the pressure was fairly low. The Flyers were clear underdogs against the Bruins and, well, to put it simply, the Prudential Center and the 2011 New Jersey Devils don't really frighten anyone.
However, if there's a city where any goalie's confidence can go to die, Philadelphia is that city. It's not really a stretch to say that the 19,000-plus rambunctious fans made Bryzgalov feel at least a little bit of pressure to perform. That he hasn't played so well in the face of that pressure has given credence to the critics who point to his performance in last year's playoffs as proof that Bryz struggles under pressure.
Of course, there's always a counterpoint. In this case, you can look at 2007 playoffs, when Bryzgalov won three of four starts for the Stanley Cup Champion Anaheim Ducks in the first round. Further, each of those wins was by a one-goal margin. Playing in a one-goal game for a heavily favored team in place of a star goaltender? Gotta be a little bit of pressure there, huh?
As more evidence that this little slump is just a regular hiccup Bryzgalov experiences from time to time, let's recall the stat lines above.
Following the aforementioned stretch of four poor home games last season (stat line B, for those who were wondering; A is this year; C was the playoffs), Bryzgalov posted shutouts in two of his next three home games in kicking off an eight-game winning streak to push the Phoenix Coyotes back into the playoff picture.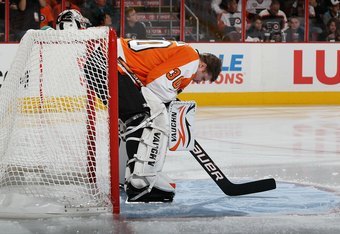 Jim McIsaac/Getty Images
Tim Thomas allowed 15 goals in a four-game stretch last January and still posted an absurd .939 save percentage during the regular season, and a .953 save percentage in four games against the Flyers in the playoffs. In February 2010, Ryan Miller lost his first five appearances, allowing 18 goals with a .890 save percentage. In the second half of the month, he almost single-handedly stole a gold medal from the Canadians on their home turf at the 2010 Vancouver Olympics.
The point here is that even the best goalies have bad stretches. Does it make people worry to see a nine-year investment struggle so early on? Absolutely.
However, before you panic, think about this—Ilya Bryzgalov's statistics for January 2010 read like this: 3.45 GAA, .895 save percentage. In 12 appearances that month, he allowed more than three goals nine times. So it follows, of course, that, in June, he was the runner-up for the Vezina Trophy.
A whole month of poor play—and he still was named the NHL's second-best goalie at the end of the year.
So perk up. Because he will.