NHL Free Agency: 20 Biggest Names Set To Hit the Market After the Season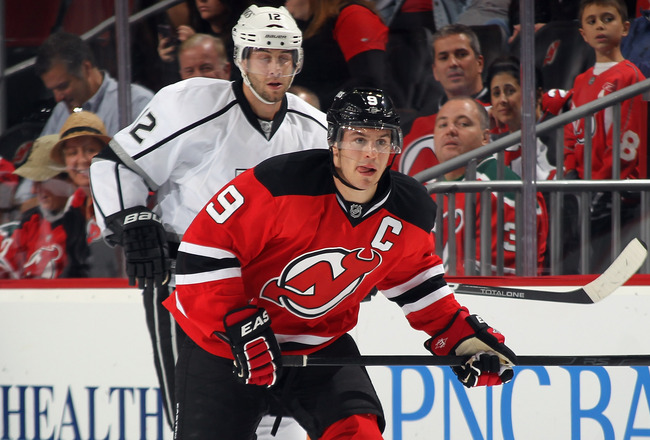 Bruce Bennett/Getty Images
Going into this past summer, there were a few big names set to become UFAs that everyone was talking about. Players like Brad Richards at forward, Christian Ehrhoff on defense and Ilya Bryzgalov in goal.
Leading up to July 1, obviously Bryzgalov ended up being off the market, after having his rights traded to the Philadelphia Flyers and then being signed prior to becoming a free agent.
However, Richards ended up having his pick of multiple teams on July 1.
Let's look ahead to next summer and look at who the biggest names will be heading into free agency. Some of these players won't be available come July 1, 2012, as they will have been re-signed.
Some of them will become free agents though, and will have their pick of many large contract offers.
Let's take a look at next summer's biggest pending UFAs.
Note: For the sake of availability, I've only included UFAs on this list.
20. John-Michael Liles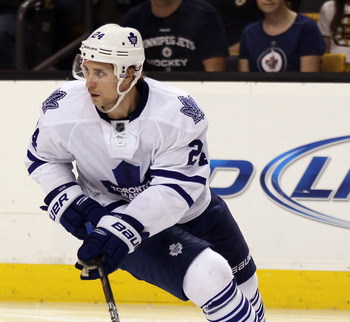 Elsa/Getty Images
At the 2011 trade deadline, John-Michael Liles was a popular name. However, the Colorado Avalanche chose not to trade him at that point.
This summer though, the team traded him to the Toronto Maple Leafs in exchange for a 2012 draft pick.
Liles currently only has one more year left on his contract and the decision whether or not to re-sign him will probably be hinged on his performance this season.
If the Leafs decide against trying to re-sign him or Liles decides he doesn't care to remain with the team, he'll probably do well in free agency.
19. Tomas Vokoun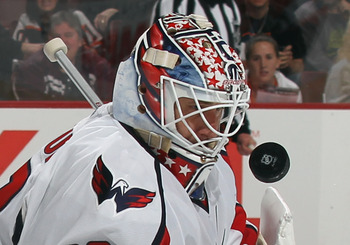 Bruce Bennett/Getty Images
This summer, Tomas Vokoun surprised many by taking a significant pay cut to sign a one-year, $1.5 million deal with the Washington Capitals.
So far, it seems to be working out well, as the Capitals are currently undefeated and Vokoun has posted a save percentage of .944 and GAA of 1.8.
If he keeps it up and the Caps advance far in the playoffs, there is a good chance that there will be a place on Washington's roster in the future.
If not, Vokoun will be a prime target during free agency next summer.
18. Jaroslav Spacek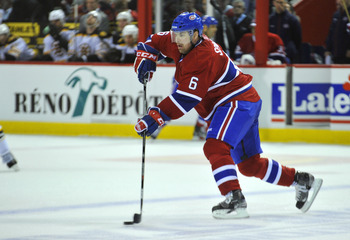 Phillip MacCallum/Getty Images
This season will be the final year of Jaroslav Spacek's three-year contract with the Montreal Canadiens.
The veteran blueliner has had a long NHL career playing for the Florida Panthers, Chicago Blackhawks, Columbus Blue Jackets, Edmonton Oilers, Buffalo Sabres and of course, the Canadiens.
Will Spacek re-sign in Montreal? Or will he sign with another team or one of his former teams?
Only time will tell.
17. Teemu Selanne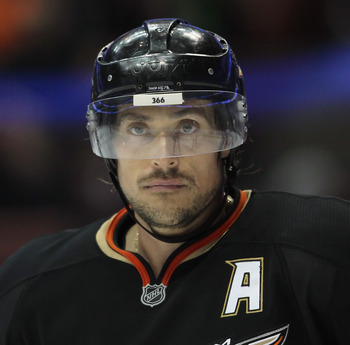 Jeff Gross/Getty Images
Teemu Selanne is set to become a free agent next summer after re-signing on a one-year deal with the Anaheim Ducks.
Now, we know that Selanne won't really hit the market next season, as he'll either retire or play another year in Anaheim.
However, Winnipeg Jets fans can always hold out hope they'll see their beloved Selanne back in a Jets uniform...
Or, he could do like Mike Modano did with the Dallas Stars and sign a one-day contract with the Jets to retire as a Jet.
It seems most likely though, that Selanne will retire next summer as a member of the Anaheim Ducks.
16. Josh Gorges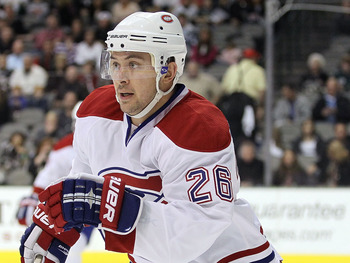 Ronald Martinez/Getty Images
Josh Gorges signed a one-year extension with the Montreal Canadiens, effective for this season. At the end of the contract, Gorges will become a UFA.
The Canadiens have between now and next July 1 to sign Gorges to an extension, preventing him from exploring his free-agent options.
Otherwise, Gorges will probably have plenty of suitors if he hits the free-agent market.
15. Dustin Penner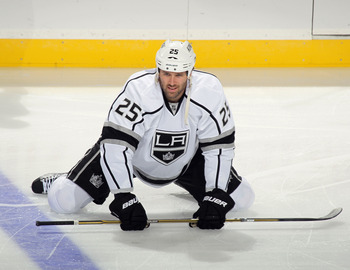 Bruce Bennett/Getty Images
The Los Angeles Kings acquired Dustin Penner from the Edmonton Oilers at the trade deadline last season.
Penner's contract is set to expire at the end of this season and he'll become a UFA.
The Kings have three options: re-sign Penner, let him walk next summer or trade him away before then to get something in return.
What they do will be contingent on how Penner performs for them this season.
14. Ryan Suter
Justin K. Aller/Getty Images
The Nashville Predators have three players whose contracts are set to expire after this season: defensemen Ryan Suter and Shea Weber and goaltender Pekka Rinne.
Weber will only become an RFA next season, so it seems likely that Weber will remain a Predator next season, even if it means another arbitration hearing.
Rinne is pretty indispensable as well, so that may mean that Suter is the odd man out if the team can't fit all three under their salary cap.
If that's the case, it would seem most logical to trade Suter at some point, instead of just letting him walk on July 1.
There will definitely be plenty of interest in him for either option though.
13. Jaromir Jagr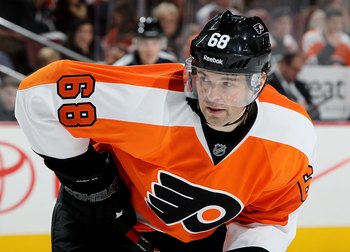 Jim McIsaac/Getty Images
This season is Jaromir Jagr's return to the NHL after spending three years playing for the Kontinental Hockey League in Russia.
Jagr has been effective so far for the Philadelphia Flyers, playing alongside rising star Claude Giroux and tallying four assists in seven games.
Jagr's contract with the Flyers is only for one year and he'll have a couple options next summer.
He can either retire, perhaps re-sign with the Flyers or sign with another team.
Perhaps he could make a return to the Pittsburgh Penguins? (If the team will still accept him after signing with the state and division rival.)
12. Tuomo Ruutu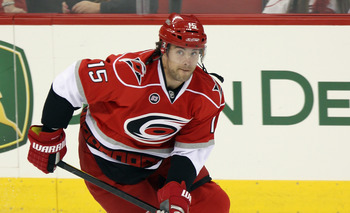 Bruce Bennett/Getty Images
Tuomo Ruutu is on the final year of his three-year $11.4 million deal with the Carolina Hurricanes and is set to become an UFA next summer.
There has been talk of significant interest in Ruutu so a potential trade might be in the works, if the return is worth Carolina's while.
After all, Ruutu is off to a hot start, with two goals and two assists in eight games thus far.
If Ruutu isn't traded or re-signed by the Hurricanes, he should have his pick of teams next summer.
11. Shane Doan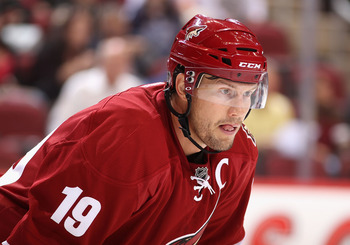 Christian Petersen/Getty Images
This season is the final season on Shane Doan's five-year deal with the Phoenix Coyotes.
Doan is captain of the team and has spent his entire career with the Winnipeg Jets/Phoenix Coyotes franchise, so it seems highly unlikely that he'll play anywhere else.
However, with the uncertainty of the team, everything is up in the air.
It is a possibility that the team will be relocated next summer, in which case Doan will likely play a large role in helping guide the team through its transition.
10. Mikhail Grabovski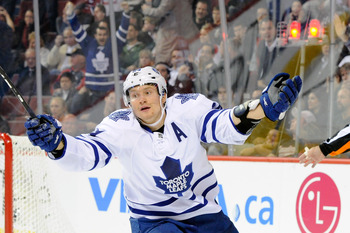 Richard Wolowicz/Getty Images
Mikhail Grabovski is on the final year of his three-year contract with the Toronto Maple Leafs and is set to become a UFA next summer.
However, there is no way that Brian Burke and the Leafs will let Grabovski go, especially after his hot start this season.
So far, Grabovski has three goals and one assist in seven games.
His hot start may be generating considerable interest, but the Leafs will re-sign Grabovski to a long-term, significant deal.
9. Andrei Kostitsyn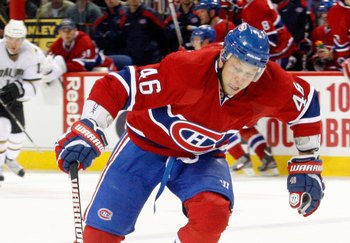 Richard Wolowicz/Getty Images
Andrei Kostitsyn is currently under a one-year deal with the Montreal Canadiens and will become a UFA next summer if not re-signed.
After this summer, when Kostitsyn made known his discontent with his role on the team, it seems very probable that Kostitsyn won't be a member of the team next year.
He could be traded before then or he could just walk next July 1.
If he's as unhappy next summer as he was this past summer, it seems like Kostitsyn won't be wanting to re-sign in Montreal.
8. Pekka Rinne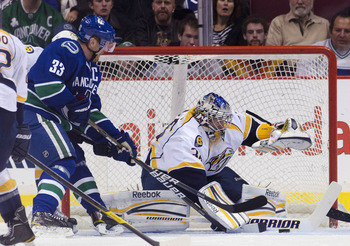 Rich Lam/Getty Images
Last season, Pekka Rinne emerged as one of the rising goaltender stars in the league, playing an integral role on the Nashville Predators.
His contract will expire after this season and he'll become a UFA.
With his continued excellent play, Rinne may be the most in-demand goaltender of next year's free-agent crop.
However, it would behoove Nashville to hang onto him.
7. Niklas Kronwall
Gregory Shamus/Getty Images
With the retirement of Brian Rafalski this summer and the pending retirement of Nicklas Lidstrom in the coming years, Niklas Kronwall will be an important part of the Detroit Red Wings defensive corps.
That means it is incumbent upon Detroit to re-sign him before he becomes an UFA next July 1.
If they don't, Kronwall will be one of the most in-demand defenseman of the 2012 free agents.
However, because of his role on the team, there is no way Detroit won't re-sign Kronwall to a new contract.
6. Martin Brodeur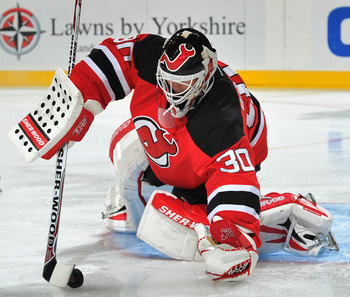 Christopher Pasatieri/Getty Images
Martin Brodeur is one of the greatest goaltenders to ever play the game and certainly the greatest goaltender of the past decade.
He's nearing the end of his career, but will this season be his last?
After all, this is the last year on Brodeur's current contract and depending on how he recovers from his current injury, he may be seriously considering retirement next summer.
Otherwise, it seems likely that Brodeur would re-sign with the Devils, with a very, very slight possibility that he might look to play elsewhere.
Anything is possible, no matter how slightly.
5. Ryan Smyth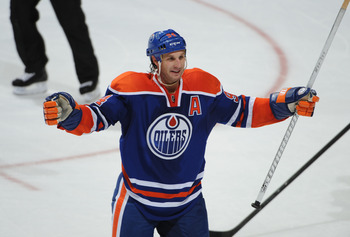 Dale MacMillan/Getty Images
Ryan Smyth requested a trade over the summer so that he could finish his career close to home. The Los Angeles Kings obliged and traded him to the Edmonton Oilers.
Smyth is on the final year of his current deal, making him a UFA next summer.
He is only 35, meaning he has at least a couple more years left to be a great asset on a team, probably even longer than that.
If the Oilers don't re-sign him, he could probably sign with another team, depending on where he wants to end his career.
However, the Oilers should want to keep him on their team, since his veteran presence will be invaluable to the development of the team's young stars, like Taylor Hall, Jordan Eberle and Ryan Nugent-Hopkins.
4. Nicklas Lidstrom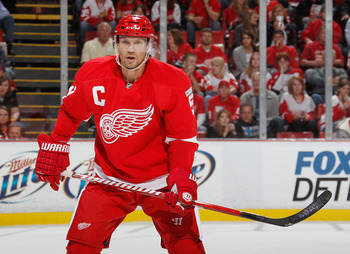 Gregory Shamus/Getty Images
Nicklas Lidstrom decided to return for another season with the Detroit Red Wings and he's already reaching new milestones.
The other night against the Washington Capitals was Lidstrom's 1,500th NHL game and Lidstrom has the opportunity to tie Bobby Orr's record for most Norris Trophies at next year's NHL Awards.
Once Lidstrom's contract is up, it's up to him whether to come back for another season or retire.
If he does come back, he'll obviously be with the Red Wings; there's nothing that could lure Lidstrom away from Hockeytown.
3. Alexander Semin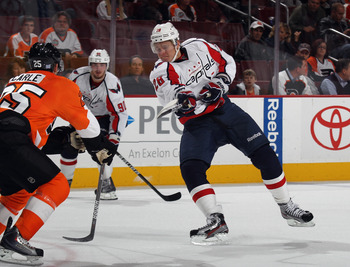 Bruce Bennett/Getty Images
The past two years, Alexander Semin has been playing in the final year of his contract and this year will be no different.
If you listen to trade rumors, Semin will be traded by the trade deadline or the beginning of summer at the very latest.
After all, the Washington Capitals have a very tight payroll with many other stars and re-signing Semin may not be feasible.
On the other hand, Semin can be a highly talented player and players like him are difficult to part ways with.
If they do, there will be no shortage of interested teams.
2. Ales Hemsky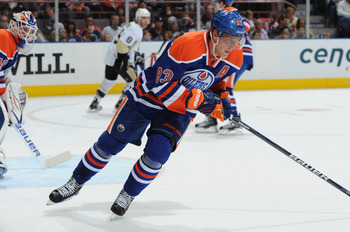 Dale MacMillan/Getty Images
Ales Hemsky has been a popular name, beginning to garner a lot of trade interest last season and continuing into this season.
Hemsky is on the final year of his contract with the Edmonton Oilers. While he has indicated his desire to remain part of the team, many believe that Edmonton will trade him, possibly before the trade deadline.
If they don't, it seems certain that the team will try to re-sign him.
If Hemsky decides not to re-sign for whatever reason, he'll be one of the most in-demand free agents of next summer.
1. Zach Parise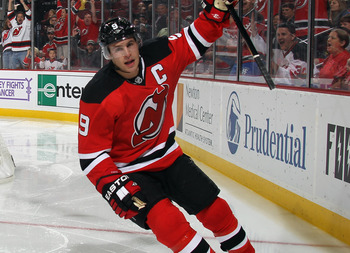 Bruce Bennett/Getty Images
This past summer featured many high-profile restricted free agents—players like Zach Parise, Steven Stamkos, Shea Weber and Drew Doughty, to name a few.
Of those names, only Parise is set to become available next season, as Stamkos and Doughty signed long-term deals and Weber will still only be an RFA.
As Parise is now the captain of the New Jersey Devils, it seems probable that Parise and the Devils will agree to a new deal sometime before next July 1.
However, if they don't or until they do, Parise will be the most coveted free agent of next summer.
Keep Reading