Detroit Red Wings: Johan Franzen Scoring Means Good Things Ahead for Red Wings
October 22, 2011
Dave Sandford/Getty Images
Johan Franzen has had a very good start to the 2011/12 NHL season, and that bodes very well for the Red Wings' chances at a 12th Stanley Cup.
When Franzen burst onto the scene during the 2007/08 season, he looked as though he was ready to score 50 goals a year.  He scored an unbelievable 13 goals in 16 games that postseason alone, and he carried that momentum into the following year with 34 goals in the regular season and another 12 in the playoffs.  Both of those seasons resulted in trips to the Cup Finals.
A torn ACL limited Franzen to only 27 games in 2009/10, and the Wings had an early exit from the playoffs at the hands of the San Jose Sharks.  In 2010/11, Franzen seemed to be back to his old ways, scoring 28 goals, including five in one game on February 2nd.  The problem, however, is that only two of his 28 tallies came after that five-goal performance, as he sleepwalked through the last two months of the season, and the Wings suffered yet another playoff exit to the Sharks. 
Notice a pattern developing?
So, what has been keeping The Mule down?
Some may point to the gaudy 11-year, $43.5 million contract that he signed prior to the 09/10 season as a factor.  Some players feel that they no longer need to put in 100 percent effort once they've cashed in to that degree.  That doesn't seem like the kind of guy Franzen is in my opinion, though, and I don't think Ken Holland would reward that type of player either.
What about the ACL injury?
While Franzen was back on the ice after only four months of recovery time, it will sometimes take a full calendar year before a player is back at 100 percent following that type of injury.  Franzen is now entering his second full season since the injury, and it should no longer be an issue.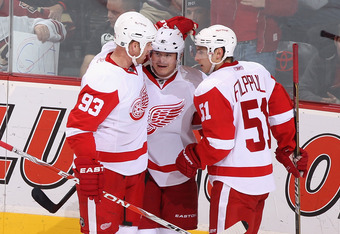 Christian Petersen/Getty Images
This season, he has been paired with Valtteri Filppula and Jiri Hudler on the team's second line, and they have been dynamite to begin the year.  Franzen and Filppula are tied for the team lead with seven points each, while Hudler is tied with Pavel Datsyuk for second on the team with four points.
Hudler is trying to revitalize his career after spending a year in Russia and struggling in his return to the NHL last year.  Filppula is being counted on more than ever to live up to his potential and produce offensively.  Both of them are playing great and will be big parts of any success Detroit has this season.
But make no mistake about it: Steve Yzerman gave Franzen the nickname "The Mule" because "he carries the load."  He is a big, strong player with great hands and a knack for putting the puck in the net.  He's like Bertuzzi in his prime, but with more discipline and no baggage. 
And now that the Red Wings' second line looks to be clicking like it was in 2007 and 2008, another trip to the Finals looks like a good bet.