New York Rangers 101: Grading Each Player from Game 5 at Calgary
October 21, 2011
After every game of the 2011-12 season, each Rangers player will be assigned a letter grade based on his individual performance, impact on the game and outlook going forward.
In Game 5 of the regular season, the New York Rangers defeated the Calgary Flames 3-2 in overtime, bringing their record to 2-1-2 on their season-opening seven-game road trip.
Let's take a look at the grades:
Grade: A
Gaborik played like a man possessed last night. His power-play goal was outdone only by his tenacity throughout the entire game. He was extremely effective on the forecheck, creating a handful of turnovers in the offensive zone, and zipped around the ice creating breakaway opportunities and odd-man rushes on nearly every shift.
If not for some poor refereeing, we might be clamoring today about Gaborik's penalty shot goal after an egregious non-call on a breakaway pass from Ryan McDonagh.
Gabby's early season scoring is one of the most encouraging signs for this team going forward.
Dan Girardi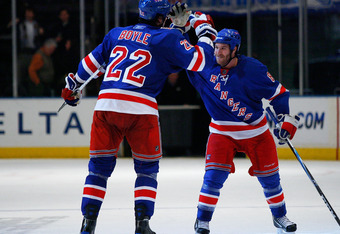 Andy Marlin/Getty Images
The accolades for Girardi keep flying in from this writer. He has become a quiet leader, exuding a calming influence over the defensive core and this team as a whole.
Girardi's outlet passes from the defensive zone were spot on last night and his well-timed, hard, low shot late in overtime ultimately put the Rangers in the win column.
His ability to disrupt plays and control the puck in the defensive zone has become scary good and if he can continue to complement his defensive play with contributions on the offensive end, Girardi could be in for a big-time breakout season.
Steve Eminger
With yet another solid defensive game, Eminger is beginning to assert himself as a reliable cog on the Rangers blue-line. Four blocked shots, no penalties, and obvious chemistry with defensive partner and new acquisition Jeff Woywitka can give this team confidence that it can survive in the short term without Marc Staal.
Eminger is being asked to do a lot, with expectations well beyond any in his career thus far. It looks like he might be up to the challenge.
Jeff Woywitka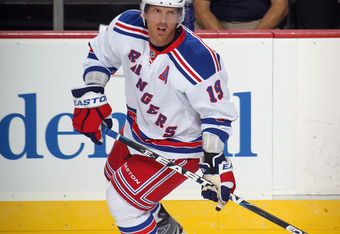 Bruce Bennett/Getty Images
After an uneventful first two games as a Ranger, Woywitka seems to have gained a level of comfort with this team after last night's game against Calgary.
Aside from a fluke delay-of-game penalty late in the third period (which as replays showed may have been deflected), he played sound defensively, most notably on a second-period penalty kill with Girardi in the box.
Playing with a conservative defenseman like Eminger, look for Woywitka, a former first round pick, to become a more aggressive player going forward.
Brandon Prust
After spending most of the Vancouver game on the bench, Prust managed to break out of Tortorella's dog house last night against his former team. Prust led the way on the penalty kill, helping to extinguish four of Calgary's five opportunities. He even buried a shorthanded goal on a perfect pass from Brian Boyle to give the Rangers the lead midway through the first period.
In order for the Rangers to keep taking steps in the right direction, Prust needs to be a spark plug every night. After the game, his teammates acknowledged his effort by giving him the "Broadway Hat," a token given to the best Rangers player after every win.
Grade: B
Henrik Lundqvist
When Lundqvist comes out of the net to play the puck, bad things tend to happen. This is not a new development; it is simply a weak part of an otherwise impeccable goaltending repertoire.
Outside of the crease he loses focus, often guiding the puck to the wrong spot, letting it jump over his stick, or sometimes colliding with his own player.
Stay in the net, Hank.
Having said that, another great game from the King on a night when he wasn't asked to completely stand on his head. He has earned what should be a relaxing weekend off, with Biron most likely getting the start Saturday in Edmonton.
Ryan McDonagh
Man, McDonagh is turning into some kind of player.
While there are growing pains for sure—many of which were on display in last night's game—his natural defensive instincts and nose for the net are signs of a budding star.
His game last night was littered with misplays, most notably an ill-advised partial screen of Lundqvist on the Flames' second goal.
McDonagh needs to know that he needs to either put his body in front of the shot or get completely out of the way. However, these are things that we don't normally see, so I don't expect them continue.
Three plays in particular: the overtime goal, a ridiculous saucer pass to Gaborik for a breakaway in the second period and a "bunt" out of mid-air to spring the Rangers on an odd-man rush make you think that the sky is the limit for this kid.
With his body type, he has a chance to be the best all-around defenseman in this organization since Brian Leetch.
Brian Boyle
After the Vancouver game, I commented that although Boyle does have great hands and a deceptive shot, he needs to play a more physical game and work down behind the goal-line.
That is exactly what Boyle did tonight. His short-handed setup on the Prust goal was the perfect example of what he needs to do on a nightly basis: Go hard into the corner, use his body to shield the puck and find teammates cutting towards the front of the net.  
Tim Erixon
Just like Lebron James, JD Drew and Eli Manning before him, Erixon has garnered the hatred of a city where he refused to sign. That is pretty impressive stuff for a guy who is still trying to cement himself as a player in this league.
Good game tonight overall for Erixon. I thought his defensive positioning was excellent and his decisions, while conservative, were mostly correct. I think a little more muscle and a little more confidence will go a long way to the development of Erixon has a complete player.  
Grade: C
Ryan Callahan
You can tell that the Captain is trying, maybe even pressing. Hopefully the points come soon.
As usual, Callahan was superb on the penalty kill and while not credited with an assist on the overtime goal, his positioning in front of the net drew the Calgary defenders' attention away from an open McDonagh on the other side.
Brandon Dubinsky
Dubinsky is a guy who loves to play with the puck on his stick, which complements his aggressive and confident attitude.
Last night, however, I thought he was a bit of a puck-hog, too often passing up an open teammate or a cycle opportunity just to take a weak wrist shot into the goalie's chest protector.
Hard, low shots create rebound and puck-control opportunities, something that would play into the strengths of his linemate Ryan Callahan.
On the flip-side, Dubinsky showed unbelievable patience and strength to ultimately create the game-winning overtime goal.
Kris Newbury
When Richards got blatantly hit from behind by Cory Sarich, we as Rangers fans wanted to jump through the screen and take Sarich down.
Luckily for us, Newbury took care of that. Sticking up for a star teammate is a great way to earn your spot on a hockey team. The kid can't do much with the puck out there, but 17 penalty minutes and 3 hits are good to see.
Brad Richards
After six games and 14 opportunities, we finally have a power-play goal, and all the credit goes to Richards. All kidding aside, it's nice to see the power-play finally gain some confidence, something Richards can hopefully use going forward to develop flow and chemistry with the man-advantage.
While I thought Gaborik carried the load on the first line, Richards certainly did not play badly and continues to display the above average skill-set he is paid to bring to the table every night.
In picking up his fifth point in five games, Richards has put together a nice start to the season.
However, I proceed with caution when looking purely at the numbers, as some of his secondary assists may be inflating his early season point totals.
Derek Stepan
Stepan made a gorgeous pass on Gaborik's power-play goal. He kept his head up and displayed patience waiting for the passing lane to open. Despite that play, however, I'm still seeing things that are discouraging.
On a partial breakaway, Stepan showed no ability to creatively make a play, getting taken off the puck all too easily by a Flames back-checker. When he tries to work a hard cycle he gets bumped off by a bigger and stronger defenseman. When he tries to create plays, his pass gets deflected and his shot get blocked.
Frankly, his game seems very plain and without much flair or creativity.
I want to see Stepan grow and mature into a top-line forward, but I have seen very little to indicate anything close to that over the past year.
Grade: D
Mike Rupp
As much as I appreciate his obligatory fight with the other team's enforcer, Rupp needs to be on the ice for longer than six minutes. In order to do that, he has to create and sustain an offensive zone forecheck and earn the trust of John Tortorella.
Michael Del Zotto
In last night's game, Del Zotto avoided the catastrophic defensive misplay we are so used to seeing.
Despite the absence of a blatant giveaway, however, I was not pleased at all with his defensive poise and positioning. I thought that Del Zotto was a puck chaser throughout the entire game and always a half-step behind the Flames' forwards.
While his defensive ability against the rush continues to be adequate, he seems to lack the capacity to match up against the power forwards down below the goal-line. His defensive style of play is more of an annoyance to the opposing forward, rather than a hard-nosed effort to knock the player off the puck.
The more I watch him, the more I'm convinced that Del Zotto will be back with the Whale sooner rather than later.
Ruslan Fedotenko/Artem Anisimov
I decided to grade Fedotenko and Anisimov together because I firmly believe that Tortorella should consider a line switch going forward.
As much as we as fans love the idea of an Anisimov-Callahan-Dubinsky line (three young home-grown talents), I think it might be best to separate Anisimov and Dubinsky, two players that love to play with the puck on their stick.
Anisimov, with his puck control and creativity, might be better off playing alongside two power guys like Boyle and Prust, who can flash to the front of the net and work the puck out of the corner to better complement his style of play.
Alternatively, Dubinsky, who thinks he is a point guard with the puck, might be better served playing with two energy players like Callahan and Fedotenko, who can station themselves in front of the net and on the half-wing looking for rebounds and dump-off passes.
Grade: F
Erik Christensen
Christensen was on the ice for six and a half minutes last night and I think that was six and a half minutes too long. His continued lock of offensive prowess leads me to question his place on this team.
On a fourth line that features Newbury and Rupp, I would much rather see a guy with some grit (Avery, can you hear me?) or at least a young player with potential.
Based on his numbers from last year, and his performance through five games this season, it's hard to see how Christensen stays in the lineup once Wojtek Wolski is ready to return.