Sidney Crosby vs. Alexander Ovechkin: Who Is the Bigger Diver?
Who flops more?
Bruce Bennett/Getty Images
Let's get something out of the way: There is no question that Alexander Ovechkin and Sidney Crosby are the two most talented players in hockey. These two players are a lock for 100 points, and a "bad" season sees one of them allotting 85. They are both great young leaders and are both clear-cut Hall-of-Famers. Despite all their skill, there is another side of these two players: They are both divers.
If you ask anyone in Philadelphia or New York, they will tell you Crosby is the biggest diver in the NHL, but Ovechkin has been penalized for this offense many more times. Let's take a look at some of the dives that you won't see on the highlights.
Ovechkin Dive 1: Against Chris Kunitz
As you can clearly see in this video (and as Don Cherry has pointed out), "Ovie" clearly takes a dive in this video. Chris Kunitz of the Pittsburgh Penguins never came anywhere close to touching Ovechkin's face.
Crosby Dive 1: Against Peter Forsberg
This is one of the least obvious dives you will see, but there is no question. The stick had not yet contacted Crosby's skates when he went flopping.
Ovechkin Dive 2: Against Brandon Prust
Ovechkin was actually called out on this one. I am not sure what is worse with this video: Ovechkin's terrible acting or the fact the Capitals fans actually believed he was innocent. Ovie, if you are going to dive, make it less obvious than this one.
Crosby Dive 2: Against Marc Staal
Crosby is definitely a better actor than Ovechkin, but there is no doubting this one was a dive.
Ovechkin Dive 3: Against Derek Roy
Another good call by the officials and more bad acting by Ovechkin.
Crosby Dive 3: Against Kirk Maltby
I will let the video speak for itself on this one.
Ovechkin Dive 4: Against R.J. Umberger
I LOVE this one. Someone give this man an Oscar…
Conclusion: Ovechkin Is a Bigger Diver and a MUCH Worse Actor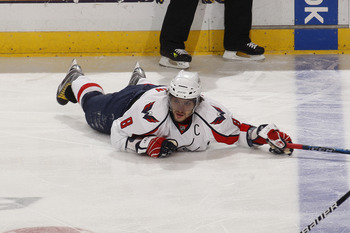 Joel Auerbach/Getty Images
After watching these videos, I have to give the prize to Alexander Ovechkin. After searching the web, I really could only find three videos of Crosby diving and have not been able to locate any records of him being called for the unsportsmanlike penalty.
Once again, there is no questioning the talent of these players, but the video speaks for itself; they are both divers. Who do you think embellishes more?
Keep Reading