NHL Trade Rumors: 13 Teams Shopping for Scorers at the Deadline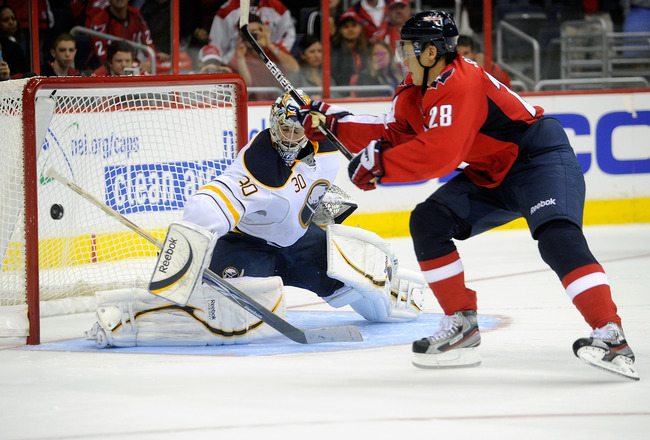 Greg Fiume/Getty Images
It's early yet in the NHL season, but already there are plenty of teams that are outscoring others.
These underscoring teams have plenty of time to increase their scoring—but if not, they may be looking for goal-scorers at the trade deadline.
Let's take a look at some of the league's currently lowest-scoring teams and who might be at the tops of their wish lists.
Here are 13 teams who might be shopping for scorers at the deadline.
Winnipeg Jets
Bruce Bennett/Getty Images
The Winnipeg Jets are currently the second-lowest scoring team in the NHL, averaging only 1.75 goals per game.
With that, it's easy to see why they're only 1-3.
The team will need to step it up if they hope to become contenders—and now that they're in Canada, there will be greater pressure on them to eventually become contenders.
One player they might be interested in is Alexander Semin of the Washington Capitals. After all, Semin is a very capable scorer, if he's healthy.
This deal could happen, as Semin's name continues to come up in trade rumors, since he's set to become a UFA over the summer.
If he is traded, it probably won't happen until after the season.
Montreal Canadiens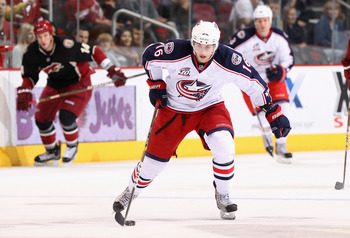 Christian Petersen/Getty Images
There seems to be considerable interest in Columbus Blue Jackets' Derick Brassard.
With Jeff Carter out, however short-term that is expected to be, the Blue Jackets won't be looking to trade any of their top forwards anytime soon.
However, by the trade deadline, perhaps they will be able to afford to trade someone like Brassard if they get something valuable in return.
One team that could be interested in Brassard are the Montreal Canadiens.
The Canadiens are currently in the bottom third of the league in average goals per game with 2.4, and when looking for forwards to bring in, they need to consider size.
Brassard is 6'1" and 202 pounds, which isn't the biggest but is still a pretty good size.
Vancouver Canucks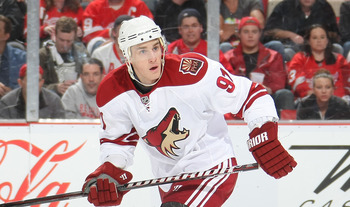 Dave Sandford/Getty Images
Kyle Turris is still holding out from the Phoenix Coyotes, but despite that, Coyotes GM Don Maloney maintains that he doesn't intend to trade him.
This makes sense, because most of the time, GMs don't announce their intentions to trade a player to the public.
So it's very likely that Maloney could be negotiating with other teams interested in Turris.
One team that people are speculating is working on a deal for Turris is the Vancouver Canucks.
The Canucks have been off to a slow start, going 2-3-1 with an average of 2.33 goals per game. Granted, they have been without Ryan Kesler, one of their top offensive weapons.
They could be looking to shake things up, and Turris might be able to meet his potential in Vancouver.
After all, with that roster, it would be very difficult for Turris not to have great stats if he joined the club.
Nashville Predators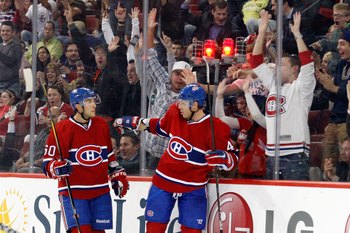 Richard Wolowicz/Getty Images
The Nashville Predators are another low-scoring team thus far, falling in the bottom third of the league, averaging only 2.4 goals per game.
The team is looking at losing probably at least one of their top three players—Ryan Suter, Shea Weber and Pekka Rinne—as all three are due to be renewed this offseason.
It seems strange that the team would look for scoring at the trade deadline, but that could be the case.
One trade that I think could work out well for the team is picking up Andrei Kostitsyn from the Canadiens.
Kostitsyn is not meeting his full potential in Montreal and seems to believe that it is his coach's fault. Considering that unrest, it seems like the Canadiens would be glad to get rid of him.
Having Kostitsyn play alongside his brother Sergei in Nashville could yield great results for Nashville's scoring, since we can assume the two would have great chemistry.
Ottawa Senators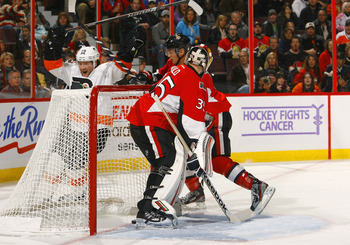 Phillip MacCallum/Getty Images
The Ottawa Senators have been in need of a top forward for a long time now.
Their problem is that they can't attract top free agents and they have very few bargaining chips to yield what they need in return.
Their biggest bargaining chip is Jason Spezza, but it's hard to bid farewell to him just to get another top forward.
What would be beneficial for the Senators is if they could make a trade happen like the Columbus Blue Jackets made with the Philadelphia Flyers for Jeff Carter.
Getting a top player who is locked down long-term would be very helpful in their rebuilding.
Once again, however, their lack of bargaining chips may prevent them from accomplishing this.
The Blue Jackets were able to make it happen by trading a young player and draft picks, so maybe if the Senators are willing to give up draft picks, they could make something happen.
New York Rangers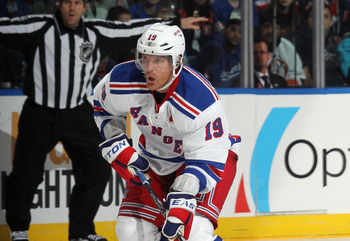 Bruce Bennett/Getty Images
The New York Rangers hit the free-agent jackpot this offseason when they signed Brad Richards.
Even with the addition of Richards, the Rangers are still in the bottom third of the league in scoring, averaging only 2.25 goals per game.
Richards hasn't been there long, and they still have plenty of time to iron out chemistry.
If not, the Rangers need to look for more scoring at the deadline.
It will be difficult, though, considering salary cap constraints.
Boston Bruins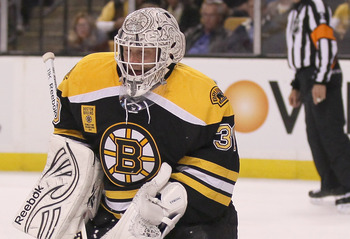 Elsa/Getty Images
The Boston Bruins are at the bottom of the league in scoring thus far, averaging only 1.67 goals per game.
If they hope to make another run at the Cup, they'll need to improve that, because they can't just put it all on their defense and Tim Thomas to prevent goals.
The Bruins currently have about $2.6 million left in cap space, giving them some room to play.
Would the Bruins consider moving some more salary in order to attract another top forward in the hopes of increasing their scoring?
It seems unlikely that the team would look to change too much, but if they're still experiencing a lack of scoring by the trade deadline, they could make a serious offer for a top name.
Edmonton Oilers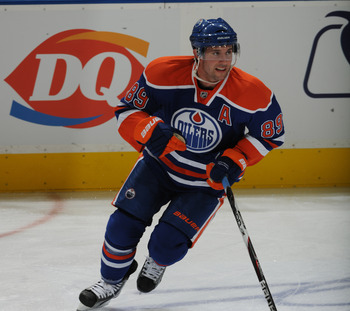 Dale MacMillan/Getty Images
The Edmonton Oilers have some of the best young players who have the potential to become some of the best players in the league one day—players like Taylor Hall and Ryan Nugent-Hopkins.
However, for the time being, they're still struggling to score goals, averaging only 1.8 goals per game so far.
The team could use another veteran forward who can put up a lot of points—someone like Jason Spezza.
As mentioned earlier, Spezza would be a very difficult asset to acquire, unless the team is willing to give up a lot in return.
Here's an interesting proposition. Sam Gagner's name keeps coming up in trade rumors, as he's young and has the potential to become a top forward.
Could Spezza be pried away from the Senators in exchange for Gagner and some combination of prospects/draft picks?
Anaheim Ducks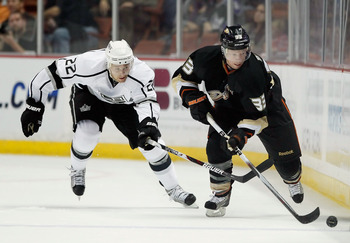 Jeff Gross/Getty Images
Despite having one of the best top lines in hockey, the Anaheim Ducks have been low-scoring thus far, averaging just two goals per game.
That's all they have needed so far, though, with the healthy Jonas Hiller in net.
However, they may need to address secondary scoring at some point and add another name.
It could happen sooner rather than later, with Jason Blake out now for three months.
Los Angeles Kings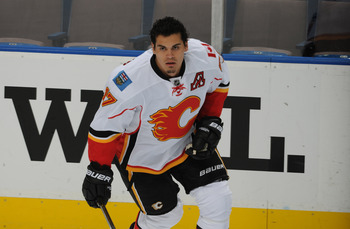 Dale MacMillan/Getty Images
When the Los Angeles Kings picked up Mike Richards and Simon Gagne over the summer, it seemed like everything had fallen into place.
The one thing that people mentioned they could still use, though, was another winger.
Ales Hemsky's name came up in that discussion, and he could still be a target, but his cap hit would be difficult to get in, and with him becoming a free agent over the summer, it would be even more difficult to get him re-signed.
Now it seems that the Calgary Flames are shopping winger Rene Bourque.
Perhaps the Kings could make a run for Bourque. After all, his $3.33 million cap hit for the next five seasons would be easier to fit, depending on whom they would move in return.
Dallas Stars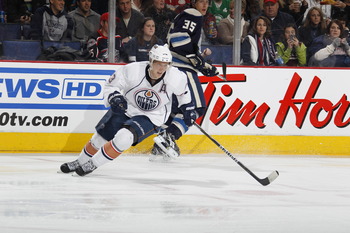 Gregory Shamus/Getty Images
Surprisingly, the Dallas Stars are almost in the top half of the league in goal-scoring thus far, averaging 2.5 goals per game.
This is surprising, considering they could not retain Brad Richards over the summer, but it's been due to hot play from players such as Jamie Benn.
However, it seems likely that at some point, the Stars will covet another scorer.
It is difficult right now, given their financial situation, but if they can get a buyer in, with more than $15 million of cap space, they could make a run at some high-profile scorers.
Names like Ales Hemsky, perhaps, since they could re-sign him to a lucrative contract over the summer.
Granted, this is all very hypothetical since it hinges on the team finding a new buyer, which has been a difficult task.
San Jose Sharks
Thearon W. Henderson/Getty Images
The San Jose Sharks were interested in improving their defense this offseason, and they acquired Brent Burns from the Minnesota Wild in hopes of accomplishing that.
They also acquired forward Martin Havlat but sent away Devin Setoguchi and Dany Heatley.
So far, the Sharks have struggled, going 1-3 and averaging only 2.5 goals per game.
With players like Patrick Marleau, Joe Thornton and Logan Couture, it seems like scoring won't be an issue for long, as these guys could get hot quickly.
However, they could be in the market for a scorer around the deadline if things don't improve.
Calgary Flames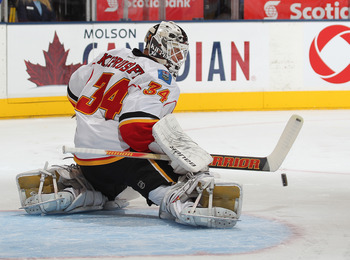 Claus Andersen/Getty Images
Calgary Flames GM Jay Feaster has made it clear that he's unimpressed with his team's start to the season and is willing to make changes to improve that, including potentially moving Rene Bourque, it seems.
What would the team expect in return for a player like Bourque? Probably a great deal.
They're currently averaging more goals against than goals-scored per game, and increasing their goal-scoring seems necessary.
If Bourque's on the table, the team could be looking for another top forward in return.
Keep Reading