Detroit Red Wings: How Long Can Detroit Go Undefeated?
October 20, 2011
Justin Edmonds/Getty Images
The NHL season is still very young. Most teams have only played four to six games so far. Despite that short time frame, only two teams are still perfect, Detroit and Washington. Two other teams, Philadelphia and Toronto, have had their only losses come in overtime, but a loss is a loss.
So how far can Detroit go with their streak of perfection, and can they be the last perfect team? We do know one thing for sure: one of these teams will have a loss no later than October 22. That is when these two teams will match up, as Detroit will head there looking to knock off another Stanley Cup contender.
Now of course the season is still early, and nobody in their right mind is thinking 82-0, but provided they get by Columbus on Friday, a win against Washington would propel them into an easy stretch of the schedule. After the Washington game, they do not play a team with a current record above .500 until a home game against Anaheim on November 5. Could they be 11-0 by then?
The surprising part of their 4-0 start is not that they have done it, but how they have gotten there. Seeing Johan Franzen's name atop the team scoring list is not a shock. He has been a regular goal scorer for the team for many years, but the man tied with him for the lead is the surprise. Jiri Hudler has matched Franzen's two goal and two assist effort to make him a point-a-game player early in this season.
Now many, including this writer, have blasted Hudler for his performance last season and begged for the team to move him. While four games does not make a season, so far he is showing why the Red Wings did not lose faith in him. Hopefully, for the team's sake, this is not a short flash in the pan, but instead something he can build on and continue throughout the season.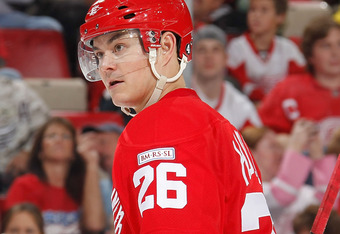 Gregory Shamus/Getty Images
Normally you would expect Pavel Datsyuk and Henrik Zetterberg to lead the scoring charts, but both have had slow starts. Datsyuk did put in a solid game against Colorado, where he had a goal and an assist, but neither has played up to his All-Star potential as of yet.
In fact, during the Minnesota game, Datsyuk had two costly and very uncharacteristic turnovers which led to both of the Wild's goals. Zetterberg has struggled to finish plays. He is among the league leaders in shots per game, and leads the team with 20, but has only been able to score once. Both players will turn it around, but the fact that the team has played so well, despite their stars' struggles is an encouraging sign.
Another surprise for the team is their anemic power play so far this season. They are only one for 19 with the man advantage this season. That is tied for second lowest in the league. Their penalty kill, while not horrible, is very middle of the road. Luckily for them, they are the least penalized team in this young season. Not giving opponents an opportunity to be on the power play is smart play.
Despite their low power play numbers, the team is still in the top six in goals per game. Ten players have already scored at least one goal, and 17 of 19 skaters have chipped in at least one point. It is this type of all-around team effort that is driving the team.
Last season, the Wings were far off of their normally high standard of defensive play. Through four games this year, they lead the league in goals against per game. Both goalies, Jimmy Howard and Ty Conklin, each already have a shutout. They have stopped an impressive 95 percent of the shots they have faced. The team has also buckled down in front of them. A key piece to the Red Wings' defensive dominance of the past was limiting shots. So far this season, they are ranked fourth in shots allowed.
While 82 wins is still a long way off, they could focus on beating the current league record of 10 wins to start a season. Of course, coach Mike Babcock and the players will only focus on their next game. But for the fans it is fun to look further down the road and dream.