Rick Rypien's Top 15 Fights in a Vancouver Canucks Uniform (Video)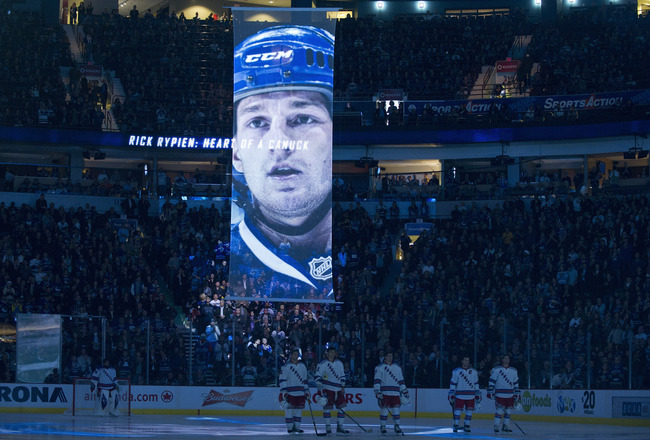 Rich Lam/Getty Images
On Tuesday night, the Vancouver Canucks celebrated the life of Rick Rypien before their game with the New York Rangers.
It was a very moving ceremony that honoured Rypien's life and showed that he was more than just a hockey player. With that being said, we knew him as a Canuck and more specifically as a fighter for the Canucks, so what better way to honour him one last time than to showcase his best fights and recognize his heart and determination as an NHL tough guy.
Rypien was a very talented fighter who often took on players much bigger than him, as he stood at only 5'11" and weighed anywhere between 170 and 195 pounds during his NHL career.
In determining Rypien's best fights as a member of the Canucks, I took into consideration how well Rypien did in the fight, but also how entertaining the fight was along with the quality of his opponent.
The reason I decided to go with his top 15 fights instead of another arbitrary number is because Rypien wore No. 15 during his first couple of seasons as a Canuck, which some of you may not have known.
So not only do you get to be entertained by Rypien's 15 best fights as a Canuck, but you also get a history lesson. Lucky you!
I hope you enjoy watching 15 great fights by a person who will be sorely missed in all our hearts.
15. Vs Ole-Kristian Tollefsen
In a 2008 fight with Norwegian defenseman Ole-Kristian Tollefsen of the Columbus Blue Jackets, Rypien showed who was boss.
Tollefsen may not rank anywhere near the top of the NHL tough guy list, but that doesn't mean that Rypien could take him lightly and he didn't as you'll see in this video clip.
14. Vs Sheldon Brokbank
Ironically enough, Sheldon Brookbank is the younger brother of Wade Brookbank, who was the Canucks chief tough guy just before Rypien came along.
Sheldon isn't quite the heavyweight that Wade is, but he stills know how to throw the knuckles and this is a very spirited tilt. Rypien switched hands and threw punches at rapid speed and ended up getting the better of the younger Brookbank, especially at the very end before the refs intervened.
13. Vs Daniel Carcillo
This fight came late in the 2007-08 regular season and it truly is a toe-to-toe battle.
Rypien faces one of the NHL's other top middleweights in Daniel Carcillo and both players exchange plenty of punches. Most of Rypien's shots are with the left hand while Carcillo comes back with the rights.
This fight was extremely close, although if I had to pick a winner, I'd go with Rypien as he seemed to get stronger as the fight went on.
Nevertheless, this fight qualifies for this list based more on it's entertainment value than because of Rypien's domination.
12. Vs Ryan Carter
This is just a one-sided beating. Rypien dominates and KO's Ryan Carter in this preseason game with a series of left hooks.
The only reason this destruction isn't ranked higher on this list is because Carter is not a noted fighter and didn't provide much competition for Rypien.
As a side note from the fight itself, I loved former Canucks colour commentator Tom Larscheid's call at the end of the fight as he rolls his "R" when announcing Rypien's name!
11. Vs Mike Moore
Mike Moore is pretty much a career minor league player and thus not one of the top hockey fighters out there. Nevertheless, he isn't a slouch in the fighting department and Rypien's victory in this brief but entertaining preseason tilt is a solid one.
I also have to give a lot of respect to both fighters for willingly taking their helmets off before they fight even began. Good job also by Rypien for getting the jersey over Moore's head and winning a unanimous decision in the end.
10. Vs Hal Gill
This is just an awesome display of courage and determination by Rypien, as he goes up against a man who is eight inches and nearly 50 pounds bigger than him.
Hal Gill might not be a regular NHL fighter, but he is a big, tough guy that shouldn't be messed with very often. Rypien did extremely well though and may have even won the fight!
9. Vs Zach Stortini: Part 1
Zach Stortini may be among the worst of all the big name NHL fighters, but he's still a big name NHL fighter and Rick Rypien destroyed him.
Rypien gets off to a quick start with a hard left hand and ends up raining several more lefts down on Stortini as the fight goes on. Needless to say, it doesn't last long.
8. Vs Zach Stortini: Part 2
A few months after Rypien and Stortini initially fought, Stortini wanted revenge so the two tough guys decided to throw down once again in Edmonton.
This fight was slightly more entertaining and lasted a bit longer than the first and that's why it's one spot higher on the list.
However, Stortini still isn't nearly good enough for Rypien as he wins in a unanimous decision.
7. Vs Rich Clune
This fight came in the 2010 playoffs, so it gets extra point because not many scraps occur during the post season.
Rich Clune isn't one of the leagues' top fighters by any stretch of the imagination and Rypien shows why, as he rag dolls him around before one-punch KO'ing him off with ease. The crowd goes wild!
6. Vs Cam Janssen
While some of Rick Rypien's scraps on this list haven't been against the best fighters in the NHL, this one certainly is.
Cam Janssen knows how to throw the knuckles and is an experienced tough guy at hockey's highest level. This fight ends up as a draw, but it isn't due to a lack of effort by both players.
It's all offense and no defense as Rypien and Janssen exchange countless punches in one of the better fights you'll ever see!
5. Vs Chris Neil
This is another beauty of a tilt between Rypien and another top-tier NHL fighter.
Rypien had lost in a fight against Chris Neil a few months earlier and got another crack at Neil a few months later in his home rink. As you can see in the video clip, these two went toe-to-toe and held nothing back in a great fight!
As both players exchange plenty of punches evenly, the fight appears to be a draw.
However, the CBC colour commentator gives the nod to Rypien, who also looks as though he's won the fight as he pumps up the crowd on his way to the penalty box.
4. Vs Andy Sutton
This fight comes during a 2009 exhibition game in beautiful Terrace, B.C. between the Canucks and New York Islanders. Much like his fight against Hal Gill, Rypien is taking on a much bigger man in Andy Sutton on this occasion.
The only difference is that Sutton fights a lot more than Gill, so if you combine that with his 6'7", 245-pound frame you'd think this fight would be a mismatch.
Well it was a mismatch alright, but it was in Rypien's favour as he one-punch KO's Sutton. Watch at the 14 second mark as Rypien lands a hard left hand that buckles the knees of the much bigger Sutton and sends him to the frozen canvas.
Boom! That's all she wrote in one of the most impressive KO victories of Rypien's career.
3. Vs Boris Valabik
If you thought his victory over Sutton was impressive, watch Rypien's destruction of another 6'7", 245-pound beast in Boris Valabik.
Rypien methodically works over the gigantic Slovakian and eventually jerseys him and feeds him several punches before Valabik turtles and concedes the victory to the smaller Rypien.
Chalk this fight up as the most impressive of Rypien's many victories, where a larger opponent clearly underestimated how great of a fighter he was.
2. Vs Brad May
This fight between Rypien and former Canuck tough guy Brad May was unreal!
It's as if neither fighter, especially May, cared at all about protecting themselves. They just want to throw as many punches as possible.
May starts off throwing a few more punches than Rypien, but at the 13 second mark Rypien connects with a left to the face of May and from that point on it became fairly one-sided, as "The Ripper" then got the sweater over May's head and took over.
I have a huge amount of respect for both of these guys for their willingness to duke it out in an all out, toe-to-toe scrap. However, Rypien get's the bonus points for being the ultimate champion in the end.
1. Vs Brandon Prust
This fight comes in at No. 1 on Rick Rypien's list of NHL fights because it fits all the criteria.
It was an entertaining fight, it was a beating by Rypien and it came against a guy who is actually a pretty good fighter.
Brandon Prust has won his fair share of NHL fights, although you wouldn't know it by watching him get pounded by Rypien repeatedly in this tilt.
Rypien shows off the full repertoire in this fight as he defends himself well at first and then starts firing both left and right hands and devastates Prust. He then pulls Prust down a little before connecting with several more hard left uppercuts that knock the helmet off of Prust.
What a victory! What a beating! What an impressive fighting display!
R.I.P. Rick. Hockey fans everywhere will miss you.
Follow me on Twitter: @adam_graham
Keep Reading

Vancouver Canucks: Like this team?