NHL: Toronto Maple Leafs and 7 Teams That Will Surprise You in 2011-2012
Abelimages/Getty Images
The 2011-2012 NHL season seems primed and ready to surprise. If the playoffs started today odds-on Cup favorites such as the Boston Bruins, San Jose Sharks and Vancouver Canucks wouldn't make the cut while the Toronto Maple Leafs and New York Islanders would.
While we are only a small percentage of games into the year, it seems that rebuilds are finally starting to pay off around the NHL, while hangovers and sudden expectations are plaguing squads like the Tampa Bay Lightning and Columbus Blue Jackets.
Scattered among the 30 teams are a few dark horses to make the push toward the Stanley Cup playoffs. Don't look now, but these teams may be ready to emerge to make some noise over the course of the season.
Carolina Hurricanes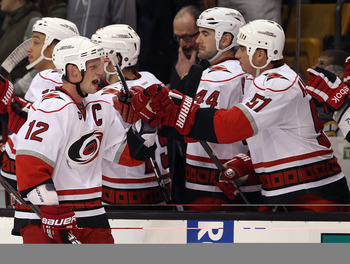 Elsa/Getty Images
The Carolina Hurricanes almost clawed their way to a playoff berth in 2010-2011, finishing a painful two points behind the eighth-place Buffalo Sabres for the final spot in the Eastern Conference. The team dropped eleven games in overtime, and if they had managed to win just two of those contests they would have gone to the tiebreaker with Sabres.
While teams like the New York Rangers were adding big names with hopes of cementing their contender status, the 'Canes concentrated on adding the right ones. They identified holes on their team and filled them with a notable amount of talent.
Tomas Kaberle was one of the most sought after puck-moving defensemen in the NHL leading up to the trade deadline last year, but a forgettable run to the Stanley Cup (if there is such a thing) with the Boston Bruins hurt his stock in a big way.
Carolina saw through the rough patch and inked the recently-ringed Kaberle.
The Hurricanes also made one of the most underrated pickups of the offseason when they signed Brian Boucher to backup Cam Ward. Ward started a blistering 74 games last year—he will need to play less to preserve some of that mojo for the playoffs, and Boucher gives the team a proven backup and another veteran presence in the locker room.
Eric Staal is still the center that this team revolves around, and Calder Trophy winner Jeff Skinner will try to build off of an impressive rookie season. The Hurricanes hope that youngsters such as Zac Dalpe can be effective in increased roles—that secondary scoring would all but guarantee a trip to the playoffs for Carolina.
New York Islanders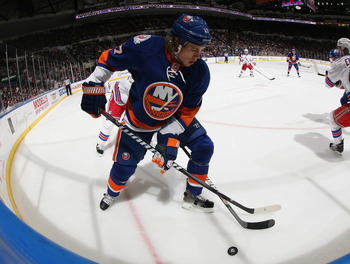 Bruce Bennett/Getty Images
If John Tavares can continue to score like he has been, the New York Islanders could be a team on the rise in the Eastern Conference. While it's a given that he won't score four points a game all year long, his emergence as a top-10 scoring threat in his second year makes this a very dangerous offensive hockey team.
I'm a big fan of Kyle Okposo, and if he can shake the injury bug for good he should be set for a career year. The league could use another power forward-type player, and he is just the kind of guy a team needs in the secondary scoring to avoid becoming a one-trick pony.
Ditto waiver wire wonder Michael Grabner.
The return of the unheralded Mark Streit will also be a huge boost to the offensive attack of the Islanders. He's an underrated power play quarterback, and rounds out an interesting group of blueliners on Long Island that includes the promising Travis Hamonic.
The team defiantly gets weaker as you move from forward, to defense and then to the goaltending.
I know I wasn't the only person that chuckled a bit when Rick DiPietro was injured again. General manager Garth Snow and Co. were wise to employ two other netminders besides DiPietro as it was only a matter of time before he landed back on the IR.
If Al Montoya or former 40-game winner Evgeni Nabokov can stand strong between the pipes and the mildly rag-tag defensive group can get the job done, then this is a team that could take strides out of the NHL's basement and into playoff contention.
Columbus Blue Jackets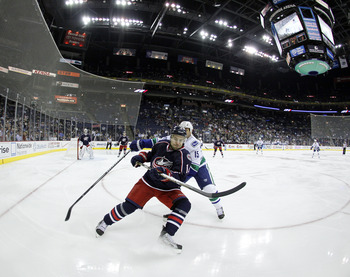 Justin K. Aller/Getty Images
Everyone knows that the Columbus Blue Jackets are the last remaining NHL club that hasn't won a game in the 2011-2012 NHL season. They are five games into what was supposed to be the dawn-of-a-new-age-type year.
Things have been anything but new ageish.
In the team's defense, absolutely nothing has gone their way so far this year, but winners can shrug this kind of start off and put together some winning streaks.
The next few weeks will be very telling in Columbus. Management went out and spent money (the Jackets are currently the fifth highest spending team in the NHL) this offseason to put a winner out on the ice. We'll know a lot more about the DNA of this squad by the end of November—read: we'll see if the spending spree worked or pigeon holed the team with damaging long term deals.
By then James Wisniewski will have made his regular-season debut. By then Jeff Carter will be off the IR, as will backup goaltender Mark Dekanich.
The loss of Dekanich during the preseason was a bigger blow than I think most fans realize. Steve Mason was more than likely on a very short leash heading into this season—the team was Dekanich's for the taking. He's got a good pedigree, and he would probably be the starting netminder for the Jackets had he not been hurt.
So why would I say that this team will surprise the rest of the way?
Mostly because they have to.
At some juncture this squad is going to realize that they are much better than they think they are, and that the Columbus market is dying to embrace a winning team. The first win is going to be a huge sigh of relief, and reinforcements are on the way for the Blue Jackets.
And no matter what the cost—barring Rick Nash—they absolutely must find an acceptable, competent NHL level goaltender. They will never be a contending team no matter what kind of offensive prowess they wield while their goalie is allowing three or four goals a game.
Get Steve Mason out of there and replace him with a guy who can make a save or two, and you'll see the Jackets begin to climb out of the basement in the West.
Edmonton Oilers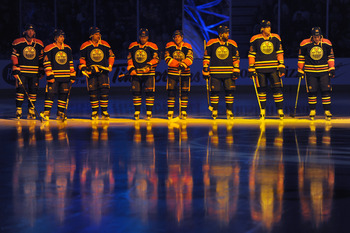 Dale MacMillan/Getty Images
The Edmonton Oilers are on the brink of reaping the rewards of being terrible for a long stretch of time. They've rebuilt in a manner similar to the Pittsburgh Penguins, and are on the road to similar rewards. A Stanley Cup may be several seasons away yet, but this is a dangerous, young and fun hockey team.
The Oilers are playing .500 hockey at this point, and are just starting to get their bearings as a group.
Ryan Nugent-Hopkins doesn't appear to be heading back to the minors as he's already notched his first career hat trick. He's clicked on a top line that includes Taylor Hall. Hopkins to Hall and vice-versa is something that fans should happily get used to this season.
There is a lot of that in the future of this squad.
Edmonton is deeper than these two dynamos however.
Linus Omark and Magnus Paajarvi are talented youngsters in their own right, and create a uber-talented possible top-six in Edmonton. Jordan Eberle doesn't grab headlines like Nugent-Hopkins and Hall do, but he is just as good as the two former top overall picks.
Eberle has got superstar written all over him—that makes for three nearly surefire All-Star talents all in their early 20s in Edmonton. I'd say that's plenty to be excited about on paper. But once the team starts cashing in on that potential they are going to be deadly.
We'll start seeing some of that deadliness in 2011-2012.
Like the New York Islanders, the Oilers get a bit thinner in their own zone, but they do have a promising goaltender in Devan Dubnyk. If he can give this team the stability in net that it hasn't had in a long while, then the playoffs are likely to return to Edmonton.
Which is awesome, because Rexall Place is one of my favorite buildings in the league during the postseason.
Colorado Avalanche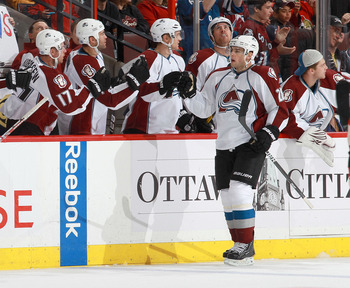 Jana Chytilova/Freestyle Photo/Getty Images
Some folks have been surprised by the Colorado Avalanche's 5-1 start. They are tied for first place atop the Western Conference along with the Dallas Stars, and pundits are reeling after mostly everyone predicted another travesty of a season for this team.
Which never made any sense to me.
The Avalanche were one of the stronger teams in the league before the All-Star break last season, but the wheels fell off somewhere along the line, sending the team to a ridiculous losing streak. Management saw fit to move Chris Stewart and Kevin Shattenkirk to try and shake up the squad, but not even that could revive the dying season.
The team shored up their major weakness in goal by trading for Semyon Varlamov. While the move wasn't hailed as a masterstroke when it happened, it has sure looked like one so far. Varlamov has been one of the better netminders (and stories) in the NHL, and if he continues at this level of play the Avalanche will also continue to be a dangerous team.
Matt Duchene would be one of the biggest stars in the league if he played in a more hockey-centric city, and the former third overall draft choice is set for a breakout year. Add in Paul Stastny and Ryan O'Riley and Colorado has one of the stronger center contingents in the NHL.
Newcomer Gabriel Landeskog has been every bit as good as advertised, and has been outstanding so far on the team's third line—arguably their most effective trio of forwards in the early going.
The defense here is underrated a bit, and the return of Kyle Quincey adds another puck mover to the back end. Don't anticipate another fall from grace for the Avalanche. This team has enough talent to make the jump back into the playoffs, and to potentially make some noise.
Dallas Stars
John Grieshop/Getty Images
The Dallas Stars are off to a hot start, and are proving wrong all the media-types who seemed to think they were called the Dallas Brad Richards. Sometimes the departure of a superstar player can inspire and create an identity.
That appears to be the case in the Lone Star state after the departure of their biggest star.
The team is surviving on the often unappreciated offensive contributions of Mike Riberio. He's been a consistent threat for anywhere from 60 to 80 points since arriving in Dallas in 2006-2007. The team was competitive with him as their No.1 center before Richards, and they'll continue to be.
Loui Eriksson has continued his development as a top-notch winger in the NHL, and has looked great sans his top setup man. Steve Ott has been playing some oddly effective hockey, adding depth to an attack that includes faceoff whiz Vernon Fiddler, Adam Burish and Radek Dvorak.
Oh, and Jamie Benn appears ready for the breakout season fans of the team have been waiting for.
The defense is solid here, with puckmovers Alex Goligoski and the resurgent Sheldon Souray leading the charge. Toss in goaltenders Kari Lehtonen and Andrew Raycroft and the Stars have a very "island of misfit toys" feel that is hard not to like.
This is a squad that no one expected anything out of, but they are supplying plenty of reasons to believe that this is a playoff bound team. There is a great mix of youth and experience here. Plenty of talent and grit to go around, and most importantly, a team identity that everyone in the locker room buys into.
Toronto Maple Leafs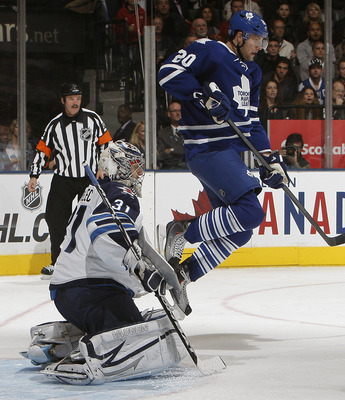 Abelimages/Getty Images
Spare me the jokes of the Stanley Cup parade plans in Toronto—after several painful years of rebuilding and living with the ridicule of fans from around the league the Maple Leafs are finally ready to contend.
OK fine. One Stanley Cup parade joke, but then we're moving on. Just get it out of your system now, because this is another young and talented team with enough grit on the back end to make any team dread the matchup.
Phil Kessel looks like the player GM Brian Burke traded for at this point. He's leading the league in goals, and I honestly wouldn't be shocked if the guy stayed there all year. How sweet would that vindication be? Even if he does slide a bit, he's scoring important goals now, and that's a huge plus for the Leafs.
Just imagine if they had landed Brad Richards to feed him the puck.
I wasn't buying into the James Reimer movement prior to the start of the season. I am convinced that Toronto is the only town that will nickname a player before they have even half a season worth of games under their belt.
But the kid is good. And doesn't appear to be fading under the devastatingly blinding lights in Toronto, and good for him. I can admit when I was wrong, and I was incorrect about Reimer. He's been outstanding for the Maple Leafs so far.
Mikhail Grabovski, Nikolai Kulemin and Clarke MacArthur are very strong top-six players, and will try to build off of their respective breakout seasons as continue to evolve as players. The better these guys are, the more damage the Leafs can do en route to a run in the playoffs.
The defense is finally as tough to play against as Burke had envisioned. Dion Phaneuf seems to have found his Calgary-form self. Luke Schenn could run for political office in Canada (forgive my knowledge of how that works) and win. The guy is a hit-everything, shot blocking machine.
The parade plans may be early, but the road to the playoffs is clear in Toronto.
Keep Reading