Philadelphia Flyers: Eric Lindros, the Prodigal Son Returns. Hopefully
October 19, 2011
Steve Babineau/Getty Images
In September of 2008 the Flyers had a ceremony honoring the final year of the Spectrum's existence, honoring the former captains of the team and naming Mike Richards the team's 17th captain. Eric Lindros did not attend. He apparently was invited but had a personal matter to attend to at home near Toronto.
*The following dialogue is purely speculative and fictional.
August 2008.
Eric Lindros: Hello?
Unnamed Flyers Rep: Hello, Eric? It's me, an unnamed representative of the Philadelphia Flyers.
Lindros: Oh, hey....
Rep: How are you doing?
Lindros: Doing good. Feeling fit, healthy. Thankfully, no lingering symptoms from those four concussions I suffered playing with the Flyers.
Rep: Or those four you received after we shipped you out of town?
Lindros: No.
Rep: Listen, we have this new kid here named Richards. We're naming him Captain. He's the future of the franchise, got him locked up for the next decade-and-a-half. He's going to bring us multiple Stanley Cups and break all of those Flyers franchise records that we once thought would be yours.
Lindros: Ohhh-kay.
Rep: Anyway, we're inviting all of the old captains back to honor the kid in this ceremony we're having at the Spectrum.
Lindros: You're honoring him? He's only played like three seasons for you guys.
Rep: Yeah, he's fantastic. We're going to have everyone there, all of the old guys, introduce them, line them up and then present Richards with a jersey with the "C" on it. It'll be great.
Lindros: Sounds like a coronation.
Rep: It is! Like I said, we're getting Clarkie and Mel Bridgman and Davey Poulin and Ed Van Impe...all the old captains. I don't suppose that's something you'd want to participate in, right? I mean coming all the way down from Toronto to Philly, that's gotta be tough on you. I mean we'd love to have you and all, don't get me wrong. But you know, we understand if you don't want to come...
Lindros: No, no. I understand. I, um, would love to come. Sounds like a great time. Would love to see the fans and Rico and all but oh, you know what? My um, friend's, um, mother just passed and I have to attend the memorial service. Sorry. Can't make it after all.
Rep: Well, the ceremony for Richards and the Captains is a month and a half from now.
Lindros: Oh, man. That's exactly when the service is.
Rep: Wow, odd. Here in the States we usually have memorial services sometime around the time of the person's actual passing.
Lindros: Yeah, well...oh, man, that stinks. Because I was um, really looking forward to coming down there and seeing you guys fawn all over a kid who has played all of three seasons for you, even though you don't even mention the existence of the guy who helped turn the fortunes of your franchise around and sacrificed his body for 8 years, put his long-term health in jeopardy and once almost bled to death with a pierced lung as you tried to get him to board a plane from Nashville to Philadelphia...
Rep: I'm sorry what was that? You're breaking up.
Lindros: I said, I'm sorry I can't make it. Listen, maybe we can like videotape a message to the fans or something.
Rep: That'll work. Sounds great. We can send a crew up to meet you and...
Lindros: You know what, I have a friend with a Flip-cam. We can just use that. That way I don't have to see any of you in person...
Rep: What was that last part?
Lindros: I said, I'm sorry I can't see any of you in person. I'll email you the video clip.
Rep: That'll be great and we'll just have the ceremony without you, just like we had to play the playoffs in 1999 and 2000 without you.
Lindros: I'm sorry, what was that last part?
Rep: I said, it'll suck doing this without you. Oh well, those are the breaks. Bye.
Lindros: Uh-huh.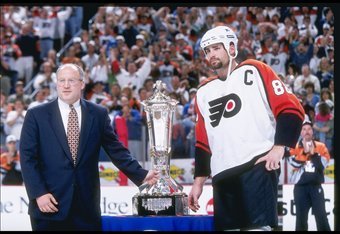 Robert Laberge/Getty Images
That videotaped message for the fans from Eric Lindros played during the cringe-worthy coronation of Mike Richards as captain in Sept., 2008, was the last time many Flyers fans saw him.
Which is a shame really.
For an organization that—rightfully—prides itself in treating former players in a first—class manner Lindros, arguably the franchise's second best player ever, has been persona non grata in Flyerdom. But now all of that may change with the rumors swirling that Lindros will play for the Flyers alumni team along with his former "Legion of Doom" linemates, John LeClair and Mikael Renberg during  the Winter Classic festivities.
If that is the case, then the alumni game may become a hotter ticket than the actual Classic. Okay, maybe not, but it will be the most highly anticipated and watched alumni game ever.
There is no argument than when Lindros was healthy he was one of the greatest players in the NHL. He was a major part, if not the focal point, of the Flyers mid-nineties turn around from laughing stock to perennial Stanley Cup contenders. His presence made the Flyers one of the hottest tickets in town, the number one subject on sportstalk radio and the first hockey story most nights on SportsCenter.
The problems with Lindros are well known. Injuries limited his playing time during his career. He suffered injuries to his knees, shoulders, ribs and, of course, those awful concussions. His bad habit of keeping his head down made him susceptible to big hits and when he left himself vulnerable the defenseman who he punished with his ferocious fore-checking took advantage.
The rift—and if you want the definition of the word, look no further—between Lindros and the Flyers became a bizarre long—running soap opera that turned awful in 1999 when Lindros suffered a rib injury that led to a collapsed lung which then led to him almost dying from massive internal bleeding.
The following year saw concussions, accusations, team division, a coach with cancer, public spats between star player and GM, the stripping of Lindros' captaincy, more concussions, an unlikely playoff run, an even more unlikely playoff return for No. 88 and that crippling, disgusting, headhunting hit from Scott Stevens in game 7 of the Conference Finals.
A man who put a franchise on his back,  was unstoppable every night he took the ice, who had it all. An unbelievable slap shot, a pinpoint accurate wrist shot, the power of a jet engine, speed, skill, size and the ability—when he wanted to—to remove you from consciousness with one jab was left in the fetal position on the ice as a stunned silent crowd watched, hoping he wasn't dead.
There was a yearlong hold out after Lindros refused to sign the Flyers offer, even though the team still owned his rights. Finally 15 months after he last skated for the Flyers, Lindros was traded to their most hated rival, the New York Rangers.
That was the bad.
The good was the MVP year in 1994-95 and his memorable teary-eyed speech when he thanked the fans for their support, promising them the team was getting better and "going to do it."
That was the first year the team made the playoffs since the 80's and their deep run to game six of Conference Finals against eventual Stanley Cup champion the New Jersey Devils promised more great things to come. Quite the turnaround from the doldrums of the early 90's.

There was the dominating performances by him and his linemates LeClair and Renberg which really kicked in when they were together for a full season for the first time in 1995-96.
The Tampa Bay series in 1996 when Lindros took over in Games 5 and 6, punishing the Lightning's pesky, chippy defensive pair of Michel Petite and Igor Ulanov. Lindros first creamed Petite which one of the most devastating body checks in Spectrum history in Game 5. Then in the waning moments of a Game 6 blowout, Lindros pounded Ulanov into bloody submission during a fight the Russian wanted no part of approximately .03 seconds after  dropping the gloves.
In the 1996-97 season, Lindros missed the first few months due to injury. His return was highly anticipated, and when he finally took the ice, he did not disappoint. He scored 32 goals and 47 assists for 79 points in just 52 games.

That team easily defeated the Pittsburgh Penguins ending Mario Lemieux's career (at the time). They bowled over the Buffalo Sabres in five games and then also handily beat the stacked-with-Hall-of-Famers New York Rangers in five to reach the Finals.
Their elimination of the Rangers ended the playoff careers of Mark Messier, Wayne Gretzky and Mike Richter.  Lindros had 12 goals and 14 assists for 26 points in 19 games that playoff season. His play during the Rangers series in particular was incredible. He dominated every aspect of the game almost literally ripping the torch from the hands of Messier and Gretzky.
In 1998 The Hockey News listed him 54th in their list of top 100 hockey players of all time.
In 1998-99 he was enjoying his best season since 1995-96 having scored 93 points in 71 games before that near fatal rib/lung injury.
His last hurrah with the Flyers, his controversial return in Game 6 of the Conference Finals in 2000, was both breathtaking and heartbreaking. He was the best player on the ice for both teams scoring the Flyers only goal (and had one disallowed at the buzzer) in the Flyers
2-1 loss. Game 7, of course, we already covered. Lindros crossed the ice with his head down, Scott Stevens,  knowing his history with concussions, purposely aimed for his head with a vicious open—ice hit, ending forever an era of Flyers hockey.
Lindros was only the second Flyer to ever win the Hart Trophy as league MVP. He won the Bobby Clarke Trophy as team MVP four times in eight seasons. Of the seven seasons he played with the Flyers during which the NHL held the All—Star game, he made the team six times.  
The good should always outweigh the bad. Those great moments he brought to the team should be at the forefront of the fan's memories...as well as the forefront of the memories of Eric Lindros, Bob Clarke and Ed Snider.
The hatchet should be buried. He gave too much, had too much success, to let the acrimony with which he left Philadelphia forever taint his eight years here.
Since Lindros last played for the Flyers in May of 2000 the Flyers have honored Eric Desjardins and Keith Primeau with their own nights. They inducted Mark Howe, Dave Poulin, Ron Hextall and Dave Schultz (Dave Schultz?) into their Hall of Fame. Lindros is never mentioned alongside the greats.
When the Flyers released a 10 DVD box set in 2006 of the greatest games in franchise history not one was from the Lindros-era, yet two were from the Primeau/Bob Esche era.
Despite only playing 486 games for the Flyers, he is ranked fifth all time in points with 659.
Almost an entire decade of the franchise's near 50—year history was ruled by one player.
It is an encouraging sign to read that Lindros and Paul Holmgren have already discussed his joining the Flyers alumni team during the Winter Classic. Even more encouraging is to hear Lindros go a step further by suggesting doing some charity things in town, coordinating events to raise money for the Children's Hospital in Philadelphia, to hear he'd love to see LeClair and Rendberg again.
It's time, the water is under the bridge.
Bob Clarke himself has praised Lindros the player, saying he should be in the Hall of Fame. He's on the record saying he likes Lindros as a person but there was too much exterior stuff that muddied their relationship.
The two weeks in December leading up to the Winter Classic should include an Eric Lindros night. An induction into the Flyers Hall of Fame. There should be a career retrospective on Comcast SportsNet.
HBO's 24/7 would love to cover the return of the Flyers' "Prodigal Son".
When the lineups for the alumni game are announced No. 88 should be announced last--he'd have to be nothing else would be able to follow that ovation from the crowd. There should be a handshake,
possibly an embrace, at center ice as Bob Clarke--at one time one of Eric and Carl Lindros' favorite players in the NHL--drops the puck for the ceremonial face off.
As long as Lindros remembers to keep his head up out on the ice during the game, it'll be the perfect night.