Montreal Canadiens: The Habs Will Win Games If They Stick to Their Plan
October 19, 2011
Richard Wolowicz/Getty Images
Although you may not want to hear it, if there was ever such a thing as a good loss, it looked just like the Montreal Canadiens' 3-1 defeat at the hands of the Buffalo Sabres last night.
It was a display of complete and utter dominance. Unfortunately for the Habs, Ryan Miller was otherworldly and not interested in the statement that the Canadiens were trying to make. He stopped 40 of the 41 shots that the Habs peppered him with.
If it wasn't for one mistake in the dying seconds of the middle period, the Habs could have held on.
You know what they say about hindsight, right?
Whatever the case may have been, the team needs to stick with the game plan. They were impressive and I maintain the assumption that if they play like that every game, they will win many more than they lose.
Coach Jacques Martin may have silenced his critics last night—at least some of them, that is.
Spectators were up in arms wondering why Martin juggled the lines and were angry with the combinations that he came up with.
It seems like the coach knew what he was doing.
The line of Max Pacioretty, David Desharnais, and Andrei Kostitsyn has been the team's best over the past two games. Pacioretty is looking like the best player on the team while playing with Desharnais, whom he has previously referred to as the best centreman he has ever played with. Andrei Kostitsyn has a renewed purpose and is playing with passion. There is a lot to like about the line.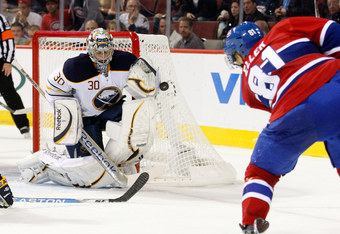 Richard Wolowicz/Getty Images
Erik Cole is coming very close to scoring his first goal as a member of the Habs. Once he does notch his first, I'm sure that more will follow shortly after. Lars Eller is proving that he is indeed a top six forward. In a few years, the kid is going to be something to see.
No, Scott Gomez hasn't been as impressive as I'm sure he would like to be, but neither has Brian Gionta. Not to put the blame on the captain, but once the two click, I'm sure things will work more effectively. Travis Moen has done what he can on the line, but as I've said before, he would be much better suited as a bottom six forward.
I'm curious to see where Michael Cammalleri is placed once he returns. Perhaps he will bump Eller off the Plekanec line and skate with Gomez and Gionta. I think the Dane could rejuvenate the two veterans that are struggling at the moment.
For now, though, we can slam Gomez for his game play, not to mention Jacques Martin for his inability to make in-game adjustments.
At least until the wins start coming...
Jason is on Twitter: Follow @jhytel