New York Rangers' Young Defenseman Ryan McDonagh Takes a Step Towards Dominance
October 19, 2011
Rich Lam/Getty Images
Marc Staal, so central to this Rangers team and organization, is injured. This is no secret, of course, and it is becoming increasingly clear that his absence is not some elaborate precautionary measure, but rather a critical necessity if he is to have a chance at continuing his career.
So much of what Rangers' management has built over the past several years is tied to the development and ultimate emergence as a force of Marc Staal. The team was built from the blue line out, and Staal was the cornerstone in virtually every way.
Four games into the 2011-12 season, the Rangers', due to the void created by Staal's injury, and despite an inspirational shutout victory in Vancouver on Tuesday night, are still in the process of forming. They are still visibly searching for a sense of who they are as a team and where all of the pieces fit individually.
With that said, though, Tuesday night in Vancouver may be remembered as the coming out party of the Ranger's next blue line sensation, namely Ryan McDonagh. McDonagh—who was the 12th overall pick of the 2007 draft (Montreal), is 22 years old and has a grand total of 44 NHL games on his resume—made a statement in Vancouver that could not be misunderstood.
With his first goal of the season, off of a nifty give and go with Brandon Dubinsky that McDonagh himself initiated, he seemed to clearly state that he will be a true force on both ends of the ice going forward. He demonstrated a confidence and vision with the puck that is rare, and it came at a moment where the Ranger's were clinging to a one goal lead in a game that saw them being outshot by dozens.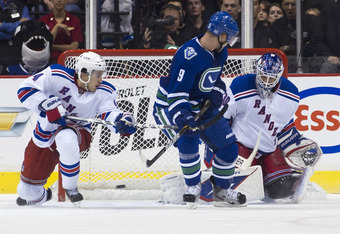 Rich Lam/Getty Images
Later in the period, McDonagh put an exclamation point on his evening when he entered the offensive zone with speed and authority, taking a feed from Brad Richards, and then feeding Marian Gaborik, for a one-time stuff-in after having deked a Vancouver defender and goaltender Roberto Luongo out of their drawers.
The Ranger's had played most of the game on their heels up until these moments. Though they led by a goal prior to McDonagh's tally, the reality is that there was little sense that they had any control of the game. The team as a whole played an undisciplined brand of hockey virtually all night, having to rely heavily on G Henrik Lundqvist's brillance in net, and found themselves on the penalty kill eight times over the course of the game.
McDonagh's goal, even more than the rebound tally from Mike Rupp earlier in the frame, was an emphatic gesture from a player the Ranger's expect big things from. It provided a glimpse of another, more dynamic layer to McDonagh's game, one that the Ranger's will need from the blue line now and in years to come.
McDonagh had already been logging serious minutes this season prior to the Vancouver game, and his being inserted onto the first defense pairing with Dan Girardi, in place of the injured Staal, was a clear signal of what Tortorella thinks of McDonagh's capabilities.
Being given additional responsibilities is all well and good, however taking the opportunity presented and excelling in the process is a sign of a special kind of player. McDonagh, in no uncertain terms, showed signs in Vancouver that he is that special player the Ranger's envisioned when they insisted on him, being included in the Scott Gomez trade.
The Ranger's have a long way to go to live up to the preseason expectations for the team. It may be that Marc Staal, the player the franchise envisioned as the central building block in it's return to relevance, will not be along for very much if any of the ride.
Others will step up along the way, undoubtedly, and from the crease out. Ryan McDonagh, in a performance Tuesday night worthy of his projected capabilities, made it clear that he will be one of those to step up going forward. For the Ranger's as a whole, it couldn't have happened at a better time.