Detroit Red Wings Trade Rumors: 5 Young Guns to Bring Energy to Aging Lineup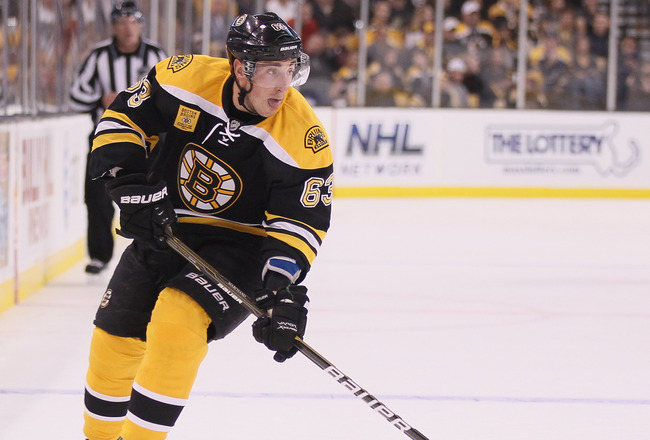 Elsa/Getty Images
It's no secret to anyone who follows the NHL that the Detroit Red Wings have been, and continue to be, one of the oldest teams in the NHL.
The two previous seasons have both illustrated this in some shape or form, whether it be injuries that never quite seem to heal properly, or just a seeming lack of effort in the postseason when they need it the most.
It's no surprise then that rumors were circulating all summer about who GM Ken Holland might go out and get in the free agent or trade markets, and who might be leaving Motown and playing for a different team next season.
After a 4-0 start, however, those voices seem to be growing a little fainter with each win on the young season.
But 2011-12 season aside, who might the Red Wings go after in the 2012 offseason? And who might Ken Holland go after to help the Red Wings go deeper in the playoffs this year?
Read on to find out the five young guns who could make a substantial impact if Detroit picked them up via a trade.
1. Ryan O'Reilly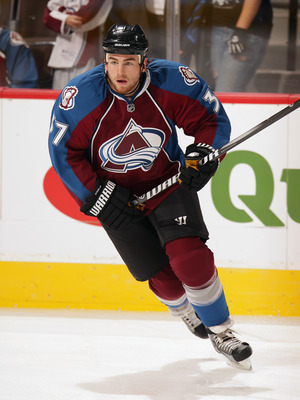 Doug Pensinger/Getty Images
The Colorado Avalanche are looking pretty sharp since their season-opening loss to the Detroit Red Wings.
The Avalanche are 5-0 in their last five contests, with two of those victories coming via the shootout.
Ryan O'Reilly, their 20-year-old center, has five assists in that five-game stretch, with three of them coming against the Ottawa Senators.
O'Reilly is not a one-trick pony either, as he is averaging nearly 60 percent in the face-off circle with seven hits, three blocked shots, and plus-four in the takeaway department.
O'Reilly has shown he is ready for the NHL even at the age of 20 with back-to-back 26-point seasons with the Avalanche.
He would be an excellent candidate to fill Darren Helm's old role as a fourth-line center.
Another thing to note is that the Avalanche have $15 million in cap space, which may seem like a lot, until you look at the fact that they have only locked up seven players on their current roster for next season.
O'Reilly will be a restricted free agent next season, but if Red Wings GM chooses, he could make an offer to O'Reilly that the Avalanche would be unable to match.
That would be a "below the belt" move as far as General Managers are concerned, but hey, that's hockey.
Signing the RFA Ryan O'Reilly for $2.4 million a year for three years and forfeiting the draft picks seems like an all-right decision in my books.
2. Guillaume Latendresse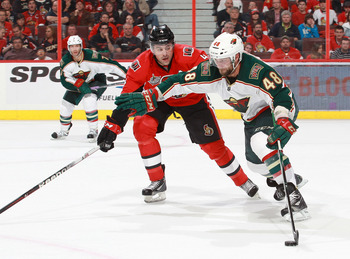 Jana Chytilova/Freestyle Photo/Getty Images
Guillaume Latendresse has to be one of those players that every GM secretly wishes they could have on their team.
The 24-year-old power forward has five full seasons under his belt, but last year missed all but 11 games with a series of injuries including a torn labrum in his left hip and a bilateral sports hernia.
Talk about a risk.
So why would any GM want him on their team?
Well, Latendresse is just one season removed from a career high of 37 points including 25 goals.
Latendresse currently makes $2.5 million, but if Detroit's Tomas Holmstrom retires after this season, the Red Wings will be in need of a left winger to take his position.
Holmstrom only makes $1.875 million per year, but it would be beneficial for Detroit to pick up some scoring out of that left wing position on the second line.
Latendresse would seemingly also be able to adapt well to playing in front of the opponent's net, as (per NHL.com) he weighs 230 pounds. Try moving that out of the front of the net and see how far you get.
Keep your eyes open if Minnesota isn't in the playoff picture come the trade deadline, as this could be a sleeper deal waiting to happen, due to Latendresse being a UFA next offseason.
3. Steve Downie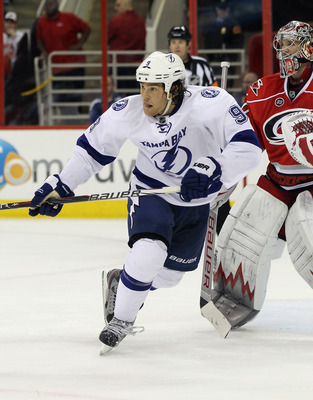 Bruce Bennett/Getty Images
Steve Downie would be a better scorer if he spent less time in the penalty box.
The 24-year-old picked up 208 penalty minutes in 2009-10, 171 penalty minutes last season, and he already incredibly has 31 penalty minutes through five games.
Nevertheless, Detroit would benefit from having a player like a Steve Downie on their team because he is determined to get to the net and make life miserable on the defense trying to stop him from getting there.
He has an aptitude for finding the back of the net, as he put up 10 goals and 32 points in just 57 games last season.
He also loves to hit people, and he averages about two hits a game this season, and just under two hits a game in past seasons.
Downie will be a RFA next season, and you better believe Lightning GM Steve Yzerman knows how much of an important piece Steve Downie is to his team.
But needless to say, if some how the deal to re-sign Downie falls apart, Yzerman and Holland have pretty good relations already, and I'm sure Yzerman would just have to name his price to get the right winger Steve Downie.
One last reason Downie would be a great fit is that Mike Babcock demands more from his players.
Downie fights people like it is his business, and he is a good enforcer. But Detroit does not often need an enforcer on the ice. This is where Downie gets better, as he showed last year both in the regular season and his 14 points in 17 postseason contests.
4. Nick Foligno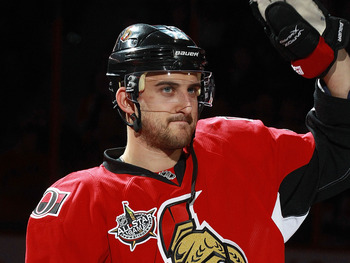 Jana Chytilova/Freestyle Photo/Getty Images
Nick Foligno plays in an under-appreciated hockey market in Ottawa.
He has averaged just over 30 points the past three seasons, and he put up 14 goals and 34 points last season.
Foligno could be another very decent option at that second-line left wing spot come next year as he is a RFA after this season concludes.
Do not expect the Senators to relinquish their 2006 first-round pick that easily, though.
The 23-year-old Foligno looks to be part of "the solution" to get Ottawa back on track.
If Ottawa cannot come to terms with Foligno, Detroit could reach out to him and take the loss in compensating Ottawa with draft picks, come next off-season.
A great thing about Detroit's draft picks is that because the team has been successful for the past 20 seasons, their first-round picks are usually towards the end of the round, and they would not be ceding any substantial high draft picks to the Senators.
Foligno has shown signs of what he can do with the not-so-talented Senators, and one can only assume that he would do bigger and better things with the Red Wings.
The Senators have (per CapGeek.com) have about $11.5 million in cap space, but they only have 14 players locked up for next season.
Although Foligno might be high up on their list of pending free agents to sign, there is no guarantee that Foligno will want to come back to the lowly Senators; enter Detroit.
5. Brad Marchand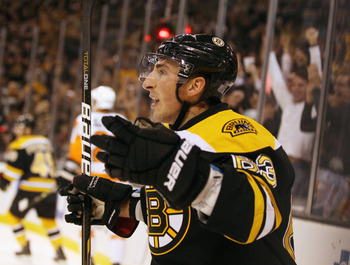 Elsa/Getty Images
The "X factor" on Brad Marchand is his determination.
Marchand (per NHL.com) stands a mere 5'9" and weighs only 183 pounds.
That's smaller than my old man.
But Marchand's determination in last season's Stanley Cup playoffs made him a prime contender (in my opinion) for the Conn Smythe Trophy.
Marchand put up 20 goals and 41 points last season in his first full season in the NHL with the Bruins.
He was an amazing plus-25 on the year.
In the playoffs, he was even more stellar, putting up 19 points in 25 games and going plus-12 over that stretch.
Marchand is the complete package because even though his size would seem like a limiting factor, his motor and determination to be better than his opponents cause havoc in the other team's defense and strike fear in coaches who have to game-plan against this guy.
Detroit's GM Ken Holland should do anything in his power to try and make a trade for Marchand, because it would be nothing short of the best deal I've seen Detroit make in a while.
Marchand was one of the final players signed by Boston in the off-season, but he has already paid dividends with four points in five games.
This guy would be No. 1 on my list of players who should wear the "Winged Wheel" because he resembles everything that Detroit stands for: determination, passion, talent and desire.
Odds and Ends
Gregory Shamus/Getty Images
Ken Holland has some serious thought to do as far as who he wants to try and re-sign next season. Kronwall and Stuart both come up for free agency, and this article hasn't even touched on defensemen that Detroit could look to trade for this season.
At any rate, be sure that Holland has his scouting goggles on, and he is constantly looking for ways to make his team better.
He signed Fabian Brunnstrom to a tryout contract this season, so in my mind, any one of the above-listed trades is possible, however unlikely.
I make no promises on the fulfillment of these trades, but Detroit should continue to look to get younger and keep their desire to win.
Detroit may be 4-0 right now, but if they start wallowing in the midst of this season, expect Holland to step in and make a move to right the ship.
Follow Isaac on Twitter for more article updates.
Keep Reading

Detroit Red Wings: Like this team?