Pittsburgh Penguins: 5 Players Who Need to Step Up for Jets and Wild Games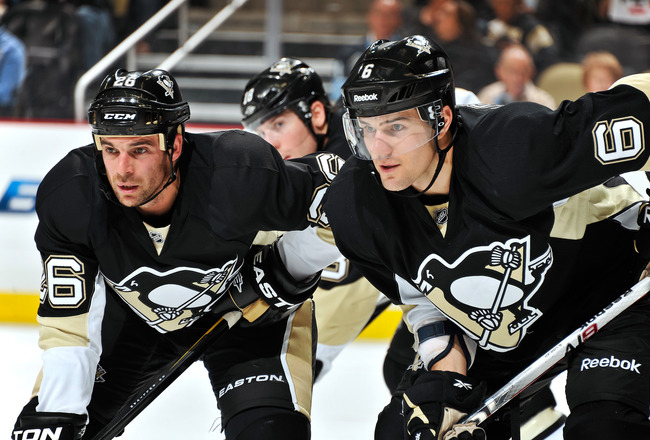 Jamie Sabau/Getty Images
The Pittsburgh Penguins landed in Winnipeg, Manitoba on Sunday for the start of a short, two-game road trip. They have back-to-back games, starting with the Winnipeg Jets on Monday night, and then they play the Minnesota Wild in Minneapolis on Tuesday.
However, the Penguins made this trip without some key players. According to the Penguins Inside Scoop Twitter account, Sidney Crosby, Evgeni Malkin, Dustin Jeffrey and Brooks Orpik stayed behind in Pittsburgh, as all four are still recovering from injuries.
The Penguins are coming off two consecutive losses and need to right the ship. Without three big players, others will have to step up.
So who will be feeling the pressure once the puck drops on Monday?
Here are five players who need to have solid games.
Chris Kunitz, Left Wing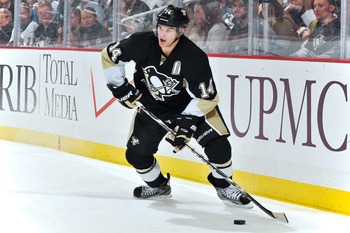 Jamie Sabau/Getty Images
Chris Kunitz, who was signed to a two-year contract on Thursday, has been slow out of the gate to start the season. He is scoreless in four of the Penguins' first six games and has just two assists so far. He had six points last October, so he is capable of producing early on.
With Crosby and Malkin both on the sideline, Kunitz will be depended on to chip in some points. He is capable of success without Crosby, contrary to popular belief. In fact, he was second on the team in scoring last season. He is a veteran player and has played through adversity before, so now is the time for him to get his game going.
Mark Letestu, Center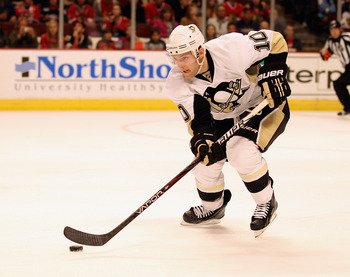 Jonathan Daniel/Getty Images
Mark Letestu was one of the Penguins' promising young players last year, but right now, he is in the doghouse. He was scratched in Thursday's game against the Washington Capitals and has a minus-four rating to start the year.
Should he get into either game, Letestu will need to find some of the same magic that propelled him to lead NHL rookies in scoring early last season.
James Neal, Left Wing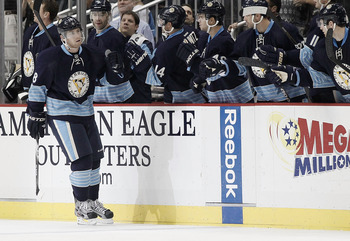 Jared Wickerham/Getty Images
This isn't to pick on James Neal. In fact, he is currently leading the NHL with five goals and has six points. He has put up a point in every game but one, including a two-goal game against the Capitals.
Neal is already beginning to make up for a weak showing when he first came to Pittsburgh last season. He is on this list because he is separating himself as a key scorer, and he will need to keep it that way if the Pens want to turn their fortunes around.
Ben Lovejoy, Defenseman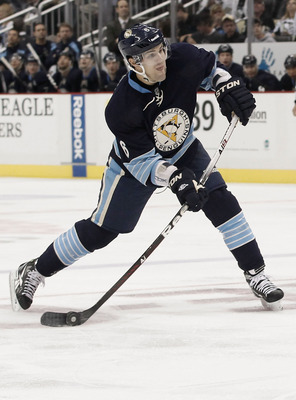 Jared Wickerham/Getty Images
Ben Lovejoy has not scored in the first six games and is a minus-two on the season. He had a minus-one in games against the Calgary Flames and Edmonton Oilers and was benched in Saturday's game against the Buffalo Sabres for poor play.
If he does not step it up on this road trip, he could find himself a healthy scratch while other defensemen get a shot, just like what happened last season. Lovejoy found himself in the press box while Deryk Engelland received playing time.
Zbynek Michalek, Defenseman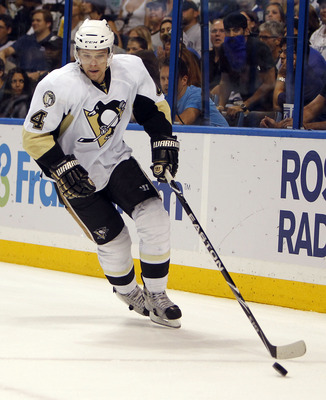 Eliot J. Schechter/Getty Images
Zbynek Michalek is a minus-six to start the season and has not put up any points. He was a minus-three in the opening night game against the Vancouver Canucks and a minus-two against the Florida Panthers on Tuesday. He also leads the Pens with nine giveaways.
Michalek has one of the biggest contracts on the team, as he came to the Pens last year on a five-year deal. With 19 points and an even rating last season, he was a bit underrated but still a valuable part of the defensive unit. He needs to get back on his game, not to mention keep proving his worth.
This article can also be found on Bottom Line Hockey.
Keep Reading

Pittsburgh Penguins: Like this team?