NHL Video: 50 Biggest Thugs in Hockey History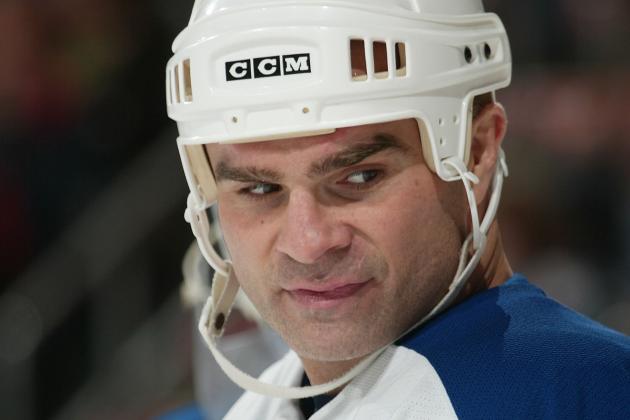 Len Redkoles/Getty Images

Thug: noun; a common criminal, who treats others violently and roughly
That's the common definition of the word thug. Unfortunately, there have been many thugs in hockey over the years.
Instead of just including "common criminals," we've expanded this to be the players who were involved in some of the most violent instances on the ice.
Here are the 50 biggest thugs in NHL history.
Note: I've included violent instances from leagues besides the NHL, including the former WHA, AHL and international contests. I did not include European leagues, like this instance from the KHL in 2010.
Begin Slideshow

»
Patrick Kaleta may fly under the radar behind more high-profile pests in the NHL, but he's drawn criticism for his style of play.
There's a fine line between what's an acceptable hockey player and what is a dangerous attempt to injure another player.
This hit from Kaleta is definitely closer to the latter.
Chris Neil of the Ottawa Senators is another player who plays very close to the line bordering between physical play and dangerous play.
Sometimes, he steps over the line into the dangerous territory, like in this case.
Steve Ott of the Dallas Stars is yet another case of a player who treads the thin line between acceptable and unacceptable plays.
Ott has been suspended a couple times in his career so far, once for a hit to the head of Jordan Leopold and another for an eye gouge to Travis Moen, whether accidental or not remains an argument.
Jordin Tootoo is often cited as a dirty player, largely stemming from two incidents in 2007.
One of those incidents was this hit on Stephane Robidas of the Dallas Stars, which rendered Robidas unconscious and concuss.
Jarkko Ruutu is another pest who earned the reputation of being a dirty player following this bite on Andrew Peters.
While it may not be one of the most vicious attacks on this list, biting is definitely not part of the game and is only an intent to cause pain.
The 1998 Winter Olympics in Nagano was the first time NHL players could attend the Olympics and represent their countries on their national hockey teams.
However, that did not include Paul Kariya, as he was suffering from post-concussion syndrome following a vicious cheap shot by Gary Suter.
While playing in the OHL, Jeff Kugle's role was primarily that of an enforcer, but he took it a little farther than that during one game.
He sucker punched another player and was suspended 25 games by the OHL. They tried to give him a lifetime ban, but it was repealed.
Since his hockey career vaporized, Kugel actually spent some time in mixed martial arts, perhaps where he belonged.
At the 1987 World Juniors, in a game between historic foes Canada and Soviet Union, there was a massive elongated brawl, where officials actually turned out the lights of the arena in the hopes of stopping the fight.
The fight started when Pavel Kostichkin slashed Theo Fleury and then Evgeny Dadyov left the bench to join the fight.
Maurice "Rocket" Richard was not known as a thug, but he warrants a mention considering the Richard Riot.
On March 13, 1955, Richard was involved in an altercation with a linesman. Following that incident, Richard was suspended for the rest of the season, including the playoffs.
The Montreal Canadiens fans did not approve of the suspension and when NHL president Clarence Campbell attended a game in Montreal four days later, a riot was started and spilled outside of the arena.
Trevor Gillies has only played 54 games in the NHL, not even a full season, but he's already served two suspensions.
First, he was suspended following an incident during a heated New York Islanders-Pittsburgh Penguins matchup, where he elbowed Eric Tangradi and continued to hit him when he was down on the ice.
When he came back from that suspension, the very night he returned, he was suspended 10 games for a dangerous hit on Cal Clutterbuck of the Minnesota Wild.
For most violent incidents on the ice, the violence has been between multiple players. However, Tom Lysiak's involved abusing an official, for which there are hefty consequences.
On October 30, 1983, Lysiak tripped linesman Ron Foyt and was suspended for 20 games, one of the longest in league history.
As we can see from the video, clearly Lysiak didn't have great relationships with linesmen.
Most goaltenders stay out of fights and scrums, leaving that to the other skaters, particularly the enforcers.
Not Ron Hextall.
Hextall was involved in multiple fights in his career and accumulated more than 100 PIM in each of his first three seasons, becoming the first goaltender to reach 100 PIM.
It was this incident against Chris Chelios that some would say qualifies him for inclusion on this list.
David Shaw isn't a household name, but he made a name for himself after high-sticking superstar Mario Lemieux during a game in 1988.
Shaw would serve a 12-game suspension for the incident, one of the longest of the time and in history.
In 2002, Andre Roy of the Tampa Bay Lightning was slapped with a 13-game suspension, after an incident where he left the penalty box to try to engage a New York Rangers player in the other penalty box.
In the process, Roy physically abused an official, thus warranting the lengthy suspension.
As the video shows, Roy has a history with linesmen.
In a 1994 game, Tony Granato of the Los Angeles Kings was suspended 15 games for a slash on Pittsburgh Penguins Neil Wilkinson.
The Broad Street Bullies or the Philadelphia Flyers have long been an intimidating force on the ice, often crossing the line into dangerous play.
One such instance came in 1987 when Dave Brown cross-checked Tomas Sandstrom and broke his jaw.
The play resulted in a 15-game suspension.
One of the most difficult hockey plays to watch, particularly in modern hockey history, came last season from a Zdeno Chara hit on Max Pacioretty.
The combination of the players' placement on the ice and the size difference contributed to how bad this play turned out.
Some argue that Chara did it on purpose and knew where he was on the ice; others argue it was an accident.
Either way, it was a brutal hit.
The Steve Downie of the past couple of seasons has been much tamer than the old Steve Downie we all knew and probably very few loved.
Downie had instances in the minor leagues, like when he fought his own teammate. Then, when he played for the Philadelphia Flyers, he earned a 20-game suspension for this hit on Dean McAmmond.
Other instances have caused many to believe that he was deliberately attempting to injure opponents, but only Downie knows that.
Ulf Samuelsson is widely regarded as one of the dirtiest players in NHL history.
One of the plays he's infamous for is the play that is considered to be one of the main contributing factors to Cam Neely's early retirement.
Dale Hunter was a talented NHL player, but he also had a reputation as a dirty player.
Hunter received one of the harshest suspensions in NHL history, 21 games, for hitting Pierre Turgeon of the New York Rangers while he was celebrating a goal.
Very rarely does an on-ice incident become an off-ice legal incident and when that does occur, it typically gets a lot of press coverage.
In 2004, Alexander Perezhogin of the OHL's Hamilton Bulldogs was involved in a battle against the Cleveland Barons' Garrett Stafford.
Both players were swinging their sticks at one another, but Perezhogin's made contact with Stafford's head, knocking him unconscious to the ice, requiring 20 stitches and leaving him with a concussion.
Perezhogin was suspended for the remainder of the playoffs and for the entire next season, as well as placed on one-year probation by police and fined $5,000 (to charity) and was responsible for Stafford's medical bills.
Jesse Boulerice served one of the longest suspensions in league history, behind Chris Simon, Marty McSorley and Todd Bertuzzi.
Boulerice served a 25-game suspension for crosschecking Ryan Kesler in the face in a game in 2007.
Another on-ice incident that turned into an off-ice legal incident was when Dino Ciccarelli assaulted Toronto Maple Leafs Luke Richardson with his stick.
The incident warranted an assault conviction, $1,000 fine and a sentence to one day in jail.
In 1982, Jimmy Mann of the Winnipeg Jets served a 10-game suspension for sucker-punching Pittsburgh Penguins Paul Gardner.
It was one of the stiffest suspensions of the time.
Another on-ice incident that resulted in legal action was when Dave "Tiger" Williams hit Dennis Owchar with his stick.
He was charged with assault, but would be acquitted.
Williams was known for being a tough player, but he typically kept it to normal fights.
In 1976, during a WHA game between the Calgary Cowboys and Quebec Nordiques, Calgary's Rick Jodzio cross-checked Nordique Marc Tardif in the head.
The incident led to a 20-minute brawl that cleared both benches.
Jodzio would plead guilty to an assault charge following the incident.
Sean Avery has managed to escape suspension throughout his NHL career for all of his on-ice antics; the only time he was suspended was for his "sloppy seconds" comment.
However, most would agree that Avery is a thug because of the constant cheap shots and the things he does behind the play, which is why he gets away with them.
In 1972, the Philadelphia Flyers represented Canada in the Summit Series, where they faced bitter rivals in the Soviet Union.
Bobby Clarke heated up that rivalry when he slashed and fractured the ankle of Valeri Kharlamov in Game 6.
That and other incidents throughout the years qualify this Broad Street Bully on this list.
Bob "Hound" Kelly was a member of the Philadelphia Flyers Broad Street Bullies squad.
He was also one of the players that was charged with assault after an incident against the Toronto Maple Leafs after using his stick as a weapon.
Kelly had been involved in many fights in his career, but that one will live on in infamy.
Don Saleski was another member of the Philadelphia Flyers and involved in the stick-wielding incident against the Toronto Maple Leafs.
He too was charged with assault.
Mel Bridgman, another member of the Philadelphia Flyers Broad Street Bullies squad, was also involved in the Toronto Maple Leafs incident.
However, unlike the others, Bridgman was the only one to be acquitted of charges.
Even though he was acquitted in that instance, that doesn't make Bridgman so innocent in other cases, so he's still included on the list.
Joe Watson was the final player involved in the Philadelphia Flyers and Toronto Maple Leafs violent stick incident.
He too was charged with assault for his actions.
Boston Bruins Dave Forbes was another player to be charged with assault for an on-ice incident. Forbes was charged with aggravated assault after a fight with the Minnesota Wild's Henry Boucha.
Forbes' trial ended with a hung jury though and he was acquitted.
Boucha never fully recovered, but it seemed to be a fluke since Forbes had been involved in more normal fights other times in his career.
Dan Maloney of the Detroit Red Wings was charged with assault after he attacked Toronto Maple Leafs Brian Glennie from behind.
Maloney was sentenced to community service, as well as banned from playing in Toronto for two years.
Maloney had other not as catastrophic fights in his career though.
In 1969, the Boston Bruins Ted Green and St. Louis Blues Wayne Maki were involved in a fight and were swinging their sticks at one another.
Maki made the worst contact, fracturing Green's skull.
However, Green still served a 13-game suspension for his part in the fight.
As mentioned in the previous slide, in 1969, the Boston Bruins Ted Green and St. Louis Blues Wayne Maki were involved in a fight and were swinging their sticks at one another.
Maki made contact, fracturing Green's skull, causing irreparable damage.
He was suspended 30 games for the incident, but was acquitted in criminal court.
One of the earliest cases of a player spiraling out of control was in 1922 when player Sprague Cleghorn injured three Ottawa Senators players in a fight.
Police offered to arrest Cleghorn following the incident.
Photo courtesy of: legendsofhockey.net
One of the worst cases of on-ice violence came in 1907 when Cornwall hockey player Owen McCourt died from a head injury suffered in a fight.
Ottawa Victorias Charles Masson was charged with manslaughter but found not guilty due to lack of evidence to convict him.
Brad May was one of only a handful of players who have been suspended for 20 games or more.
May was suspended 20 games for slashing Columbus Blue Jackets Steve Heinze in the nose in 2000.
In 1978, Wilf Paiement of the Colorado Rockies was suspended for 15 games for swinging his stick and hitting Detroit's Dennis Polonich.
Paiement had a history of violence in his career, though usually the normal kind.
In 2000, Gordie Dwyer of the Tampa Bay Lightning served one of the steepest suspensions in NHL history, 23 games.
He was suspended for abusing officials and leaving the penalty box to fight opposing players in a preseason game.
Perhaps the worst recorded incident of on-ice violence came in 1905, when Allan Loney was charged with the on-ice clubbing death of Alcide Laurin.
Loney was found not guilty after pleading self-defense.
Eddie Shore was known for his hard checks, but he'll be remembered for another violent on-ice incident as well.
In 1933, Shore hit Toronto Maple Leafs Ace Bailey in the head with his stick.
He served a 16-game suspension; unheard of at the time.
Tie Domi will be remembered as one of hockey's tough guys and probably for two incidents in particular.
One, is the incident where he fought a Philadelphia Flyers fan in the penalty box.
The other, is this incident, where he elbowed Scott Niedermayer in the playoffs.
Claude Lemieux is another player with a questionable reputation.
Lemieux will be most remembered for this vicious hit on Detroit Red Wings Kris Draper, another incident to stir up the rivalry between the Wings and Colorado Avalanche.
Chris Simon was suspended seven times in his NHL career and two of those suspensions were the two longest in NHL history.
One, was a 25-game suspension for a slash to the face of Ryan Hollweg.
The second, was for 30 games after he stomped on the leg of Jarkko Ruutu.
While Chris Simon is commonly regarded as holding the record for the longest suspensions in NHL history, the honor of longest hockey suspension ever belongs to Billy Coutu.
In 1927, Coutu was given a life ban after assaulting multiple linesmen and starting a bench-clearing brawl in the Stanley Cup playoffs.
Coutu's sentence would be commuted after two-and-a-half years, but he never returned to the league again.
Depending on how the rest of his career goes down, it's very likely that Matt Cooke will go down as the dirtiest player in NHL history.
Everyone is aware of the dirty hits that Cooke has unleashed, including many that have seriously injured players.
He claims he's a changed person, but that remains to be seen and certainly doesn't excuse the dangerous plays in the past.
Todd Bertuzzi was involved in one of the most infamous incidents of violence in sports, after he sucker-punched Colorado's Steve Moore in retaliation for Moore refusing to fight him.
Moore was forced to retire after that hit.
The worst on-ice incident and biggest thug has to be Marty McSorley for his clubbing of Donald Brashear.
McSorley was suspended by the NHL for 23 games and he was convicted of assault with a weapon in criminal court, serving 18 months probation.