Philadelphia Flyers: 5 Ways Ilya Bryzgalov Has Already Earned His Deal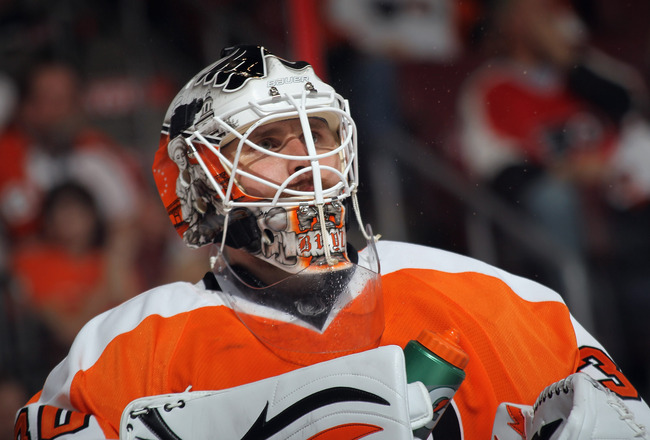 Bruce Bennett/Getty Images
Ilya Bryzgalov has only been a member of the Philadelphia Flyers for three short months, but in that time he's already accomplished quite a bit to justify his massive price tag. While living up to a nine-year contract tends to take more than a few good months, he's well on his way.
Here are five ways that "Cool Bryz" has already made good on his part of his massive deal. Enjoy!
As always, comments are welcome and appreciated.
No. 5: He's Made Peter Laviolette's Life Easier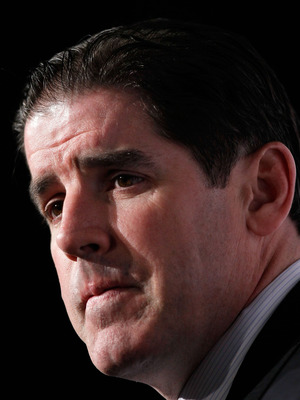 Kevin C. Cox/Getty Images
Peter Laviolette is a coach who loves to play a tough, defensive style of hockey. He's a coach that relies on his goaltender to be the rock upon which he builds his schemes. And until now, he's a coach who has had to work with one hand tied behind back due to mediocrity in net.
Ilya Bryzgalov changes all of that.
For the first time during his Flyers tenure, Laviolette has a bona fide No. 1 goaltender he can depend on to make the key save. He has a goaltender whom the rest of his team believe will make the save, regardless of the situation. He's a goaltender who can steal games when the team has an off night.
For a coach, having a rock between the pipes is a like having a warm blanket at night—it won't protect you from everything, but it certainly makes sleeping soundly quite a bit easier.
No. 4: He Allows the Offense to Do Its Thing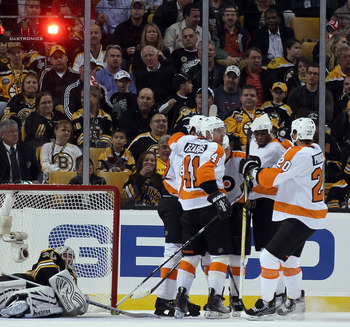 Elsa/Getty Images
Few hockey fans truly appreciate the difference having a legitimate No. 1 goaltender makes in all three zones—especially the offensive zone.
Flash back to last season. The Philadelphia Flyers were struggling to score goals (especially in the playoffs) and couldn't seem to generate constant pressure once they had a lead. The team never seemed to be able to work the cycle game for any consistent period of time, couldn't forecheck effectively and struggled to force neutral-zone turnovers.
What would you say if I told you that one of the root causes for all of those struggles was all the way at the other end of the ice, standing between two red pipes?
Well, it's the truth.
With mediocre starters Sergei Bobrovsky and Brian Boucher between the pipes, the Flyers were forced to play a conservative game in the offensive zone. The team was rarely, if ever, able to send two forecheckers below the goal line to win the battle along the board and gain possession. Forwards were so concerned with getting back into the defensive zone quickly that they failed to use their sticks to disrupt neutral-zone passing.
Why?
Because they believed that mistake or blown coverage in their own zone was an automatic goal against. With Bryzgalov, that's no longer the case.
No. 3: He Makes the Defense's Job Easier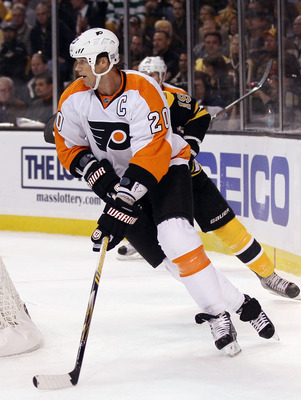 Elsa/Getty Images
In previous years, the Flyers defense always seemed to be trying to play perfectly. They tried to block every shot and break up every odd-man rush. And every time they didn't execute perfectly, the puck seemed to end up in the back of their net.
Over the course of an 82-game season, that sort of approach takes its toll. Asking six players to play perfectly for 60 minutes is a tall task. Asking six defensemen to all play perfectly for 60 minutes 82 times in a single season is a near-impossible task.
With Bryzgalov in the net, the defense doesn't have to play perfectly. They don't have to block every shot—they just have to make sure Bryzgalov can see it. They don't have to break up every odd-man rush—they just have to make sure the pass doesn't get across the ice. They don't have to worry about the being in position to take care of the ill-placed rebound. They just have to play their man and win the one-on-one battle.
Its much easier to play well when you're not worried about playing perfectly.
No. 2: He's a Legitimate No. 1 Goaltender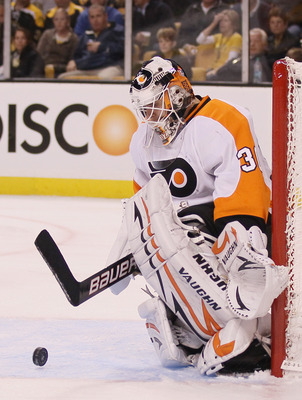 Elsa/Getty Images
What a difference having a true No. 1 goaltender makes. Just ask the Flyers.
Ilya Bryzgalov is one of those goaltenders who just knows how to be "the guy".
In the third period, with his team up by a goal, he just seems to know how to close the door and finish the game. At those crucial junctures in the game, when his team just needs that one big, momentum-changing save, he just seems to come up with it.
That sort of thing can't be taught; you either have it or you don't. And Bryzgalov has "it."
No. 1: He's Lightened Up the Locker Room
Jim McIsaac/Getty Images
One of the most under-discussed problems with the 2010-2011 Philadelphia Flyers was the state of the locker room. Tensions were high, the atmosphere was unpleasant to outsiders (especially the media), and laughter and light-hearted behavior were nowhere to be found.
Over the course of an 82-game regular season and 11-game playoff, that sort of atmosphere takes its toll on the players and the coaches. No one likes getting up and going to work at a miserable place.
Bryzgalov's colorful personality and jovial demeanor have been a godsend to this team. His presence in the locker room lightens everyone up and gives the place a vibrant new feel. There's a new energy in the dressing room this season, and Bryzgalov is one major reason for it.
This is something that will never show up in the box score, but it is a major reason why the Flyers are undefeated in regulation this season.
Keep Reading

Philadelphia Flyers: Like this team?