NHL Trade Speculation: Should the New York Rangers Trade Brandon Dubinsky?
October 17, 2011
Chris Trotman/Getty Images
The New York Rangers are 0-1-2. This isn't a mistake, a typo or an error. It is an accepted fact as the team has not played solid hockey through the first three games.
There are excuses that could be made to justify this poor start but they would simply be a sign of cowardice. Many fans thought the Rangers' major weakness coming into this season would be defense.
Without Marc Staal, fans questioned if the Rangers could keep up with the tough on the schedule. Thus far, defense has not been the Rangers' problem. A 3-2 and 2-1 loss to the Anaheim Ducks and Los Angeles Kings, respectively, translated to four goals allowed in two games. 
Last night's loss against the Islanders translates to three regulation goals allowed for a total of seven overall. This is not a red flag as the young core of Dan Girardi, Ryan McDonagh, Tim Erixon and Michael Del Zotto have been solid. Veterans Steve Eminger and Jeff Woywitka have also looked solid in their limited ice time.
At this point the Rangers are 0-1-2 and are off to face the defending Western Conference champions in Vancouver when they square off with the Canucks Tuesday night.
Something obviously isn't working and at this point fans are getting antsy. Last night after the loss, Mats Zuccarello was assigned to the Connecticut Whale of the AHL. While many simply view this as a swap to try and shake things up, some feel a trade is imminent.
Zuccarello carried a cap hit of $1.75 million dollars to play on the Rangers' fourth line. Newly recalled grinder Kris Newbury carries a lowly cap hit of $525,000. The Rangers now have $1,546,050 in cap space to work with. If Staal's injury is worse than anticipated, this could open up even more cap space for the Rangers to work with.
The question then becomes, whom should the Rangers trade? Who is going to be the player to be involved in a potential package trade to acquire a top winger or a top defender?
On April 23rd, the Rangers were eliminated from the 2010-11 Stanley Cup playoffs. At that moment, Glen Sather started crunching the numbers to find out how much it would take to re-sign his core group of players. 
All of the core was eventually signed to new deals after Brad Richards had inked his mega contract. 
It is appearing now that the player on top of the trade list is Brandon Dubinsky.
Dubinsky had a horrid training camp and has looked terrible in the Rangers' first three games. He has played undisciplined hockey and has looked out of place on the ice.
Dubinsky has never been consistent. Yes it is true he scored 54 points last season but he never put points on the board consistently throughout the 2010-11 campaign. He is a player who was once a center and is now a winger, and he appears to be playing his way out of New York.
Management, fans and players remember Dubinsky's contract holdout from two years ago and that may come back to bite him now. Dubinsky is a physical player and does have some trade value.
What If Dubinsky Is Traded?
Here is how the Rangers forward lines could look next season if Dubinsky is traded.
Derek Stepan—Brad Richards—Marián Gáborik 
Chris Kreider—Artem Anisimov—Ryan Callahan
Carl Hagelin—Ryan Bourque—Christian Thomas
Brandon Prust—Brian Boyle—Mike Rupp
These lines are pretty solid. Yes there is some infusion of youth but if, and a big if, these youngsters like Bourque and Hagelin can play like they did at Traverse, they can't do any worse than Newbury of Christensen on the third or fourth line. Another scenario could have the lines look like this next season.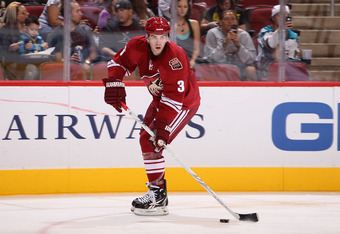 Christian Petersen/Getty Images
UFA top winger—Brad Richards—Marián Gáborik 
Chris Kreider—Derek Stepan—Ryan Callahan
Carl Hagelin—Artem Anisimov—Ryan Bourque
Brandon Prust—Brian Boyle—Mike Rupp
One would think that if the Derek Stepan experiment doesn't pan out, the Rangers will seek to acquire a free-agent left winger. 
Dubinsky is the type of hockey player Brian Burke loves. He is an American-born player who has some grit to his game.  While Toronto may not be the place for Callahan, there are many teams that could line up for him.
The best way to determine Dubinsky's trade value is to compare him to the Wojtek Wolski trade last season. When the Rangers acquired Wolski, they had to part with a top-four pair defenseman in Michal Rozsíval. Rozsival was no defensive stud but he ate up major minutes. He even led the league in plus minus one season.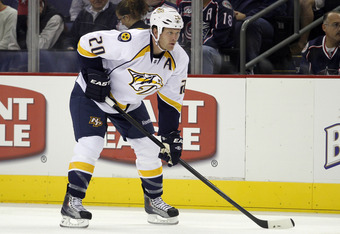 Justin K. Aller/Getty Images
Dubinsky is a player similar to Wolski in production and upside. Both players have yet to reach their true potential.
If the Rangers were to package Dubinsky with a prospect like Christian Thomas and a solid draft pick, they could potentially acquire a top defenseman or winger.
In an ideal world, the Rangers would look to Nashville or Phoenix. Phoenix has been an solid and fair trading partner with the Rangers over the past few seasons. Don Maloney happens to be the brother of current Rangers analyst Dave Maloney.
Trade Proposal One
Ray Whitney is a player the Rangers could look into acquiring as he is a expiring UFA in July, and he is 39 years old. Phoenix would most likely part with an aging veteran in exchange for Brandon Dubinsky.
A fantasy move that the Rangers would love to make would involve acquiring Keith Yandle and Whitney in a package deal. While it may not occur, the Rangers have the pieces to make the deal. I suggest Whitney because the Coyotes would probably want to include multiple pieces. Like I said this is just my opinion. Whitney is a player you want in your locker room going into the playoffs.
The Rangers could deal a combination of or any player including Dan Girardi, Brandon Dubinsky, Christian Thomas and a first-round pick to acquire a combination or players including Keith Yandle  Ray Whitney, and Mikkel Bødker.
You may call me crazy but with the rising play of Ryan McDonagh, Michael Sauer, and Dylan McIlrath in the wings a year or two away, where will Girardi fit in? Assuming Staal comes back healthy, if the Rangers make a move for a top defender, eventually they will be finically obligated to push someone out.That man would be Dan Girardi in all likelihood. He will be 31 when his current contract expires.This summer the Rangers will have some cap to work with This is a fantasy situation and a trade that with some fine-tuning could actually work out.
It is a trade that would be very fair on paper. The Coyotes would acquire two young players, a solid defenseman and a first-round pick in exchange for a aging veteran, a top defender and a prospect of their own.
This is like I said a fantasy scenario. This is how the lineup would look after the trade:
Ray Whitney—Brad Richards—Marián Gáborik 
Derek Stepan—Artem Anisimov—Ryan Callahan
Brandon Prust—Brian Boyle—Ruslan Fedotenko
Mike Rupp—Kris Newbury—Erik Christensen
This lineup isn't too shabby and it would be balanced from top to bottom. Assuming Stepan can't live up to the pressure of the top line, Whitney's experience would balance the line. 
Trade Proposal Two
The more likely trading partner could be the Nashville Predators. The Predators only have 11 players signed through the 2011-12 season. They also have the daunting task of attempting to sign Pekka Rinne, Shea Weber and Ryan Suter to new deals.
Of the three players, Suter would be the most replaceable. Weber has already established himself as an elite defenseman and Rinne has done the same in net for the Predators. Suter is also the player who will most likely command the biggest raise.
The New York Rangers could in theory make a deal involving Dubinsky, a prospect or two, and a draft pick to acquire Suter. The Rangers have a number of prospects in the AHL who are ready to step up next season. They will replace veterans like Ruslan Fedotenko, Erik Christensen, Steve Eminger next year.
The Rangers will cut these costs and will focus on adding a defender. If the young kids can step up and play at a reduced rate, why not have them in the lineup? Tortorella jumbles lines all the time so in all likelihood they will fit in somewhere.
This changing of the guard would free up ample cap space to sign Suter to a new deal at the season's end. 
While these are all just speculation, the Rangers may make a move sooner rather than later. Michael Sauer and Staal are already going to be out of the lineup for a significant portion of time. While Sauer may be traveling with the team, no one knows how long he will remain symptom free once he experiences in game contact.
If the Rangers don't do something quickly to right the ship, the acquisition of Brad Richards may prove to have been all for naught. While fans should not overreact for it has only been three games, it is clear that Brandon Dubinsky may be the odd man out come next season.
Looking at things as they are, Dubinsky eats up a good chunk of cap space. If he doesn't live up to that contract there is no reason why Glen Sather won't shop him. 
What do you think the Rangers should do? Should they trade Dubinsky? If not him then who should they trade? Should they target a winger or a defenseman? Leave a comment in the section below to get the conversation going.
Tom Urtz is an NHL Featured Columnist. For more NHL free-agent news, updates and alerts about players: