Andy Murray Beats David Ferrer for the Shanghai Title and Becomes World No. 3
October 15, 2011
Pool/Getty Images
Update: This article was originally a preview. The preview is left below. Here's instead a match summary:
Andy Murray beat David Ferrer 7-5, 6-4 for the Shanghai Masters title. With the victory, Murray completes his dominance of the Asian swing and will advance to No. 3 in the world in tomorrow's ranking. 
Murray was throughout the match the better player, but Ferrer made a fight of it. However, it was clear that Murray's defense demanded too much of Ferrer to penetrate. When Ferrer pulled the trigger, more often than not he would be left with an unforced error on the forehand side. 
But in a way, they were forced by Murray's impressive court speed. If Ferrer's shots didn't paint the lines, Murray would get to them. 
The second set shows how much of an uphill battle it was for Ferrer and how heroically he fought for his chance. 
Murray broke him to begin the set, Ferrer breaks right back, but Murray simply breaks again, before holding to 3-1. Then, with impressive winners Murray sets up another two breakpoints, but Ferrer somehow managed to hold. 
The same pattern repeats itself, when Ferrer is serving at 2-4. There weren't many service games, where Ferrer came close to cruising, but he managed to win some of the close ones at the end. 
On his part, Murray played another good match. He was patient, yet aggressive. He was hitting his forehand with conviction and his backhand with pop and confidence. The match also shows how much of a weapon Murray's serve can be, when it's working.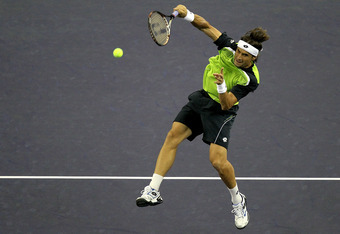 Matthew Stockman/Getty Images
Serving for the match at 5-4, Murray seemed a bit tight and made two uncharacteristic backhand errors to go down 15-30. His single point has been won on a serve, Ferrer could have returned, but didn't. 
Then, perhaps sensing his game was a bit tight, Murray came up with two big serves that Ferrer, one of the best returners on tour, didn't return. 
Matchpoint. 
Another good serve sets up a forehand winner and Murray's victory is a fact. 
Murray has been hot before and then gone cold. With the advancement to third in the rankings, there is a sense in the air that Murray this time might stay hot somewhat longer than we're used to. 
Who knows, he might even be about to pull a Djokovic as I've argued here.
The original preview
Second-seeded Andy Murray will meet third-seeded David Ferrer in a high-stakes Shanghai Masters final on Sunday.  
David Ferrer has the chance of winning his first-ever Masters tournament and the biggest tournament of his career.
Andy Murray can win his third tournament in a row and sweep the Asian swing all together. Moreover, he can climb past Federer in the rankings and rise to world No. 3 with a great shot of ending the year at that position.
Murray is the huge favourite going into the match for several reasons. He's the in-form player on tour, having won the last two sets against Nadal in the Tokyo final 6-2, 6-0. He also shut out his semifinal opponent, while Ferrer again went to three sets against Feliciano Lopez.
Moreover, Murray leads their head-to-head 4-3 and 4-0 on hard courts, one of those victories being a convincing 6-3, 6-2 routing last week in the Tokyo semis.  
He's got a vastly bigger serve than the 5-foot-9 Ferrer, as well as a more aggressive return. 
Quite frankly, it is hard to see what Ferrer can do to upset Murray. Despite them being No. 4 and No. 5 in the world prior to the match, there's a mountain to climb for Ferrer, which tells you all you need to know about why it is called the Big Four, not the Big Five.
While Murray has been cruising after his third-round encounter with Stanislas Wawrinka, David Ferrer has played the role of the escape artist throughout the tournament. 
Milos Raonic played him close in the second round; Ferrer also came back from match-point against Juan Ferrero and from a set down against both Andy Roddick and Feliciano Lopez.
If there's one thing you can be sure about Ferrer, it is that he will not go down easily. Being four or more inches shorter than every other member of the top five (or top ten for that matter), however, puts him at a disadvantage.
He simply doesn't hit the ball as big, and he can't serve his way out of trouble. Faced with a player as consistent as Murray is right now on hard court, Ferrer's chances of pulling the upset are slim to none.
Of course, Murray can have a bad day at the office, combined with Ferrer having a good one, and then Ferrer both can and will win. Given that Murray is still Murray, that can happen.
But given how Murray has played for the past two months, this tournament is his to lose.