Washington Capitals: 5 Things We Have Learned Through the First 3 Games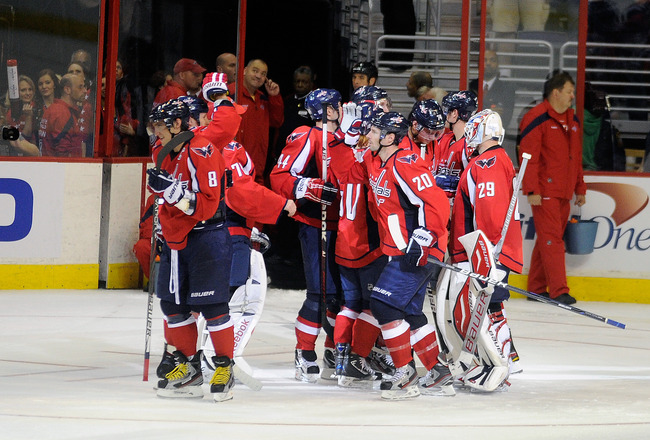 Greg Fiume/Getty Images
The Washington Capitals are already three games into their 2011/2012 season and are off to a flying start with a full six points in those matches. Victories over the Carolina Hurricanes, Tampa Bay Lightning and Pittsburgh Penguins have left Washington with a perfect record early on in the season.
The Caps have shown us several encouraging, and several not-so-encouraging, signs so far this season. We may only be three games into the season, but it is never too early to being to analyse the team.
Here are five things we have learned through the first three games of the Caps' season.
5. The Penalty-Killing Unit Is Once Again Very Strong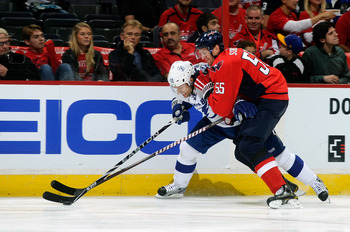 Greg Fiume/Getty Images
Last season, the Washington Capitals' penalty killing unit emerged in a big way and established itself as one of the elite units in the league. Head Coach Bruce Boudreau inserted a give-everything-then-come-off system, in which the players would head out and work hard for thirty seconds before coming off and making way for the next pairings. This allowed the Caps to go through at least three or four line shifts per kill, maximizing energy while the power play facing them stayed out for the full two minutes.
The penalty killing unit came in at second in the league last season at 85.6 percent, bowing out to only rivals Pittsburgh. Statistically (76.9 percent), the unit has not been nearly as successful so far this year, but that is in large part due to a bad outing against the Carolina Hurricanes, who went 2-for-4 on their PP. Against the Tampa Bay Lightning, the PK-unit went 5-for-5, and against the Pittsburgh Penguins they went 4-for-5. It is still early, but early indications suggest the PK-unit will be back to its old self this season.
4. Dennis Wideman Is Very Much Back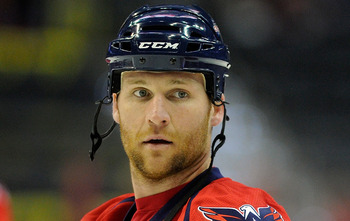 Greg Fiume/Getty Images
When the Capitals traded for then-Florida Panthers defenseman Dennis Wideman at the deadline last season, they knew they were getting an experienced, two-way defenseman who could help take pressure off Mike Green and John Carlson on the power-play point.
He did, putting up a goal and six assists in his first 14 games with the Caps before going down for the rest of the season with a devastating leg injury.
Now, he appears to be back to his best with the Caps. So far, Wideman has consistently looked like (arguably) the team's best defenseman, and with two goals and one assist through three games he has more than fulfilled his offensive responsibilities. He is a great defenseman, and at his best he will give a massive boost to the Caps blue line. So far, it appears as though he might be there.
3. Bruce Boudreau Has Implemented a New, Hybrid System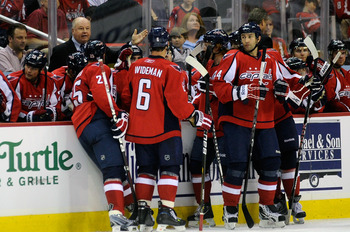 Greg Fiume/Getty Images
When the Capitals were blown out 7-0 by the Rangers on December 12, 2010, it was evident to pretty much everyone that changes were imminent. Boudreau obliged, implementing a hyper-defensive system. Rather than winning games by scores of 5-4 and 4-3, the Capitals were winning 3-2 and 2-1. Focusing on their defensive-zone duties first and on the offense second, the team went on to win another Southeast Division, but were nonetheless rudely kicked out of the playoffs by the Lightning.
Through three games of the season, the Capitals have not at all looked like the team they were towards the end of the season. They have very much been run-and-gun, and it has reflected in the scores of the games (4-3, 6-5, 3-2). Ten goals against in three games is not the idea of Boudreau's defensive system of the past.
It seems the Caps coach is trying to go with a hybrid system which incorporates both the offensive and defensive game. We will have to wait and see moving forward.
2. This Team Has Great Bounce-Back Ability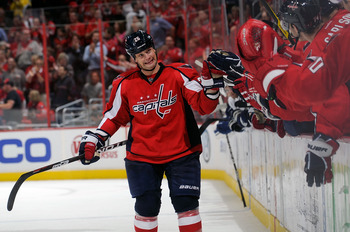 Greg Fiume/Getty Images
Granted, it is still very early, but you cannot help but take the fact that the Capitals have won three despite giving up the first goal three times as a positive sign. They have gone down early, but have stuck to the game plan and have fought back.
That said, this is a good habit to break. Teams win significantly more often when scoring first, and while it may have worked early on this year, the Capitals cannot hope to go along the season having to fight back in every game. It is comforting to know that the team has the ability to bounce back from an early deficit, but you would like to see them go ahead early in the game more often.
1. The Washington Capitals Will Stand Up for Themselves and for Each Other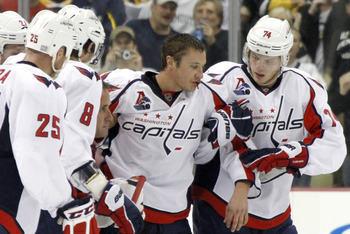 What happened to Jay Beagle against the Penguins is reminiscent of opening night last season when then-New Jersey Devils forward Pierre-Luc Letorneau-Leblond attacked Marcus Johansson. We are seeing the "NHL goon picks on NHL rookie" story all over again.
Jay Beagle stood up for himself, and you have to give him all the credit in the world for it. That said, look for the Caps to challenge Penguins forward Arron Asham and his team next time they meet. Alex Ovechkin, serving Beagle's roughing penalty, had a shouting match with Asham in the penalty box. On Asham's first shift after the fight, he was crosschecked repeatedly by defenseman Roman Hamrlik and was shoved around several times by pretty much every Caps player on the ice. They will stand up for Beagle. That is the nature of this team.
It is great to see the camaraderie that is developing among the Caps players. They will stand by each other. That only bodes well for the team's Stanley Cup hopes.
Follow Jake Ware on Twitter at @JacobWare95
Keep Reading

Washington Capitals: Like this team?