2011 Chicago Blackhawks: Live Journal, Sabermetrics, Andrew Brunette and More
October 14, 2011
Jonathan Daniel/Getty Images
(Note to fans: I am from Indiana.  All times are in Eastern Standard Time.)
8:30: CSN coverage shows a girl with a beer.  Nice.  We are off to a hot start.
8:31: The one and only meeting with the Winnipeg Jets…for this year. Pregame coverage details the fact that the Red Wings are likely to leave the Western Conference and swap slots with the Jets. There are a few schools of thought to explain how this affects the Hawks:
- The rivalry between the Hawks and the Wings is greatly affected. Two of the Original Six, split by less than four hours by road, will now only play once a year. There is no doubt that every single Hawks fan, young or old, new or weathered, LOVES when these two teams get together.
The game seems to be played at more of an urgent pace. The hits are heavier. The fights are more robust and the fans cheer even louder. It would be a shame to see this rivalry eliminated.
- The fine folks at NBC/Versus/Whatever It's Called have to be picketing for this change to happen, now that one game per season is guaranteed for national coverage and would gain great ratings.
How about this, NHL? Since you are stripping the rivalry from us, make it an outdoor game every year that rotates between Comerica Park and Wrigley Field. (Sorry Sox fans, but seriously. Your whole park is painted black. Yuck. Nice view from the outfield seats though. See how I did that? Reeled you back in!)
Aesthetically, these are two of the coolest-looking fields in all of Major League Baseball. Guaranteed sellouts in both locations. Or, even better yet: Host a neutral site game at Notre Dame Stadium. Split the stadium in half fan-wise. Can you imagine the pageantry? Wouldn't this be awesome?
- With the Wings out of the Central, the Hawks have a much better shot at staying in the top two or three teams throughout the duration of these long-term contracts. The Jets, at this point, don't have the firepower that Detroit is working with. It might ruin the rivalry, but it will give the Hawks more shots against a much lesser opponent.
8:39: Of the BRAAAAAAAAAAVE.  Yep, that's how it's done!  Let's skate.
8:40: Neither Eddie or Pat are happy about having to travel to Winnipeg several times in the year.  "Get out the booooots," says Olczyk.  Don't blame them.  And don't you just love Eddie?  
8:42-8:44: Big Buff wrister off Emery. TURNOVER EMERY! (Hurry back Crawford.) Montador gives Buff a bump. That a boy, Steve. Now Carcillo is trying to mix it up. Giving the Jets a bit of toughness early.   
8:47: Rare turnover by Toews. Slater with the redirect. J-E-T-S JETS! JETS! JETS! (sorry couldn't resist) lead 1-0. In addition, Hawks' forecheck has been sloppy early.
8:48: According to the broadcast, Marcus Kruger had 11 effective minutes in the win over Dallas last weekend. Effective minutes.
This brings up the argument:  Where are sabermetric stats in hockey?  Some that come to mind early:
BLBtB: Blue Line Blocks to Breakaways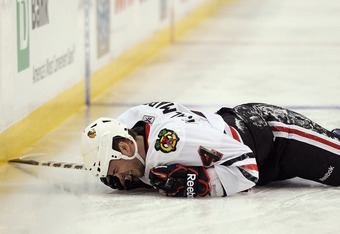 Elsa/Getty Images
Shot blocks are clearly one of the staples of the transition game in hockey. Why not start tracking it by how it directly affects offensive play? Let's say Player A accumulated 60 blocks in 2010. Five of those blocks lead to some sort of odd-man situation in the offensive zone that Player A is one of those odd men. Player A's BLBtB rating would be 8 (or 8 percent).
Clearly, some research would have to be done to determine what values are good, bad or indifferent. As a GM, wouldn't you want a guy who is willing to make a block PLUS hustle back on offense to be involved in a potential goal-scoring situation?
PcSE (pronounced Pixie): Poke check/Stick lift Efficiency
I had to create this one in reference to a pronunciation guide that Rob Neyer created for baseball sabermetric stats a while back. It sounds great, plus it is very easy to measure. It's this simple. If a player performs a poke check or stick lift that results in a turnover, it counts as one. Take this number and divide it by the total times a stick lift or poke check was attempted while on defense in the opponent's offensive zone.
LowSORF (another good-sounding name): Low Shots to Open Rebounds Frequency
This is a category that all players can be a part of on a consistent basis. The simplest of the three I have mentioned to measure. If Player A shoots low off the pads and it creates an open rebound for Player B, that counts as one. Take this number and divide it by the total of shots that are low and off the pads. This is how offensive defensemen make their living in the NHL.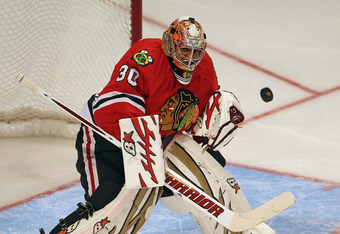 Jonathan Daniel/Getty Images
If I could restart my life again and was born in Minnesota, I would have played hockey and been an offensive defenseman. The position says it all. You get to play offense and defense! What more could you want?
8:52:  Prediction: Emery gives up six goals. I know nothing about skating and very little about hockey. But, it looks like Emery is skating on stilts. It is hard enough to walk on stilts. 
8:53: And as I type that, Slater scores with another redirect. As Eddie pointed out, that was a talented redirect. Adjusted his stick behind his back. He can have that goal. Wow! Jets lead 2-0, not even 8 minutes in. Quenneville is upset. His face is really red.
8:55-8:57:  Hawks to the PP. Here comes that dangerous power play that sits at 1-11 so far. Make 'em two for 12! GOAL! Eddie highlights a great play by Brunette to keep the puck in the Hawks' offensive zone. He pushed the A button (or X button for those Playstation users out there) and tied up a stick. 
Wrister, rebound, goal Brunette. Is that comparable to the baseball player that makes a great diving catch in the field and then comes up the next half-inning to smack a home run? I think so. 
(Side note: Brunette's presence has the potential to replace the productivity of Andrew Ladd from 2009. He already has two, count 'em, two power play goals in three games.  His presence on the same line with Toews is glorious. Youthful superstar paired with a previously underachieving veteran.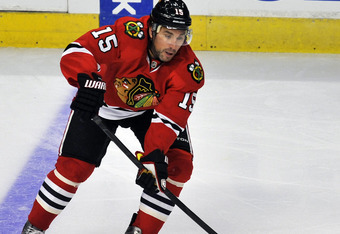 David Banks/Getty Images
Additionally, he provides the Hawks with another player who goes hard to the net and has proven to have the capability to finish. With Brunette paired with some actual skill players around him, expect an 18-24 goal season from Brunette. Yep, that's bold. I love Brunette.)
9:03:  Recapping Coach Q's Timeout Talk: "Pick it up on the forecheck. Shoot the puck. Quit dancing." Except much more vulgar. Ever since that timeout, the Hawks have owned play. Sticks are more active and passes are sharper. It shouldn't take that timeout to get the boys fired up. You haven't played since Saturday!
9:04: Woof. Mark Stuart smokes Frolik. Good clean hit that hurt Stuart more than Frolik.
9:12: Hossa to Kaner for the one-timer. Hossa is an absolute beast along the boards in the offensive zone. He got halfway upended, recovered from the attempted hit, kept the puck onside, and then threw the puck right on Kane's stick in the opposite circle. That is some sick stick work, sir.
9:18:  Hawks and Jets tied 2-2. WPG goals: Stuart (1, 2). CHI goals: Brunette (2); Kane (1). The red sweaters came on hot in the last eight minutes and finished with an 11-9 lead in SOG.
This first period reminds me of something that I haven't thanked the hockey gods for. I was at my first-ever NHL game and the game was just like this. High-paced, 6-5 final score against the Blue Jackets. Hooked me for life.
9:25: Somebody get Kaner some oxygen prior to the interview. Also, can we call Carcillo and Kane best friends already? He giggled when Carcillo was mentioned. How cute!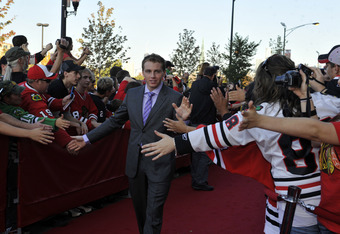 David Banks/Getty Images
9:28: I would like to nominate Benny's Beverage Depot as the best intermission sponsor in all of the National Hockey League. It's just so much fun to say! 
9:46: I missed the goal. I walked upstairs to get something to drink. Had to look it up on the internet. Nice goal by Hossa, apparently. Ugh.
9:50:  A Bogosian (always an early NHL '12 fantasy draft pick for me because of his sweet last name) turnover leads to a soft goal on Pavelec by Bolland to the short side. The Hawks were applying a ton of pressure prior to the goal, including a Bickell one-timer just seconds before that was saved by Pavelec.
There's that name again. Dave Bolland. Here is a reader comment from my last article:
Melissa Scheele writes:
Another thing many realized is that Bolland is a part of the Hawks core. He's proved time and time again and is still underrated. Look for him to have a big year if can stay healthy. I think he is going to be one of the main (if not the) difference maker this season.
My response: Underrated may not be the correct word. Instead, I would say that he goes unnoticed during games. But, this only occurs on the ice during games. The media talks about him all the time.  Fans love him and have given him a very fitting nickname. He is one of those players that is always analyzed in post game coverage because of the opportunity to digest his value. During the game, he is just one of the "dirty fellas" who does the little things correctly. The little things win games. Glad to have him on the squad.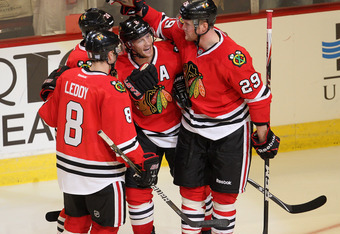 Jonathan Daniel/Getty Images
10:02: Wellwood goal. I just can't get excited for former Canucks. Boo.
10:12:  The Hawks have been really strong in front of the net. Boof. Big hit by Bickell in the Hawks offensive zone. Back to my point. Emery has given off several point-blank rebounds directly in front of him. Quick clears and body positioning out front have been great so far for Chicago.
10:14:  4-3 Hawks after two periods. WPG Goal: Wellwood (1). CHI Goals: Hossa (1); Bolland (3).
10:35:  Ho-hum start to the third here. Feels like the fourth inning of a baseball game. However, as I just learned, if I get up and leave the room, someone will surely score.
10:39:  Up and down the ice we go. Some excellent passes, including one that led to a slapper from Seabrook. This game is in the spin cycle. Check back with you soon.
10:48:  Right now, Game 3 feels like one of those contests that defined the difference of the 2009 and 2010 Blackhawks. In the Stanley Cup season, the Hawks would find a way to stretch the lead to two goals. A huge power-play goal. Something dirty in front of the net. The 2010 Hawks would blow this game on the penalty kill or turn the puck over in their defensive zone.
10:54: For all the young defenseman out there: Lesson time from Eddie. Get that stick on the ice and do what you can to slow down the offensive player's stick. Thanks!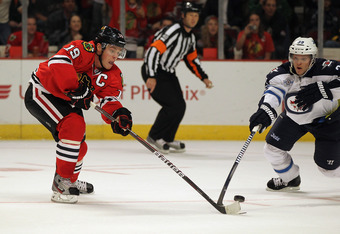 Jonathan Daniel/Getty Images
10:55: Jets coming strong, but some good shot blocks by the Blackhawks. Niklas Hjalmarsson has NO regard for his body. I love it! Undersized, but packed with heart and effort all the time.
Frolik misses a wrister that reached him on a nice back pass. Communication looks stronger tonight. Also, I really think the Olesz/Mayers/Kruger line has been super solid tonight. They have limited their errors and have been just aggressive enough on offense. 
10:58: Not to jinx Emery, but ever since a couple of deflections early, he has settled in and found his sea legs, so to speak. These last few minutes are very critical for developing trust in the coaching staff. 
11:03: One minute! ONNNNNE MINUTE. Empty net goal backhand attempt missed by Toews.   Tough icing call on the Hawks. No change for this tired line. Eddie seems worried. I don't like when Eddie is worried.
This has been an off game for Toews. A couple of bad passes to turnovers and really no offensive impact (outside of the being down low on Brunette's PP tally). So, that makes maybe 10 bad games since he started with the Blackhawks?   
11:04: GAME OVER!  HAWKS WIN! Wait, is there time left? Referees are headed to the replay. Quick complaint about hockey replay: Do we really have to call the folks in the "War Room" in Toronto? Couldn't they just have a replay official that is at ice level monitoring play?
The current concept seems as silly as MLB umpires having to go into a room. Football is the only sport that has it right. On another note, hockey refs should be allowed to declare a "fight off". If there is a call that is too close to tell, each team should get to pick a player (has to be a defenseman) to fight at center ice against the opposing player. The catch: The winner of the fight off gets to attempt a penalty shot.
This would be great for a couple reasons: 1) Would coaches risk one of their offensive defensemen against a bully for the chance to score? 2) There would be high comedy when John Scott attempted a penalty shot!  Can you imagine him trying to deke? I know he played some wing in the past. But that was the past. They call it that for a reason.
11:06: Hawks improve to 2-1-0. Great timeout early in the game by Coach Q to refocus the troops.  Emery was solid after a rocky first period. He was borderline outstanding in the third period. Nice aggressive showing from Steve Montador. Dave Bolland continues scoring soft goals.   
Thanks again to hockeyreference.com for the stats! And espn.com for telling me about the Hossa goal. Still upset.