50 Nastiest Fights in Hockey History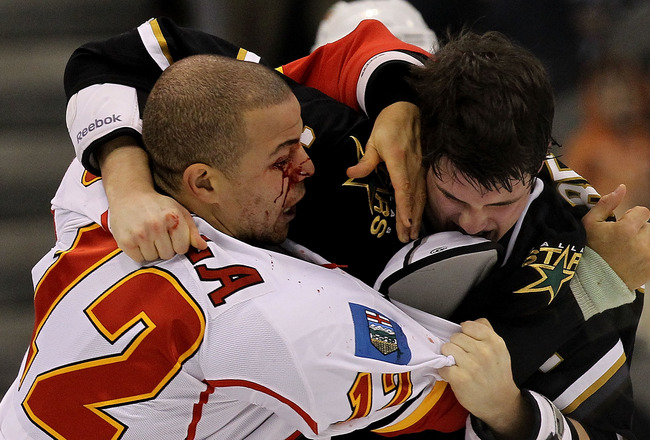 Ronald Martinez/Getty Images
While fighting has had a decreasing role on the game of hockey since the lockout, there is no doubt that when players drop the gloves, the fans are in for some entertainment.
Over the years, there have been so many excellent bouts, making it difficult to find the very best of the best. Hence, a 50 slide piece detailing some of the biggest and bloodiest fights the game of hockey has ever seen. Strap in, folks!
Cote vs. Roy
Riley Cote gets the action started with a two punch victory over Andre Roy of the Tampa Bay Lightning. It's tough to believe that Roy bounced right back up after that loss!
Heavyweight Bout
A couple of heavyweights collided here, as Colton Orr and Matt Carkner had a classic tilt here. Carkner may not remember this one after getting knocked out by Orr.
P.J. Stock
P.J. stock may have a slight build, but he packs a hell of a punch when opponents decide to drop the mitts against him. Shane Hnidy found out the hard way here.
Colton Orr Gets His
Colton Orr won plenty of fights in his day, but he certainly wishes he could have this tilt with Jody Shelley back. Orr got rocked.
Laraque vs. Brashear
Georges Laraque and Donald Brashear go toe-to-toe in this heavyweight battle, and the fans got quite the fight. Brashear ended up getting the best of Laraque on this one.
Zdeno Chara
Zdeno Chara doesn't fight very often, but when he does, things get ugly. At 6'9'', there are not many players that can compete with him in a fight.
Carcillo
Daniel Carcillo and Derek Dorsett had an epic battle right here. These two pint-sized fighters exchanged punches for over a minute. It is tough to declare a real winner. Both landed some great shots.
Darcy Tucker
Darcy Tucker loved to run his mouth. Occasionally, it lead to the Leafs agitator having to drop the mitts.
Carcillo Again
Dan Carcillo's job has always been to agitate. Judging by how many fights he gets into, he does an excellent job.
Carcillo's Second Round with Konopka
Here is the second round of the battle between Dan Carcillo and Zenon Konopka.
Terry O'Reilly and Tiger Williams
These were the glory days of fighting, folks. Terry O'Reilly and Tiger Williams had some classic bouts.
Neely vs Tocchet
Rick Tocchet's mouth wrote checks that his body could not always cash. However, the feisty forward impressively hung tight in this fight with Cam Neely.
Bobby Clarke
Bobby Clarke was one of the poster boys for the Broad Street Bullies. His skill combined with fights like these made him a fan favorite in Philly.
Tie Domi
Tie Domi stands at just 5'10'', but you wouldn't know it by how often he used to fight. Domi was often on the wrong end of a height mismatch, much like in the fight above.
P.J. Stock at His Finest
This bout between Stephen Peat and P.J. Stock saw about a punch per second, with each player landing some crushing shots. Stock finishes it off with the classic wave to the crowd.
Jim Vandermeer and Aaron Downey
Jim Vandermeer and Aaron Downey were determined to beat each other to a pulp. Not even the ref could break up this slugfest.
Philadelphia vs. Ottawa Brawl
This fight between the Flyers and the Senators was so great that everybody wanted to get involved! What a mess this was for the officials.
David Clarkson
Everyone was trying to break up this fight, but David Clarkson and Andre Deveaux were not going to let that happen.
Matt Kassian vs. Darcy Hordichuk
Watching a fight like this has to make one wonder how more players don't get injured from fighting. This was a vicious scrap.
Preseason Fighting
The 2011 NHL Preseason featured a lot more fighting than fans are used to seeing. These guys were literally fighting for their spots in the league right here.
Cam Jansen vs. Pierre-Luc Letourneau-Leblond
For as much shadow boxing as these two did to start this fight, they made the fight worthwhile with some powerful fists as the fight when on.
Scott Nichol and Mike Comrie
Scott Nichol and Mike Comrie's fight was so excellent because it resulted from a dirty hit. There was legitimate tension behind these punches.
Scott Nichol vs. Bryan Marchment
Scott Nichol was tiny, but he had no quarrels with going up against the biggest and meanest in the NHL
Brian McGrattan vs Eric Godard
Players who can throw punches are awesome. Players who can take punches are even better. McGrattan and Godard each got to show their ability to do both in this fight.
Zamboni Fight
This fight was too much for the ice, so these guys decided to take their business through the Zamboni doors. Everyone wanted a piece of this brawl.
Dave Schultz vs Tiger Williams
Tiger Williams makes another appearance on the list, taking on Dave Schultz this time. These two had a pretty heated rivalry with one another back in the day.
Jim Schoenfeld vs. Nick Fotiu
These two stood still staring at one another for what seemed like days. Finally, the end of the fight featured a flurry of quick fists from each player.
Paul Holmgren and Nick Fotiu
Why does it seem like every fight from the old days ended up turning into a complete brawl?
Ray Emery vs. Marty Biron
Who doesn't enjoy a nice goalie fight from time to time?
Georges Laraque vs. Colton Orr
Georges Laraque and Colton Orr were two of the meanest players in the NHL during their respective careers. It was most entertaining when the two of them were being mean to one another.
Donald Brashear vs. Chris Simon
Donald Brashear was a tough guy, and he didn't lose very many fights. However, Chris Simon really got the better of him right here.
Chara and Laraque
This may not be the greatest fight, but to see Zdeno Chara hit the ice like that is pretty awesome. Chara sprawled flat on his back is a rare sight.
Craig Rivet vs. Bryan Marchment
Bryan Marchment was a complete beast, and Craig Rivet was quite the fighter himself. The two of them going toe-to-toe was incredibly exciting.
P.J. Stock
P.J. Stock might just be the best pound-for-pound fighter the NHL has ever seen. He was never even close to his opponent's size, but always managed to put up a hell of a fight.
The Big Bad Bruins
For those confused when people mention "The Big Bad Bruins." This should clear up some of that confusion.
Cam Neely vs. Ulf Samuelsson
It doesn't get much better than a couple of power forwards squaring up to drop the mitts.
Claude Lemieux and Darren McCarty
I get the feeling that these two didn't like each other very much. Of course, who on the Red Wings, or in the league, liked Claude Lemieux?
Claude Lemieux Again
Here is some proof that it was not just the Red Wings who disliked Claude Lemieux. Imagine the excitement from fans league wide when they saw Lemieux drop the mitts with the much more imposing Derian Hatcher.
Matt Barnaby vs. Sheldon Souray
Matthew Barnaby was another player who was not well liked around the league. Hence, he got himself into a fair amount of scraps. And he didn't win may of them, either.
Boston Bruins vs. Rangers Fans
The Big Bad Bruins didn't back down to anybody. That included the fans of Madison Square Garden on this infamous night.
Tie Domi
Speaking of players fighting fans. Here, Tie Domi gets a little bit irritated with a Philadelphia fan. What else is new?
Hal Gill vs. Zdeno Chara
Hal Gill may match up size wise with Zdeno Chara, but I'm not sure if he knew what he was getting into when he dropped the mitts with the big fella.
A Rare KO
Rarely do we see a player get legitimately knocked unconscious during a fight, but that is exactly what happened during this scary incident.
Nordiques vs. Canadiens
Does this peak anyone's interest in bringing back this classic rivalry?
Hextall vs. Potvin
The Toronto Maple Leafs and Philadelphia Flyers developed quite the rivalry at the turn of the millennium. That rivalry was felt from the crease right on out, as Felix Potvin and Ron Hextall got involved in a brawl between their squads.
Red Wings and Avlanche
The Detroit Red Wings and Colorado Avalanche had a deep hatred for one another. It was intense. Just watch the clip.
Marathon
This fight was an absolute marathon. It should come as no surprise that two of the most famous fighters of all time were involved in this exchange.
Canadiens vs. Bruins
Brawls are truly the cream of the crop when it comes to fighting. When that brawl is between two hated rivals like the Bruins and the Canadiens, it makes things all the more entertaining.
Two of the Best
Tie Domi and Bob Probert, two of the greatest fighters of the modern era, absolutely creamed each other in this fight. I've never really seen anything like this.
Bob Nystrom vs. Mel Bridgman
The list concludes with a classic, old school fight for the ages. Nystrom and Bridgman wasted no time getting this fight started, immediately throwing reckless punches in bunches.
Keep Reading