Philadelphia Flyers: What We Learned from Vancouver in the Home Opener
October 13, 2011
Bruce Bennett/Getty Images
The home opener for Philadelphia proved to live up to all the hype. The final score saw Philadelphia ahead 5-4. In what was obviously the biggest test for the Flyers in this young season, we learned a lot about the weaknesses of the team that were not as prevalent in the earlier games. Also, pressure situations help show what you are doing right. Here are the things we learned from the game:
Don't Take Bad Penalties
The Flyers took seven penalties in the game against Vancouver, who has an amazing power play. I'm sure that Peter Laviolette took time before the game to drill it in to the players not to take penalties. Seven would be excessive even if he hadn't mentioned it at all. If you look at the five penalties in the last period: Unsportsmanlike Conduct, Roughing, Hooking, and Boarding, none of those were necessary. The call on Pronger was questionable in my opinion. Anyway, I expect Laviolette to have an earful for the players about not taking bad penalties.
Rookies Are Clutch
Sean Couturier might only be around for ten games, but he is giving Paul Holmgren something to think about. Laviolette is using him in all penalty killing situations and is comfortable putting him in at the end of the game. He also made a great pass to Jakub Voracek which gave the Flyers a two-goal lead. He has had a primarily defensive role on the team so far, so it was good to see him get in on the offense. Matt Read is playing both ways. He had a questionable first game, but Read has really turned it around in the next two. He is on the penalty kill and the power play unit for Philadelphia. While his assist really had nothing to do with him, he played well and had a great chance offensively that he shot just wide.
Fix Work in Own Zone
The Flyers looked inept at times at getting the puck out of their zone. This problem was more prevalent five on five than on the penalty kill. It led to some great chances and a couple goals for Vancouver. We saw flashes of this in the first two games, but against Vancouver it was much more dangerous. Some of the problems may still be with chemistry, so I expect Philadelphia to get better with this over time.
Bryzgalov is Solid
Letting in four goals doesn't sound like a great game for a goalie, but Ilya Bryzgalov was great in this game. All the goals that went in were off unfortunate bounces, defensive breakdowns, and amazing power play puck movement. Every shot that could be reasonably expected to be stopped was stopped. It feels good after last year to not worry about bad goals going in.
Simmonds in Front of the Net is Dangerous
By dangerous, I mean for the other team. When he was in front of the net, every light wrist shot became a good scoring chance. He has great hands and can deflect pucks, and one deflection he made tonight almost found Luongo's five hole. He was in the right place for a number of rebound chances. Simmonds was such a big part of the Pronger goal that he should have got a point for it. Luongo couldn't see the shot at all. Simmonds is big and immovable in the crease, and I look for him to continue this amazing play later in the season.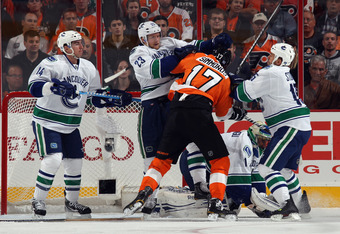 Bruce Bennett/Getty Images
Lost Scoring?
Some critics of the recent Flyers' offseason moves have cited the points lost from all the players who left the team. The Flyers scored five goals tonight from five different goal scorers. Voracek has scored two goals already, Simmonds has a goal and an assist, Read has a goal and an assist, and Couturier has an assist. The new players are contributing. Let's not forget Claude Giroux who has five points in the first three games. The Flyers have enough weapons to make up for the lost scoring, and, with a solid goalie, they don't need many goals to win.
The Flyers Are Still Undefeated
It was a great win against a very talented Vancouver team. All around the Flyers played a great game, and these early wins will go a long way.
Questions or comments? Leave them below.