The Top 10 Moustaches in NHL History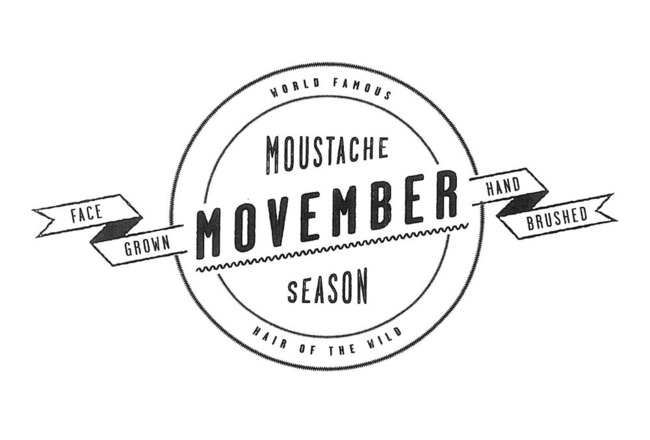 With the month dubbed Movember quickly approaching, it is time to go over the most legendary moustaches in NHL history. First off, however, I would like to bring attention to Movember. I have participated in the past two Movember movements.
Movember aims to "change the face of men's health worldwide" by having men sign up on their website Movember and grow a moustache from November 1 to November 30. The Moustache is a symbol to promote awareness for prostate cancer, annual health checks and general men's health. This year alone, there will be more cases of prostate cancer than breast cancer, and is the most common form of cancer in men between the ages of 15-29.
The NHL and its players are huge contributors to the Movember campaign and will be especially involved in 2011. The moustache and facial hair has forever been a staple in hockey, and plenty of players will be contributing to the cause this season. In honor of Movember, we will be counting down the top 10 moustaches in NHL history.
Honorable Mention: Cal Clutterbuck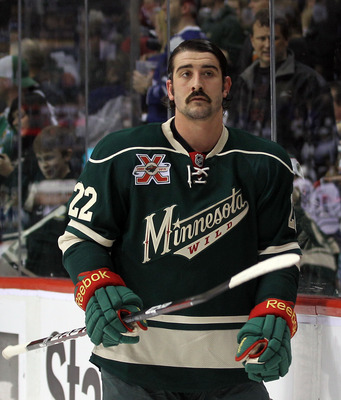 Bruce Bennett/Getty Images
Cal Clutterbuck has had a moustache since he entered the NHL in 2007. For a young gun, this is a very impressive moustache and a strong representative of a class of players who is somewhat follically challenged when it comes to growing facial hair. Clutterbuck has also participated in Movember in the past and is expected to rack up plenty of donations in 2011.
10. Pat Burns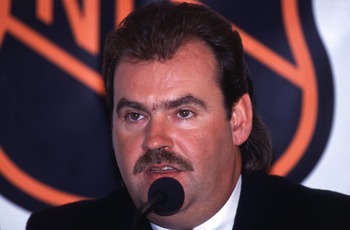 Otto Greule Jr/Getty Images
Hall of Fame coach Pat Burns won one Stanley Cup with the New Jersey Devils in 2003 and won three Jack Adams trophies for Coach of the Year over the course of his 14-year coaching career. Burns battled with and went on to beat both liver cancer and colon cancer before being diagnosed with lung cancer in 2009. Burns passed away from his third bout of cancer in November 2010.
Burns and his moustache helped make Burns a permanent image in the NHL and helped the Movember campaign become very large last year. Though not the bushiest moustache around, it was one of the most symbolic and long-lasting moustaches during his years as an NHL head coach.
9. Wendel Clark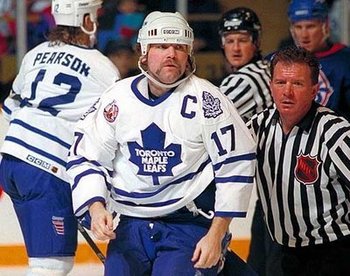 Wendel Clark and his handlebar moustache were made famous between 1991-1994 during his time as the Captain of the historic Toronto Maple Leafs franchise. Although his career stats aren't all that impressive, he was a fantastic leader throughout his career and was mostly known for his physical play. He racked up 1,690 penalty minutes in 15 seasons and earned himself the moniker Captain Crunch after a massive hit on St. Louis Blues player Bruce Bell.
The moustache further added to his reputation as a tough guy and was one of the greasiest moustaches in NHL history.
8. Dennis Maruk
Dennis Maruk's hockey career in word was consistant. After being drafted in 1975, 21st overall to the California Golden Seals, Maruk went on to be the first rookie in NHL history to score five shorthanded goals in a season.
Over the course of his career, Maruk was nearly a point-a-game player, racking up 878 points in 888 games played. He also had 50 goals in 1980-81 and responded in 1981-82, scoring 60 goals. Maruk also holds the single-season record for points in the Capitals organization with 136 in 1982.
Maruk's moustache lasted almost his entire career and rarely did he switch up the style from handlebars to anything else.
7. Mike Brown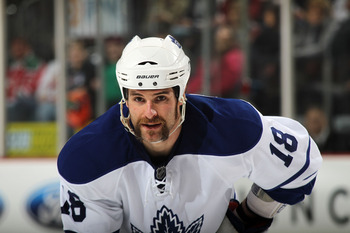 Bruce Bennett/Getty Images
Up until recently, Mike Brown of the Toronto Maple Leafs had one of the dirtiest moustaches among current NHL players. He shaved it last week saying it had brought him bad luck with injuries, but that he was going to shave it for Movember and grow it back for the month of November to raise money anyways.
Brown's embrace for the cause is huge and will surely help raise a lot of money for prostate cancer this season.
6. Harold Snepsts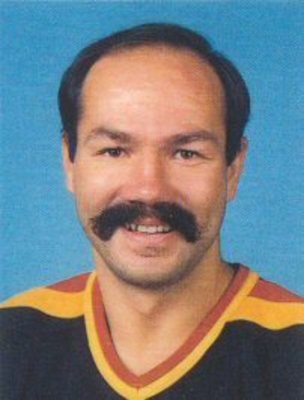 Harold Snepsts 17-year career as a stay at home defenseman for the Vancouver Canucks, Minnesota North Stars, Detroit Red Wings and St. Louis Blues saw him rack up just over 2,000 penalty minutes.
The main aspect of his game that Snepsts is remembered for is his smart play. He was able to play a hard-nosed physical game without making too many costly mistakes.
Over the course of his career with the Canucks, Snepsts was their most effective defenseman and was inducted into their Ring of Honor as a part of their 40th anniversary celebrations in 2010.
5. Bill McCreary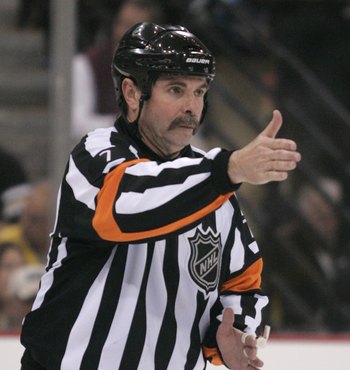 Justin K. Aller/Getty Images
It wouldn't be a list of the greatest NHL moustaches if legendary referee Bill McCreary weren't included. McCreary is probably the most recognizable ref from any professional sports league.
Before retiring from his on-ice duties in 2011, McCreary lined up for just under 2000 games in his career in which he officiated 14 Stanley Cup Finals and two gold medal Olympic hockey games. McCreary and his furry upper lip were the face of NHL officiating for 27 years, and his 'stache is sorely missed.
4. Dave Babych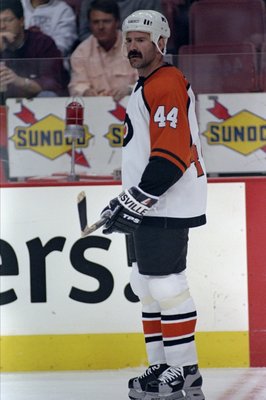 Craig Melvin/Getty Images
Dave Babych's moustache is iconic among fans of the Vancouver Canucks, Winnipeg Jets and Hartford Whalers. If anything, the name Babych reminds hockey fans of the 'stache more than his contribution of 723 points in his career.
One of the best-structured moustaches of all time, it is amazing that Babych still has that thing on his face with the amount of sweat that he piled up in there.
3. Paul MacLean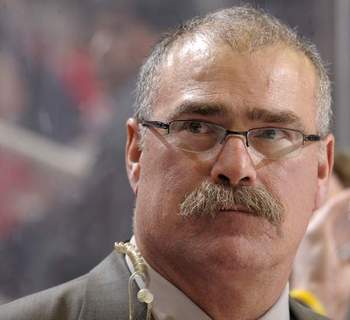 Paul MacLean and his dirty duster have brought themselves back into the spotlight since he got hired on as the Senators bench boss this past offseason.
MacLean who played for 11 seasons, most of which were with the Winnipeg Jets, had a moustache his entire playing career and doesn't appear to have stopped growing one since he retired in 1991.
MacLean and his moustache had the opportunity to lift the Stanley Cup in 2008 as an assistant coach with the Red Wings.
2. George Parros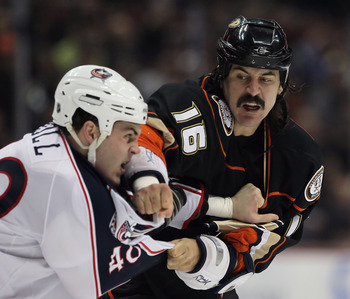 Jeff Gross/Getty Images
George Parros grows his moustache and hair for a very good cause. Each year, the Anaheim Ducks tough guy grows his hair out until December and cuts it for cancer, and then for Movember, he is an ambassador.
He grows his moustache year round but shaves it November 1st and participates for the entire campaign. Parros probably has the most recognizable duster among active players in today's NHL.
1. Lanny McDonald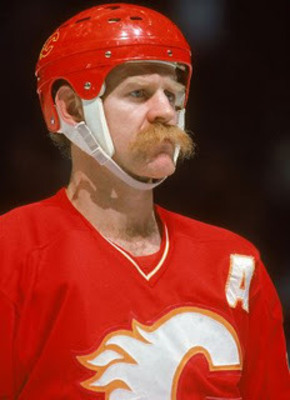 Lanny McDonald and his moustache is easily among the most recognizable moustache figures in professional sports. McDonald's ginger upper lip is hands down the greatest moustache in NHL history.
Among the teams McDonald played for, his moustache matched up excellently with the red jerseys of the Calgary Flames in the 80s. McDonald has represented the association of gentlemen rocking dusters in the NHL for years and will be a staple of sports moustaches forever.
Old Man River Lanny McDonald won a Stanley Cup in 1989 with the Flames and was entered into the Hockey Hall of Fame in 1992.
Keep Reading