Detroit Red Wings: 3 Wishes for October 2011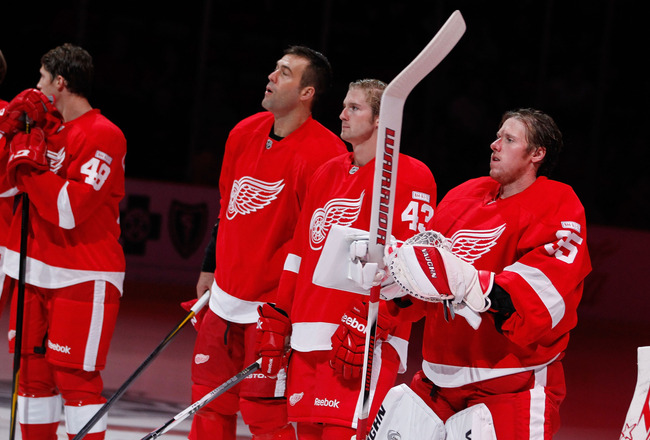 Gregory Shamus/Getty Images
Clear, actionable goals.
For most of my professional life, this phrase, or some version of it, has been bounced around at more meetings than I can even remember.
For some organizations, having clear, actionable goals are as good as achieving them at all, "We said we're going to do this, and darn it, that's good enough!"
Other places use them as an insurance policy against laziness, "We said we're going to do this, we're not doing it, darn it, that isn't good enough!"
However, applied, clear, actionable goals are ultimately nothing but realistic wishes.
Even in hockey, a game built around clear, actionable goals (usually, scoring them), what a team works to achieve is often nothing but a wish based on observable data.
So, each month, we will be throwing out some clear, actionable goals for the Detroit Red Wings.
As such, we won't be looking for Johan Franzen to score three hat-tricks, or Jimmy Howard to give up one goal during the month.
Those things would be cool, but, they're not going to happen.
No, our wishes will be a bit more down to earth, but no less satisfying should they come true.
With the Wings' set for a herky-jerky season start, they have just nine games in October, six of these back-to-back affairs, wishing for them to continue their winning streak to start the month would be a worthwhile ask, but not very interesting, or debatable.
Instead, we offer these three wishes for October.
Beat the Vancouver Canucks on Thursday
I know I said I wasn't going to waste a wish on extending their win streak, but I'm really not doing that here.
True, a win over the Canucks on Thursday night would have the Wings start the year 3-0, but it would also give them a means by which they, and the rest of the league, can see what they're made of this year.
True, the Wings looked good against Ottawa and Colorado, but that's Ottawa and Colorado, not exactly NHL powerhouses.
Besting the defending Western Conference Champions would likely be the highlight of the Wings' month and, hopefully, give them a jolt of swagger moving forward.
This one is sure to be a tall order, but an achievable one nonetheless.
Jimmy Howard Gets a Shutout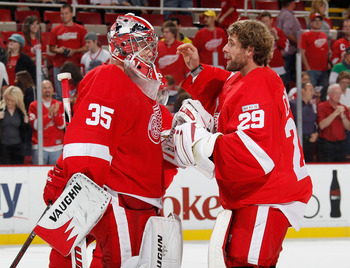 Gregory Shamus/Getty Images
Just two games in, the Wings already have one goalie with a goose egg under his goals-against stat column, let's hope they can end the month with two.
Ty Conlin's re-debut (yeah, that's a word) with the Wings went swimmingly against the Colorado Avalanche, lending some credence to the assertion that bringing him back into the fold was a very good move on Detroit's part.
However, Jimmy Howard's strong start in Game 1 was marred by three goals getting past him, none of which he could do much about.
Howard needs a strong outing against Vancouver on Thursday, but a shutout then is probably a little too much to ask for.
Still, he'll have a few more chances this month to blank an opponent, and, if he does, it should give him the same kind of confidence a hat-trick can give a goal-scorer.
One donut in October, Jimmy, that's all we want.
Cory Emmerton Finishes the Month in the Top Five in Team Scoring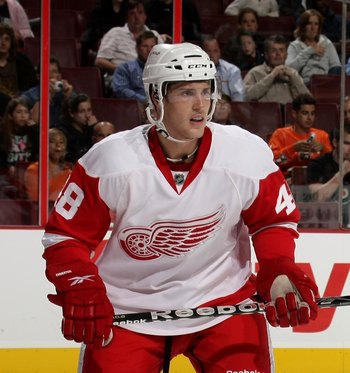 Bruce Bennett/Getty Images
With names like 'Jan Mursak' and 'Fabian Brunnstrom' buzzing around Detroit this summer, it's fair to say that Cory Emmerton was the lower man on the totem pole when it came to discussing which of Detroit's young newcomers were going to have the most impact.
However, towards the end of the exhibition season and through the first two regular season games, Emmerton has impressed immensely and looks right at home with the Wings.
His offensive instincts and hockey IQ have served him well so far and should only continue to help a team that relies on big doses of both for success.
With veterans like Johan Franzen, Pavel Datsyuk and Henrik Zetterberg on your team, finishing the month as one of Detroit's top five scorers will be a monumentally difficult task.
However, this kid has a ton of jump in him right now and an early taste for scoring.
A top five finish in team scoring for the first month of the season may not be that ridiculous a hope.
Follow Matt on Twitter: http://twitter.com/MAhutter12
Keep Reading

Detroit Red Wings: Like this team?