New York Rangers: Offensive Struggles Are Cause for Concern
October 9, 2011
Bruce Bennett/Getty Images
Two games played, two games lost by just a goal.
Two valuable points, no doubt, and against two teams in Los Angeles and Anaheim that project to have good seasons. All in all, this is by no means a catastrophic start to what projects as a potential breakthrough season for the Rangers organization.
When the layers are pulled back, however, these two losses are just the kind that have plagued the team for the past several seasons—the kind that wind up forcing the team into needing to play playoff hockey about two months too soon.
One of the primary indicators of why these past two games have been troubling is total team shots on goal.
Through two games, the team has produced just 41 total shots, 26 in game one and a paltry 15 in the second match up. Considering that each game went into overtime, this is not the level of production that will be required for the team to legitimately compete through the course of 2011-12.
Taking the examination a bit further, newly minted captain Ryan Callahan has accounted for 13 of those shots—including 11 in just one game.
In other words, one player out of the 18 who lace up every game is responsible for almost 32 percent of all shots generated. If this trend continues, the fault will be squarely upon with the players' shoulders.
However, as of now it lies solely with Rangers head coach John Tortorella.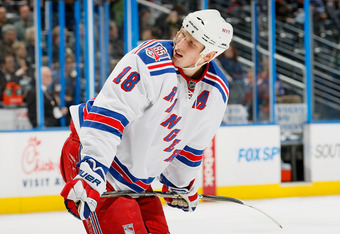 Kevin C. Cox/Getty Images
As this column has pointed out previously, Tortorella has decided to begin the season by breaking up his best line from a season ago—specifically the line centered by Artem Anisimov that saw Brandon Dubinsky on the left wing and Ryan Callahan on the right.
Dubinsky has been shifted for these first two games to a line with Brad Richards and Marian Gaborik, and this has only served to reduce the number of offensive units capable of creating consistent pressure in the opposing zone.
While this is not, of course, the only reason for the low shot total—and consequently the low goal total (just three over the first two games), it is a primary contributor.
Adding to the offensive woes is an overall lack of cohesiveness across the three defense pairings caused by the concussion-induced absence of No. 1 defenseman Marc Staal.
Specifically, the lack of familiarity amongst the Ranger's defensive pairings is resulting in the team finding itself spending far too much time defending, and the result is that they have had fewer opportunities to run their set breakout packages.
They aren't forcing things offensively in any way, and there is virtually no down-low cycling to speak of. Though it is early days, these trends certainly do not bode well in the long term.
As for the long-term fixes available offensively, it could be that the pieces the team will need aren't even with the big club right now.
Carl Hagelin and Ryan Bourque, each of whom impressed during camp and in the annual Traverse City Tournament, are both available as call-ups from the Connecticut Whale—the Rangers' AHL affiliate.
Also available for call-up is Sean Avery, who would slot in nicely on that first line with Richards and Gaborik. Yet Avery has little chance of emerging from the rather sturdy doghouse built exclusively for him by Tortorella.
In the end, it will all start with the defense—meaning the Rangers will have to find a way to succeed without Marc Staal. All indications are that his injury is not of the take two pills and call me in the morning variety, and the trickle-down effect is so far quite disruptive.
If the Rangers are inclined to improve via personnel changes on defense, as opposed to shuffling their defense pairings or tweaking the system as a whole, they do have some in-house options available. 
Tomas Kundratek and Pavel Valentenko, both of whom are with the Connecticut Whale presently, and both of whom project as second-pair defenseman, also impressed in camp and were victims of the numbers game when cuts were announced.
Where Valentenko is the crease-clearing thug, Kundratek is the more refined outlet-passer. These are attributes that the Rangers' defense corps could use in equal measure.
It will be interesting to see if the Ranger's turn to these youngsters on defense as they turned to Ryan McDonagh last season when the defense needed supplementing.
So, just two games in but a whole host of questions raised. Though the season is quite long it always seems as if crunch time sneaks up on the Rangers much sooner than expected. With a lengthy season-opening swing through Europe, and with a schedule that doesn't see them playing at home until Oct. 27th, it could get late pretty early for the young Blueshirt club.
Either way, it should be quite a ride for the first month or so. Quite a ride indeed.