Brendan Shanahan: New Czar of NHL Discipline Leaves His Mark as "ShanaBAN"
October 9, 2011
Following in the footsteps of his long-time teammate Steve Yzerman, former Detroit Red Wing and future Hall of Famer Brendan Shanahan is making a name for himself as an NHL executive in the years after retiring from professional hockey.
Although he is not managing a team like Yzerman (who is the general manager for the Tampa Bay Lightning), Shanahan has assumed the title of the NHL's Chief Disciplinarian, succeeding long-time discipline czar Colin Campbell.
In the advent of Sydney Crosby's long-term injury sustained from multiple blows to the head, and other high profile players being sidelined for long periods of time, a severe crackdown has taken effect at blindside hits to the head, or any hit that targets the head for that matter.
The NHL has banned such hits, and it is now Shanahan's duty to discipline players indiscriminately when such unfortunate incidences arise. Shanahan's tenure as Chief Disciplinarian has begun, and he promises to make the sport safer while still maintaining the speed and physicality of the game that makes hockey so unique. Coming down in a firm but fair fashion will deter players from making dangerous plays that target the head, as it is apparent now that players are thinking twice before delivering potentially dangerous hits. 
This new sense of respect for one another is a result of Shanahan's busy preseason, wherein eight suspensions were handed out for head-shots. Shanahan has received praise in his early handling of the NHL's toughest job, most notably for his videos that he reveals for the public after each disciplinary decision.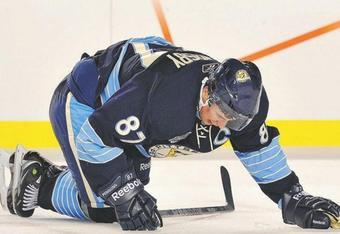 NHL fans are often questioning the motives of the disciplinarian, and these videos clear everything up. The motive for the length of the suspension, or why a player was not punished was previously an ambiguous topic, but not anymore with "Shana-ban" at the helm. In his videos, he shows the incident in question and offers a voice-over narration of the reasons the decision was made, or not made. 
Often, lengthier terms are handed out for players with a history of supplementary discipline, and Shanahan alludes to this in his videos. James Wisniewski of the Columbus Blue Jackets was suspended for the remainder of the preseason and eight regular season games after a late hit to the head of Minnesota Wild forward Cal Clutterbuck. Since he was suspended last season, Wisniewski was deemed a repeat offender under the terms of the current Collective Bargaining Agreement, and thus the CBA stipulates that a longer term be handed out for a player in Wisniewski's circumstances.
It is difficult to assess Shanahan's success or not thus far in his job, as he assumed the title quite recently on June 1st. However, after his busy preseason of disciplining and savvy PR initiatives, Shanahan is looking to spearhead a safety movement for a league that has been hit with a wave of tragedy and unfortunate injuries in the last year. The "Shana-ban" era has commenced and is officially underway; it is only a matter of time before the playing tactics of the players evolve to appease the new Czars no-nonsense approach to discipline.