Claude Giroux Leads Youth Movement, Ilya Bryzgalov Ends Flyers' Shut-out Drought
October 9, 2011
Elsa/Getty Images
Will the real Philadelphia Flyers please stand up? I only ask because this is not the start the season was supposed to have. At least that's what I was told and argued against.
The Philadelphia Flyers were not supposed to have any formidable offense; they have too much youth. The free-agent goalie was supposed to underwhelm because he needed to adapt to the Eastern conference.
Here we are two games into this thing and the Philadelphia Flyers have shown they can score on quality goalies, mind you, and Illya Bryzgalov has been superb.
While it is only two games, the Flyers have done everything but show they miss Jeff Carter or Mike Richards.
At 12:05 in the first, James van Riemsdyk and Matt Carle assisted on a goal by right wing Claude Giroux. Matt Read and Wayne Simmonds both scored in the third period.
Giroux made the Devils hold their breath all night as he and Jaromir Jagr set up a handful of scoring chances. Getting the puck just inside the Devils blue line, James van Riemsdyk skated in behind their defense to get one-on-one with Martin Brodeur for a nice scoring opportunity. However the New Jersey living legend was able to make the save.
The goals all coming by way of the under-25 platoon.
Matt Read beat Martin Brodeur with a snap shot from the high crease after a nice feed by Scott Hartnell in the third minute of the third period, and Wayne Simmonds' goal was vintage Broad Street style, as Simmonds battled for a loose puck in New Jersey's crease with two defenders on his back.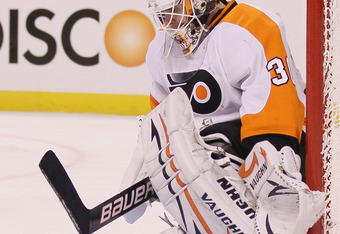 Elsa/Getty Images
Illya Bryzgalov has done nothing but live up to the hype his first two starts. As Bryzgalov is facing about a dozen fewer shots than his Phoenix days, it looks like the slick-talking Russian will flourish in the Orange and Black.
It has been over a year since a Flyer netminder registered a shutout. Bryzgalov has done just that in only his second start and, in his first start, only saw the lamp light up once facing the defending Stanley Cup champions.
As questions have been answered, new ones arise.
Can the Flyers keep this up through an 82-game season?
That's my concern at this point. With veterans like Chris Pronger, Maxime Talbot, Danny Briere, and all time active scoring leader Jaromir Jagr in the dressing room, they appear capable however.
For now, let's keep our fingers crossed and our eyes on the Vancouver Canucks who come to town Wednesday night for the Flyers' home opener.