NHL Predictions 2012: Will Winnipeg's Mark Scheifele Be the Next Jeff Skinner?
October 9, 2011
Marianne Helm/Getty Images
The talent pool for NHL teams to choose from is getting younger and younger every year and Mark Scheifele is a perfect example of that.
Scheifele wasn't the first player taken in the 2011 NHL Entry Draft. He wasn't the second or third player taken either. He wasn't picked until the Winnipeg Jets stepped up and took him seventh overall—and even that was considered surprisingly high in comparison to Scheifele's pre-draft ranking.
Clearly the Jets saw something in Scheifele and so far he's proving them right. The preseason obviously doesn't compare to the regular season, but you can't ignore the four goals and eight points in just five games for the 18-year-old. At the very least, Scheifele proved he can play with men, even if many of those men are only AHL-calibre players.
This was a big step for Scheifele, considering one of his apparent weaknesses is a slim body that isn't supposed to have the strength to play against men much older and stronger.
However, Scheifele dispelled any notion that his lack of bulk would be an issue during the preseason. As a result, he'll now have a chance to prove himself again in the first nine games of the regular season before the Jets have to ultimately decide on where he plays this season.
This topic has been discussed to death in Winnipeg, and I realize that no Jet will be watched more closely than Scheifele by both the fans and the Jets coaching staff.
Surely head coach Claude Noel will be analysing Scheifele at all times, much like the way Carolina Hurricanes head coach Paul Maurice watched Jeff Skinner early on last year.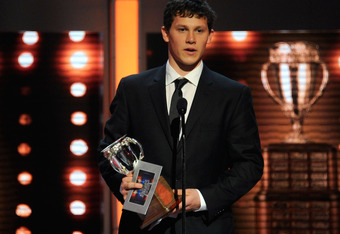 Ethan Miller/Getty Images
The comparison between Scheifele and Jeff Skinner has also been made numerous times since Skinner was the seventh pick in the 2010 NHL Entry Draft and then won the Calder trophy as the league's top rookie just one year later.
He's the player that the ultimate Jets optimist will point to when discussing Scheifele's odds of being a successful 18-year-old in the NHL.
Skinner's achievement isn't the only precedent for 18-year-olds being impact players right away. Aside from those selected in the top five in previous drafts, countless players have stepped right into the NHL in their draft year and played well.
In fact, eight other 18-year-olds from the draft class of 2011 are getting a shot with their respective NHL teams to start the regular season, including three players who were picked below Scheifele: Sean Couturier (Flyers), Ryan Murphy (Hurricanes) and Brandon Saad (Blackhawks).
Even the Jets/Thrashers organization has a recent history of letting 18-year-olds stick it out in the big leagues.
Look at Evander Kane. He may have been selected three spots higher than Scheifele and had much more impressive stats in major junior hockey, but he was still fresh from being drafted when he laced up the skates for a full season with the Thrashers.
Speaking of playing a full season, this might be the biggest question mark surrounding Scheifele: Can he survive 82 games on a team that will have perhaps the worst travel schedule in the history of the NHL?
This is just one of many questions surrounding Mark Scheifele that can only be answered by letting him play in the NHL. He's already proven he can excel with men who are bigger and older than he is, so how would a return to his junior team in Barrie—where he'd play against kids his own size—help him?
Of course, his teammates in Barrie would love to have him back, but a rebuilding club like the Jets could probably use him just as much. They're not seen as contenders for the Stanley Cup this season, so what do they have to lose with Scheifele?
With a fairly thin roster at the forward position already, Claude Noel can afford to give Scheifele substantial ice-time in order to give him a real test,  not the five-minutes-a-night pretend test like so many coaches have given their young players in the past.
That would inevitably accomplish nothing for both Scheifele and the Jets.
Maybe Mark Scheifele will turn into the 2011-12 version of Jeff Skinner or maybe he won't. The only way we'll find out for sure is if the Winnipeg Jets let him play—a lot.
Follow me on Twitter: @adam_graham